Admittedly, in theory, the Dubli Network looks like quite an interesting company, but is it actually legit?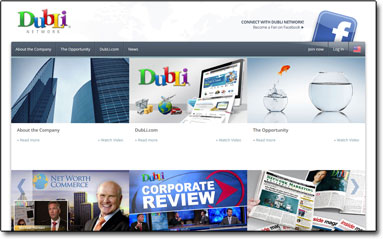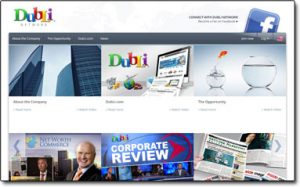 And can you really make money through their opportunity?
If you've come across Dubli then those are just some of the questions you've probably been left asking yourself – so for that reason I've decided to put together an in-depth Dubli Network review.
Meaning if you too have come across Dubli but you've been left unsure as to whether or not you should get involved you can rest assured that you've landed in the right place to find out everything you need to know.
What Is The Dubli Network?   |   The Membership Levels   |   The Dubli Business Opportunity   |   Is Dubli a Scam?   |   Should You Join?   |   A Better Alternative
What Is The Dubli Network?
The Dubli Network is actually a network marketing company, but it's a network marketing company with a bit of a twist. It was originally launched way back in 2003 by a billionaire named Michael Hansen & when it first started out it was centred around reverse auctions.
Reverse auctions, often also referred to as penny auctions are websites where you pay for individual bids instead of actually physically bidding on items.
Governments worldwide started cracking down on these types of auctions because they were more of a competition than an auction & as a result of the way they worked many people ended up losing thousands without anything to show for it because you still paid for your bids even if you didn't win the item you were bidding on.
In 2014 for whatever reason (most likely to dodge legal issues) Dubli Network decided to get out of the reverse auctions & instead they shifted their focus onto cashback deals.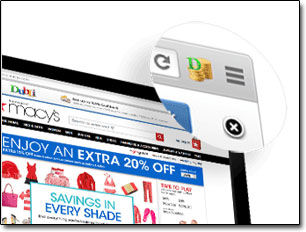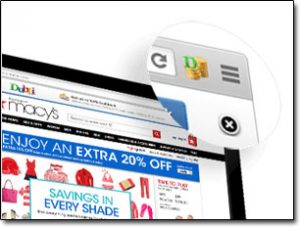 Now as a customer of Dubli you can download a cashback toolbar which adds itself to your web browser & enables you to earn cashback if you carry out your shopping through the toolbar as opposed to going direct to a search engine like Google.
Basically, you search for whatever it is you're looking to buy through the toolbar then the toolbar will show a list of websites with the amount of cashback you could receive next to each result if you decide to shop there for your items.
It's a pretty clever idea & is certainly easy to use, but the amount of cashback you will receive depends on which membership level you've purchased through Dubli – and being a network marketing company Dubli also give you the opportunity to earn money by selling these memberships to other people.
I'll tell you more about the attached business opportunity in just a moment but firstly…
The Dubli Membership Levels
In total Dubli offer 3 different levels of membership & you can see a comparison of these memberships shown below: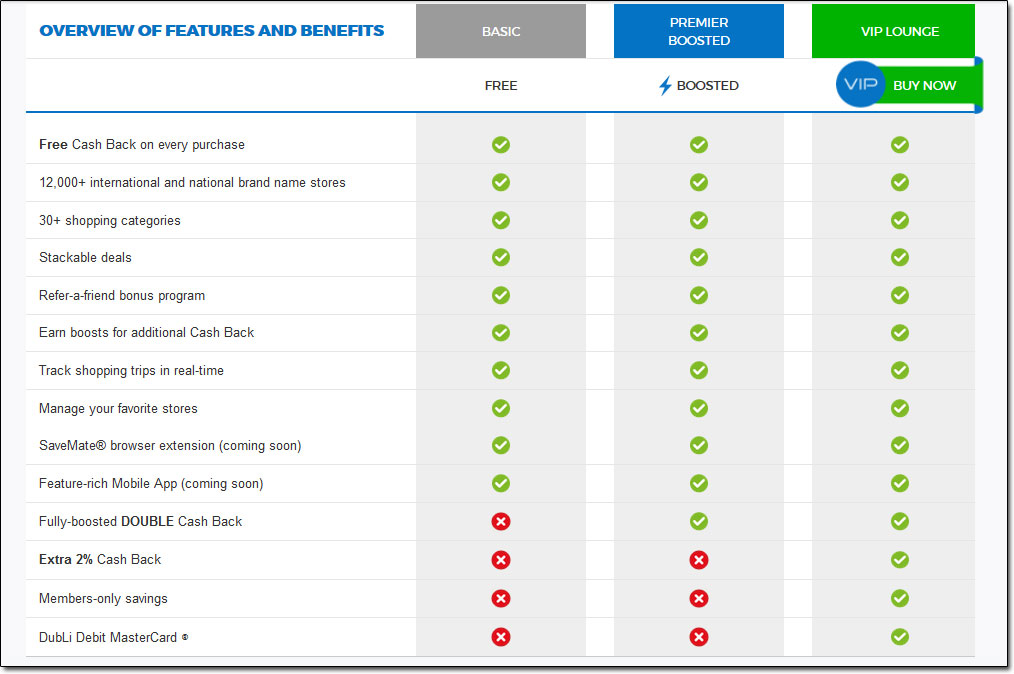 The Dubli Business Opportunity
The reason Dubli gets promoted so heavily is that it has a business opportunity attached to it through which people can promote the Dubli memberships & earn money for each customer they get to sign up.
But with it being a network marketing company as well as having the opportunity to earn from your own efforts you also get the opportunity to build a team & earn from the efforts of others too.
And I'll admit a couple of years ago Dubli was actually looking quite promising – in fact, it could have potentially been quite a lucrative opportunity, but unfortunately shortly after a lot of rumours surfaced that Dubli wasn't paying out cashback that members had earned & its reputation took a big hit.
As a result, a lot of people that were promoting Dubli at the time stopped doing so & it was even reported that Dubli suffered losses of 10.6 million dollars in 2016 due to all of this going on.
Some people claim that Dubli was already in trouble prior to this & that's why they didn't end up paying out the cashback people had earned but all of that's just hearsay & I wouldn't like to speculate.
Is Dubli A Scam?
Well, when Dubli launched its opportunity it did seem to do so with good intention, and to start with they were paying their member's cashback… people were also making good money by promoting Dubli too.
So originally I would have said no, Dubli isn't a scam – but with all the rumours about the cashback not getting paid out I cannot say that so confidently anymore. I mean I don't want to come out & say Dubli is a scam because I don't have the proof, but I just think it's always worrying when you see negative reviews about people not getting paid.
It certainly doesn't seem to be anything like the scams I usually come across online, systems like Clone My System & the EZ Money Team for example which are purely set out to part people with their hard-earned cash.
Dubli does actually seem to have a proper business model, I just feel like they ran into some trouble, panicked & kept it quiet from their members. Obviously, it's not the right thing to do but hopefully, they have learned their lesson & sorted their act out… If they have Dubli could actually be a good company.
You Might Also Like:
Should You Join Dubli? My Final Verdict
I actually quite like the concept of Dubli but unfortunately, I won't be recommending it & that's mainly down to the various negative reviews that have been published about the company from people who have said they haven't been paid.
I personally wouldn't want to risk wasting time & effort building up a good amount of money with a company only for it not to be get paid to me. It's happened to me before with other companies & there's nothing worse.
Plus whilst Dubli does potentially have a good referral scheme through which you can earn money by selling the Dubli memberships I feel that there is a lack of training & unless you're already a successful marketer you won't see much success with the program.
In my opinion, if you're looking at making a bit of extra money on the side at home (or even potentially a full-time income) then you should look into affiliate marketing instead. That's how I personally generate my own income & it's just an all-round great way to make money.
By learning affiliate marketing you can promote pretty much anything you want so you're not reliant upon a single company to build your income like you would be if you joined Dubli (or any other similar network marketing company). If those companies go so does your income, but affiliate marketing can help you build something much more sustainable for the long term.
A Better Alternative
The sad truth is that unfortunately most of the programs promising to help you make money online are scams. I can say that confidently after exposing over 500+ of them here on this blog.
But the good news is that even though most of them are indeed scams, there are actually some very good programs in amongst them - some programs that can truly help you to earn money.
And out of all of the legit programs I've seen, the one I would recommend the most to anybody looking to get started online is Commission Academy. In my own opinion, that's the best place to start.
At Commission Academy, you'll be provided with everything you need (including the training & tools) to begin earning real money by promoting products or services for companies like Amazon online.
The best part is that there's literally no limit on the amount you can earn with it & the process is pretty simple which means that it's absolutely perfect for people that don't have much experience.
Some wealthy affiliates even earn as much as 5-figures per month... Or more!

I mean don't get me wrong, that kind of money won't just fall into your lap without doing any work... But the harder you're willing to work at it, the more you stand to earn with it.
So if you're looking to get started but don't know which route you should go down or which program you should join (and don't want to waste money on bogus things that don't actually work), then I'd highly recommend checking out Commission Academy first. You can learn more about it here.