The Easy Click Profits Online system claims to be a breakthrough system that literally guarantees you can make $500 the same day you sign up.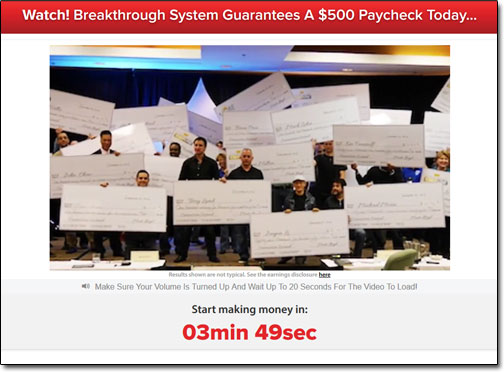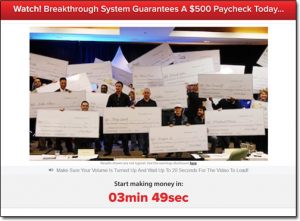 It makes various other bold claims & the video on the homepage carries on the hype – so I'm here today to find out once & for all what it's all about.
Meaning if you've landed on the Easy Click Profits Online website & you're left wondering whether or not it really works you're certainly in the right place to find out.
In this Easy Click Profits review, I'll be uncovering all the details so that you can make an informed decision as to whether or not you want to join based on the facts.
What Is Easy Click Profits?   |   What Is MOBE?   |   Is Easy Click Profits a Scam?   |   A Better Alternative
What Is Easy Click Profits?
I've reviewed hundreds of these "money-making" systems and one thing I noticed when I landed on the homepage for the Easy Click Profits system is that I actually kind of recognized the page as if I'd seen it before somewhere else.
And that's when it clicked – I had seen it before!
It's actually a very close copy of a page named the Digital Millionaire Secret system which was promoting a high-ticket network marketing opportunity named Digital Altitude (which several people flat out branded a scam).
It's not exactly the same though, as the Easy Click Profits system uses a different video & promotes a different opportunity. As opposed to getting you to buy into Digital Altitude – Easy Click Profits has been put together you to buy into an opportunity named MOBE.
MOBE was launched before Digital Altitude but the companies are VERY similar – in fact, Digital Altitude was actually slammed by the owners of MOBE because of its extremely close resemblance.
And it's not just Digital Altitude that's been branded as a scam by many, MOBE has too – but I'll touch on that more in a moment.
So, What Is MOBE?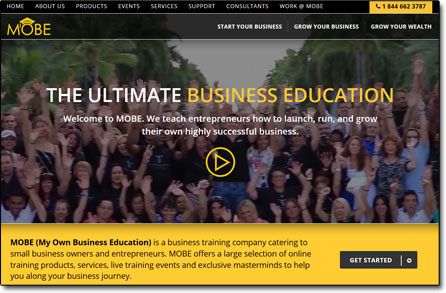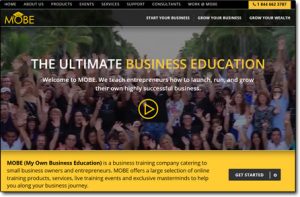 MOBE, which stands for My Online Business Education is what's known as a high-ticket network marketing opportunity. The "high-ticket" part is basically a fancy way of saying that their products are expensive, and the network marketing bit basically means that in order to make "real" money from the opportunity you'll be required to recruit new people in too.
Whilst MOBE is technically legit it's come under a lot of scrutiny over the years due to its business model. The reason for this is because essentially the people inside the MOBE opportunity make money by recruiting new people into the MOBE opportunity & whilst they do have products (which is how MOBE's stayed out of trouble) the argument against them is that very little emphasis is actually put onto the value of the products themselves.
One thing I personally don't like about MOBE is the fact that it's a pay-to-play program which means that in order to earn commissions on the sales of the products you must first actually purchase the products yourself, even if you don't want or need them.
Initially, the fact that it's a pay-to-play program might not put you off too much, but when you find out that the product line costs around $50,000 it means that you're going to be spending a LOT of money before you even get started.
Now Let Me Make Something Absolutely Clear…
It is possible to make money with MOBE and other similar "high-ticket" opportunities like it, so it's not technically a scam as such – however…
The big problem is in the way these programs are marketed. They are made out to be newbie-friendly opportunities that will enable you to earn life-changing amounts of money with ease, only this couldn't be further from the truth.
Whilst again it's possible to make money as a newbie, the chances of it happening are very slim. It's more than likely that you'll just end up left out of pocket with nothing to show for it.
That's because in reality these programs are designed for the gurus to take advantage of the newbies & part them with their cash – whilst feeling kind of satisfied that they provided with some value. Basically, it's a way for people to scam people without technically scamming them… This way they can pass the blame off onto the newbies by blaming them for their failure from "not following the program"… If that makes sense?
I know that sounds harsh but honestly, that's the simple truth of it & I'm getting a little tired of these kinds of "opportunities" lately as it's tarring the online marketing industry & make money online niches.
The worst part is that whilst these companies are charging such extortionate amounts (like $50k) for their courses, they tend to lack substance and in my opinion, you can actually get more valuable training for free.
You see the products that these "high-ticket" companies offer haven't been priced based on the value the products give – they've been priced based on the commissions that people will earn.
Ultimately nobody really cares about the products and that's made clear through the various sales funnels that the company operates which put a heavy emphasis onto the money-making side of things as opposed to the content of the products they sell. The Easy Click Profits system is only one of the many funnels into MOBE, others include the Ultimate Dot Com Lifestyle, Countdown To Profits & WiFi Millionaire.
You Might Also Like:
Is Easy Click Profits a Scam?
If you're a newbie, then I'd definitely steer clear of the Easy Click Profits system as in my personal opinion it's definitely NOT the best way to get started (despite trying to make out like it is). As a newbie, I'd highly recommend you try out something like this instead, which is totally free to try.
If you're not a newbie, but you're willing to take advantage of newbies & part them with their cash then, by all means, dive right into the Easy Click Profit system (AKA MOBE)… And yes – that's sarcasm.
But you probably catch the drift that I do not recommend the Easy Click Profit system, and to be honest I feel it's borderline a scam.
It's very misleading & you'll be pressured into parting with thousands of dollars before you even get started & find out what it's all about. They seem to be preying on hype but once this dies off you'll no doubt be left feeling disappointed with what you've received as the training lacks substance.
The other big problem is that the training is very heavily geared towards simply re-promoting the same system & getting other people to buy into it, which means you actually come away with very little training on how to create your own online business. This means that if one day MOBE happens to disappear (which they most likely will) then you'll be left without a business & without an income.
If you're going to invest money, especially the amount that MOBE asks you to invest then, in my opinion, you'd be much better off investing it into learning a real skill that will enable you to create your own business – whether that be affiliate marketing or selling your own products.
But the bottom line is that Easy Click Profits (and MOBE) will be getting a thumbs down from me in this review – it's just not something I feel will benefit my readers in any great way so I won't be recommending that you join. I appreciate that there's the promise of easy riches and you may be drawn to them, but they are absolutely nowhere near as easy as they're made out to be so don't be fooled.
Anyway, on that note, I hope you appreciated my insight into this system & I hope it provided you with everything that you needed to know – if there's still anything else you're curious about then feel free to leave a comment below & I'll do my best to help you out. Until then – peace out.
A Better Alternative
The sad truth is that unfortunately most of the programs promising to help you make money online are scams. I can say that confidently after exposing over 500+ of them here on this blog.
But the good news is that even though most of them are indeed scams, there are actually some very good programs in amongst them - some programs that can truly help you to earn money.
And out of all of the legit programs I've seen, the one I would recommend the most to anybody looking to get started online is Commission Academy. In my own opinion, that's the best place to start.
At Commission Academy, you'll be provided with everything you need (including the training & tools) to begin earning real money by promoting products or services for companies like Amazon online.
The best part is that there's literally no limit on the amount you can earn with it & the process is pretty simple which means that it's absolutely perfect for people that don't have much experience.
Some wealthy affiliates even earn as much as 5-figures per month... Or more!

I mean don't get me wrong, that kind of money won't just fall into your lap without doing any work... But the harder you're willing to work at it, the more you stand to earn with it.
So if you're looking to get started but don't know which route you should go down or which program you should join (and don't want to waste money on bogus things that don't actually work), then I'd highly recommend checking out Commission Academy first. You can learn more about it here.