Driving traffic to a website is a vital factor which determines the success of the site. EasyHits4U is yet another platform which facilitates traffic exchange. The website also provides an income-generating program which allows the members to earn money by assisting with traffic generation to various websites.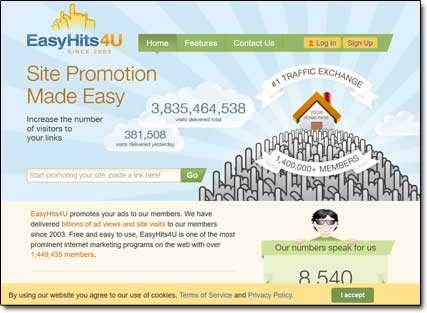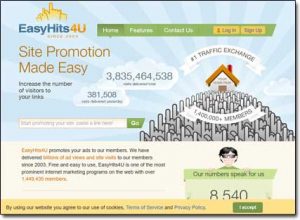 If you're looking to try some easy online money-making programs or looking to receive more traffic to your website(s) then this EasyHits4U review will help you to decide whether you should join this program or not. You might have tried similar offers before and some of them might have turned out to be nothing but a scam.
In this review, I'll explain the important functions and aspects of this popular traffic exchange website to help you decide if EasyHits4U is a scam or legitimate and that how much you could earn if it is a legitimate offer.
What Is EasyHits4U?   |   How Does EasyHits4U Work?   |   Should You Join?   |   Is EasyHits4U a Scam?   |   A Better Alternative
What Is EasyHits4U?
The EasyHits4U website homepage is full of various statistics including featuring live updates about the total number of members, total visits delivered, and visit delivered the previous day. EasyHits4U primarily facilitates websites through traffic exchange. This is the website which allows you to advertise text ads, banners, and links.
There are two types of services, Free and Paid. Obviously, if you want significant traffic to be sent towards your website you'll likely need to opt for the paid services. Whatever you post (banners, ads, links) is then shared with other members. What happens is that your ads are visible to hundreds of users and similarly you receive ads from other users' websites – hence the name, "traffic exchange".
Free EasyHits4U Membership
You don't have to pay anything for this service but you need to keep in mind that you'll have to invest some time to benefit from this option. If you don't bother viewing other's ads, you can't expect traffic to be sent to your own website. Viewing ads from other users will accumulate credits to your account.
You can spend this credit to post your ads on EasyHits4U. It means that you can't post your website's ads unless you have accumulated some credit by viewing ads from other websites. This is 1:1 process which means that if you view 100 ads from other websites, EasyHits4U will exchange 100 views for your ads.
Paid EasyHits4U Membership Plan
The paid membership plans feature Premium Membership and Ultimate membership. With a paid membership, you don't have to view ads from other websites, instead, you can directly purchase the credit to post your ads. It saves a lot of time and makes things easier for you to promote your own website without having to spend time to earn credits.
The Premium Membership facilitates you with a bonus of 2500 credits when you signup. Then the additional monthly bonus is awarded with 500 credits. Paying for the Premium Membership awards you with 2,000 banner impressions and 2500 text impressions. It means that 2000 viewers will watch your banners and 2500 will view your text ad.
The Ultimate Membership awards you with 5000 credits as signup bonus and 1000 credits as a monthly bonus. The package benefits your account with banner impressions and text ad impressions, 5000 each.
How Does EasyHits4U Work?
There are some rules which you need to follow to make your views count. When you click on an advertisement you're required to wait for at least 20 seconds before you can close it. Secondly, you'll have to read and type in the captcha code to let the system ensure that you aren't a robot or software. The good news though is that everything seems fair and fine as I don't really see any way to trick this whole ad viewing practice.
In addition to the different membership plans, EasyHits4U also features some marketing tools. The positive with this is that you can access these tools even as a Free Member. These tools make things easier for you to select various attributes for your ad viewers, for instance, Geo-targeting which lets you determine the region from which your ad viewers should belong to.
Then there is a referral program which provides some additional icing on the cake. Each successful referral will earn you a certain percentage from the earnings of the people whom you bring in to the website. If you're a free member, you'll earn 5% of the total earnings accrued by each person you bring in. Having Premium membership lifts this percentage to 15%… And if that's still not enough you can opt for the Ultimate membership instead which offers an even higher 20% commission.
Should You Join EasyHits4U?
The first thing you need to keep in mind is that EasyHits4U doesn't offer cash rewards… So if you don't have a website or you don't want traffic exchange support then there isn't much use in joining the EasyHits4U website. Secondly, even if you want to use this traffic exchange program you need to first determine how much your website could benefit from this activity. The reason is that like many other traffic exchange programs, EasyHits4U also features low-quality traffic.
You can't expect traffic from the well-paying regions such as the EU or the US. Secondly, the traffic you receive is not really genuine traffic as such. The viewers have their own websites and they are just viewing your ads because they want you to view their ads. They are not potential customers or genuine visitors. Websites generate more profit when the conversion rate is higher. In this case, the conversion rate achieved will likely be next to zero so I personally wouldn't really advise spending time and effort on this platform… In my opinion, there are much more effective ways to spend time or money promoting your website.
Is EasyHits4U a Scam?
Not at all – EasyHits4U is legit and there is no funny business involved, but as far as your website's ability to receive quality traffic is concerned, you shouldn't really rely on such traffic exchange programs… In my opinion, they are simply just a waste of time.
The reason I say that it is because like I mentioned above, these types of traffic exchanges don't really provide you with interested or genuine ad viewers. The people visiting your website are only doing so in order to earn credits so that they can get others to view their sites… It's VERY unlikely that any of the people viewing your site will end up signing up or buying anything.
So yes, whilst you might increase your visitor numbers – it's unlikely that you'll increase your websites sales or profits. Also if you think that an increase in numbers will trick search engines into increasing your website's rankings then think again – search engine algorithms are very advanced & they can't be fooled so easily.
If you really want to increase the number of visitors to your website or if you want to make more money from your website then rather than wasting time with sites like EasyHits4U you should just check out a free training program like Commission Academy. It's there that you'll learn the genuine methods to get REAL traffic & people who are really interested in your website.
So overall despite me coming to the conclusion that EasyHits4U is legitimate, I still won't be recommending it because I don't really feel like it will provide you with any value…
But anyway hopefully this review gave you the insight you were looking for into the company & hopefully you can appreciate why I am not recommending it to you. Also if you happen to have any further comments or questions then don't hesitate to leave them below & I'll get back to you as soon as possible.
A Better Alternative
The sad truth is that unfortunately most of the programs promising to help you make money online are scams. I can say that confidently after exposing over 500+ of them here on this blog.
But the good news is that even though most of them are indeed scams, there are actually some very good programs in amongst them - some programs that can truly help you to earn money.
And out of all of the legit programs I've seen, the one I would recommend the most to anybody looking to get started online is Commission Academy. In my own opinion, that's the best place to start.
At Commission Academy, you'll be provided with everything you need (including the training & tools) to begin earning real money by promoting products or services for companies like Amazon online.
The best part is that there's literally no limit on the amount you can earn with it & the process is pretty simple which means that it's absolutely perfect for people that don't have much experience.
Some wealthy affiliates even earn as much as 5-figures per month... Or more!


I mean don't get me wrong, that kind of money won't just fall into your lap without doing any work... But the harder you're willing to work at it, the more you stand to earn with it.
So if you're looking to get started but don't know which route you should go down or which program you should join (and don't want to waste money on bogus things that don't actually work), then I'd highly recommend checking out Commission Academy first. You can learn more about it here.