The Elevated Legacy system has recently been launched by a guy named Vincent Ortega Jr & it claims to provide you with "the best software in the world to create a profitable online business"…
You're also told that the system will pay you to share your knowledge with the world… But is it actually legit & can you really find success online with it or is Elevated Legacy a scam that'll just see you spending money rather than making it?
Thankfully if that's what you've been trying to figure out then you can rest assured that you've landed in the right place because I've took a closer look into it & in this review I'm going to be uncovering everything you need to know about including how it all really works. 🙂
What Exactly Is Elevated Legacy?
As I briefly touched on above Elevated Legacy is a new website that's been launched by a guy named Vincent Ortega Jr, and Vincent is somebody you might have already heard of as he's been behind several previous online launches.
Online Sales Pro was one of his former products & that totally blew up a couple of years back… Everybody was talking about it.
OSP (which is what Online Sale Pro was more commonly referred to) is actually still around to this day but the hype surrounding it has died down. The reason for that is likely because many of the OSP users were using it to promote something called Digital Altitude but the FTC ended up shutting that company down.
Anyway it's safe to say Vincent knows his stuff when it comes to product launches & there's no denying he has some good ideas…
The problem I found with OSP though was that in my opinion it was too incomplete. It was supposed to provide you with everything you needed to make good money online but I believe it fell short.
Instead like many other systems it just ended up pushing you into promoting OSP onto others… So it turned out to be one of those types of systems where you sign up to learn how to make money but later find out that the way you actually make money is just by getting others to sign up exactly like you did.
Don't get me wrong though it was clear that Vincent had tried to build a useful product… It's just that in my opinion it wasn't quite there yet…
And the reason I'm telling you about all that is because it appears to me that his new program Elevated Legacy is kind of like Online Sales Pro 2.0, but with a whole load more features to fill in the missing gaps.
So has he really come through with this new program? Is Elevated Legacy really the best software in the world to create a profitable online business with?
Let's take a look…
How Does Elevated Legacy Work?
The concept is that through Elevated Legacy you'll be able to access all of the tools & training you need to find success online altogether in one place. These tools include things like landing page creators, email auto-responders, website creators & marketing tools…

Now as to what the joining cost will be I'm not too sure since at the moment the whole thing is currently in pre-launch, but given the amount of stuff Vincent is offering to provide to members through the site I can imagine it being pretty high.
I mean currently there are sites like Commission Academy through which you can also get all of the tools & training in one place & they actually offer a completely free Starter membership so Vincent is going to be hard pushed to rival that.
The other thing I'm concerned about with Vincent's Elevated Legacy program is that it seems more geared towards established marketers. I mean some of the tools provided are a little advanced for newcomers & it's possible that there's actually a bit too much offered through the site…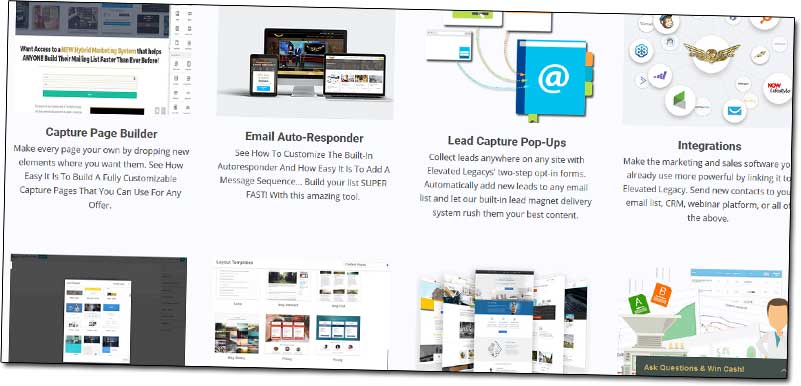 I know it sounds strange to complain that there's too much stuff but honestly information overload is real. I've seen several systems in the past that contained lot's of amazing stuff but because there was so much of it it meant that new people getting started were just completely overwhelmed.
For example, at the moment here's what's being offered through the site:
Capture Page Builder
Email Auto-Responder
Lead Capture Pop-Ups
Integrations
Website Creator
A/B Testing & Analytics
Quiz Creator
Course Creator
Forum Creator
Content Marketing Tools
Scarcity Marketing Tools
Now that's a LOT of stuff, and a lot of different directions that you can head in… So it doesn't seem to me like there's going to be one simple step-by-step path that you can follow like there is at Commission Academy.
Then I happened to notice there's an affiliate program too which got me a little nervous about the whole thing…
The Elevated Legacy Affiliate Program
The reason the Elevated Legacy affiliate program got me a little nervous is because I really hope it doesn't turn out to be like Online Sales Pro where people were just signing up to then promote the system onto others…
I mean don't get me wrong there's nothing wrong with having an affiliate program in place, as long as the product is actually of high quality & as long as most of the members are actually using it for what it is…
But when people just end up signing up for the sake of making money by getting others to sign up then you have a bit of a problem.
All in all when that's the case it comes close to falling into pyramid scheme territory & that's the exact reason why one of the big online marketing programs named MOBE was recently shut down.
Obviously I'm not saying or implying that the Elevated Legacy program is a pyramid scheme but when I see a new program like this launching with an affiliate side to it right the off it definitely gets me a little concerned.
But we'll soon see when it gets launched properly – it's then that I'll be able to make a better judgement when I see how it's getting promoted & how good the tools inside of it all actually are.
Anyway, that all brings me swiftly onto…
My Verdict – Is Elevated Legacy a Scam?
No, I definitely don't think Elevated Legacy is a scam… It actually looks like a pretty promising program from what I can see but at the moment as you can appreciate with it just being in pre-launch it's hard to pass a final verdict.
I mean the sheer amount of tools & training looks great, but will these tools actually be any good? And will the training actually help you? That's another matter entirely & it's one we will only get to find out when it launches.
Also – how much is it going to cost? If it's expensive then it's probably not going to be worth it… After all why would you want to risk money at a brand new company for these tools when you could just sign up at the reputable/proven companies instead?
And like I mentioned earlier in this review there's a very similar company named Commission Academy which has been around for many years that actually allows new members to join for free so that's certainly gonna be hard to rival.
Therefore I think overall it looks promising & it certainly looks like it's going to contain a LOT of stuff… But of course the more stuff it does contain the more room there is for error so we'll have to see how it pans out.
I'll definitely be keeping my eye on it though & updating this review when I get a better look into it after it goes live. If you do however happen to have any questions or comments as of now though then don't hesitate to leave them below & I'll get back to you as soon as possible. 🙂