A lot of people turn to the internet in the hope of being able to make money quickly and as a result, this is why there are dozens of seemingly attractive websites advertising some sort of secret or powerful income generation platform. Fast Earners Club is yet another addition to list!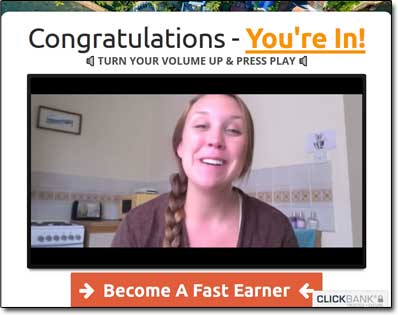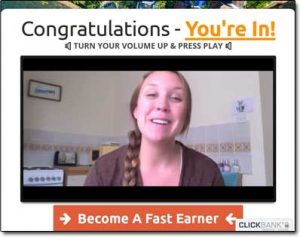 If you are thinking of joining this platform you must first know all the details. After receiving so many emails, I've finally managed to reserve sufficient time to research and write a reliable Fast Earner Club review.
Does this platform really carry some value? Are the claims true or Is Fast Earners Club a scam? This review will unveil the must-know facts so that you can reach a logical conclusion.
All of such platforms actually want you to make a quick decision and often reflect that the membership is limited and you don't have much time to think. But, never fall victim to this trick. Read this review through to the end if you want to make the best decision.
What Is Fast Earners Club?   |   How Does Fast Earners Club Work?   |   Is Fast Earners Club a Scam?   |   A Better Alternative
What Is Fast Earners Club?
The website simply features just a video presentation (known as a video sales letter). The Fast Earners Club promo video starts with some individuals who claim to be the members. They advocate that the system is genuine and generates quick money.
According to the video, the system doesn't feature any of the notorious money-making methods (as shown below). It's not about generating traffic, it has nothing to do with network marketing, it doesn't ask you to participate in paid surveys and it doesn't force you to join affiliate platforms. Impressive! So what does it involve then?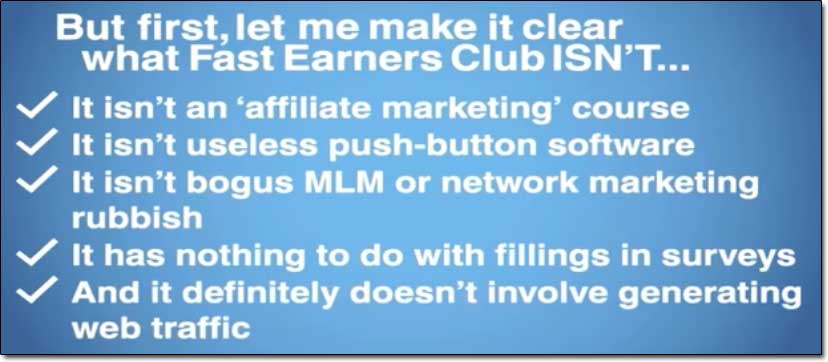 If we believe the video content, then this program provides the easiest way to make money for everybody. The speaker in the video says that if you know what 1+1 equals then you are qualified to use this program and start generating quick income.
You know the good old saying that "if it sounds too good to be true then it probably is"… Well, it's looking like that's going to apply here with this program. If you want to jump straight to a legitimate program then be sure to check out Commission Academy, but otherwise, stick around & I'll soon reveal how the Fast Earners Club really works.
Download the Application
Surprise surprise, just as expected the Fast Earners Club comes with a twist! According to the video presentation, you'll have to download an application. It says that the application has been developed to facilitate the users so that they don't face any complications whatsoever.
You'll have to pay $39 to become a member of the Fast Earners Club. Well, this is something interesting! You're paying just $39 for a program that allegedly generates $100s each day. You'll supposedly receive funds directly to your bank account every day. There is no need to wait for weeks and the great news is that you can join the program from anywhere in the world.
Sounding too good to be true for sure! So does it really work or is it yet another tricky and elusive video just to force you sign up? Up until now I've just presented the video content. Now it is the time to dig in deeper to extract the truth.
How Does Fast Earners Club Work?
When you pay for $39 to access Fast Earners Club what you get in return is a bunch of documents which apparently look like the paraphrasing of various popular eBooks. The pages are filled with guides and tips about generating money from e-commerce activities.
The content also features video tutorials which walk you through the basics of Search Engine Optimization, blogging and affiliate marketing. There is nothing new or "secret" in the whole content. You can easily download such videos and eBooks for free elsewhere online.
The person behind this platform has smartly composed the content and divided into various sections. It deals separately with e-commerce and features guides about using Shopify, eBay and Amazon listings.
A Far Cry From The Claims!
It doesn't offer anything which actually helps a newbie to earn money online & there is nothing of value even for experts because they already know the basic stuff that's provided through the program. There's no way that you'll even be able to generate so much as a single dollar through the program let alone hundreds of dollars per day like they claim… The video just consists of total hype & the program doesn't deliver on the promises.
The Truth Is Harsh…
Making money online has never been a child's play. People have tried so many things just to know that each of these activities requires hard work, training, expertise, and absolute concentration. These days, businesses prefer going online and they have to rely on various promotional activities. Believe me, it takes time and effort.
There is nothing in the world which could generate you 100s a day without putting yourself in a tough work environment. Let me give an example from the freelancing industry. Millions have joined freelancing platforms but the fact is, only a fraction i.e. less than 10% stick to the cause because there it requires hard work and determination. Same is the case with e-commerce. Millions think of using these strategies but only a few manage to succeed.
The truth is that yes, it's certainly possible to make good money online – but only if you are prepared to put in the work. That is the harsh reality. Programs like the Fast Earners Club are just set out to take advantage of the people who want to earn the money but don't want to put in the work. Sorry but that isn't going to happen.
The good news though is that if you are actually prepared to put in the work then you can certainly make good money online – you just need legitimate training & tools which you can find bundled together for free over at Commission Academy.
Is Fast Earners Club a Scam?
Well, it's not technically a scam as such since they do actually provide you with some training in return for your money, but as far as I'm concerned the training will not actually help you at all & you certainly won't make the kind of money that's promised to you in the video… Heck, you'd be lucky to even just make as much as a single dollar through the Fast Earners Club program.
Like I mentioned above you can actually get the training elsewhere for free & there several legitimate programs like Commission Academy that will provide you with much more value overall. In reality, it's clear to me that the Fast Earners Club has just been set up to make the creator wealthy at your expense – he or she doesn't really care about your success at all.
So it's safe to say I won't be recommending Fast Earners Club, but hopefully, you found this review useful & more importantly I hope it helped you save some of your hard-earned cash rather than wasting it on this only to be left disappointed.
If you do happen to have any further questions or comments about it though then don't hesitate to leave them below & as always I'll do my best to get back to you as soon as I can.
A Better Alternative
The sad truth is that unfortunately most of the programs promising to help you make money online are scams. I can say that confidently after exposing over 500+ of them here on this blog.
But the good news is that even though most of them are indeed scams, there are actually some very good programs in amongst them - some programs that can truly help you to earn money.
And out of all of the legit programs I've seen, the one I would recommend the most to anybody looking to get started online is Commission Academy. In my own opinion, that's the best place to start.
At Commission Academy, you'll be provided with everything you need (including the training & tools) to begin earning real money by promoting products or services for companies like Amazon online.
The best part is that there's literally no limit on the amount you can earn with it & the process is pretty simple which means that it's absolutely perfect for people that don't have much experience.
Some wealthy affiliates even earn as much as 5-figures per month... Or more!

I mean don't get me wrong, that kind of money won't just fall into your lap without doing any work... But the harder you're willing to work at it, the more you stand to earn with it.
So if you're looking to get started but don't know which route you should go down or which program you should join (and don't want to waste money on bogus things that don't actually work), then I'd highly recommend checking out Commission Academy first. You can learn more about it here.