You might have come across something called Feature Points – it's an app for iPhone & Android devices that claims it can enable people to earn money just by downloading & trying out other free apps on their smartphones.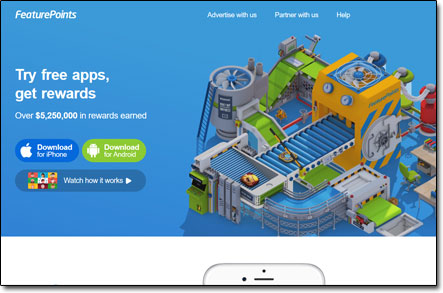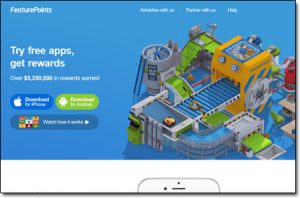 But is it legit? Or is Feature Points a scam? And if it actually does work then is it really worth your time or will it just see you earning peanuts like the other money-making apps we've seen before?
Those are exactly the things I'm going to be finding out right here in this Feature Points review, meaning if you've been thinking about trying it out then you can rest assured that you've landed in right place to find out everything you need to know about it before you do.
What Is Feature Points?   |   How Does Feature Points Work?   |   How Much Are The Points Worth?   |   Feature Points Hacks   |   Is Feature Points a Scam?   |   A Better Alternative
What Is Feature Points?
As I touched on above Feature Points is a free app that claims to pay you for simply downloading & trying out other free apps on your smartphone. You're said to literally only need to try them out for a minute & then after that minute it's up to you whether you keep the app or delete it – you'll still get paid for trying it out regardless of what you do with it.
They also run a pretty sweet referral program through which you can recommend the app to a friend & earn 50% of the points that they earn – so you could potentially earn points without even personally trying out any apps yourself.
But the question is can the points be turned into anything worthwhile in real cash value or will the app just see you wasting your time racking up points that in reality are going to turn out to be meaningless?
We'll take a look at that in a moment but firstly…
How Does Feature Points Work?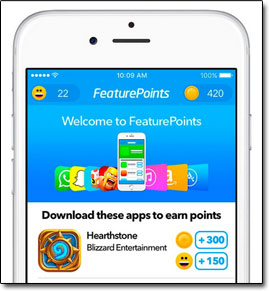 The one good thing about Feature Points is that it's actually very simply & easy to understand. Basically, when you open the app you're provided with a list of apps that you can download & earn points from.
Once you've got the app downloaded onto your phone you'll be given specific instructions from the app's creator as to what to do with it – follow those instructions for a minute & bam that's your points earned.
The points will then be credited to your account, but they don't generally show up immediately – firstly the app's creator will review that you followed their instructions correctly & then once that's been confirmed the credits will be added.
So whilst you can download & try out as many apps as you like per day the process of crediting the points to your account for each download could take anywhere from between a couple of hours to a few days.
And it's worth pointing out too that if the app's creator deems that you didn't follow their instructions correctly then you won't earn any points for that download, so just be aware of that & if you decide to try the app out make sure you follow the instructions carefully rather than rush through app after app.
Feature Points actually encourage you to download & try out as many apps per day as you can by giving their most active users access to the highest point rewarding downloads. So basically the more apps you download the more points you'll be able to earn for each download which is pretty cool.
As I mentioned at the start of this review too Feature Points also give you the opportunity to earn additional points by referring friends. You'll get 50% of any of the points they earn for as long as they stay active.
How Much Are Feature Points Worth As Money?
Generally when it comes to things that make you money the easier something is the less they tend to pay, so hopefully, you're not expecting to be able to earn a great deal through Feature Points.
That's because $1 in real money terms equates to around 600 points, and points-per-app generally tend to range from around 50 to 100 points meaning you'd roughly need to try around 8 apps before you can cash out a dollar.
So overall you're going to be talking around $1 for 20 minutes work which isn't bad if you're just looking for a bit of extra cash, but obviously isn't something that's going to provide you with any sort of real income.
It's kind of on par with paid surveys, only the advantage with Feature Points is that there's no limit on how many apps you can download per day whereas with paid surveys you're restricted by how many surveys you're sent.
You can withdraw the money directly through PayPal or alternatively, you can convert the points to rewards instead. The rewards include things like iTunes & Amazon gift cards or even the ability to directly purchase any of the paid apps found within the Feature Points store.
Feature Points Hacks
When it comes to apps like Feature Points & Lucktastic that give you free opportunities to generate extra cash there are always people looking to game the system to make more money.
As you can imagine Feature Points don't want you doing this so there app is pretty bolted up in terms of glitches & things like that which will enable you can earn extra cash.
Rather than looking for hacks to get an advantage, I would simply recommend playing fair & getting involved with their refer-a-friend program as if you market your unique link online (which you can learn how to do here) you could quite easily build up a small army of referrals & earn 50% of all of their earnings which could definitely add up.
You Might Also Like:
Is Feature Points a Scam?
It's definitely not a scam, it's actually a pretty cool app that can help you earn a little bit of extra cash from your smartphone – though sadly it's not going to make you rich anytime soon.
The huge benefit is that Feature Points is actually one of the few apps that's available for download worldwide, however, the number of offers you'll be presented with (apps to download) will depend on your geographical location, therefore, some countries may get more than others.
One thing to watch out for though is that the points you earn will actually expire if you're account is inactive for 60 days, so if you want to earn money through Feature Points you'll have to keep downloading & trying out apps otherwise they'll completely wipe your balance. This will benefit you though because the more you download the higher the apps will reward you.
So overall it's a thumbs up from me for Feature Points, it's definitely legit & if you're looking to earn a little bit of easy extra cash then it's definitely something that's worth trying out.
A Better Alternative
The sad truth is that unfortunately most of the programs promising to help you make money online are scams. I can say that confidently after exposing over 500+ of them here on this blog.
But the good news is that even though most of them are indeed scams, there are actually some very good programs in amongst them - some programs that can truly help you to earn money.
And out of all of the legit programs I've seen, the one I would recommend the most to anybody looking to get started online is Commission Academy. In my own opinion, that's the best place to start.
At Commission Academy, you'll be provided with everything you need (including the training & tools) to begin earning real money by promoting products or services for companies like Amazon online.
The best part is that there's literally no limit on the amount you can earn with it & the process is pretty simple which means that it's absolutely perfect for people that don't have much experience.
Some wealthy affiliates even earn as much as 5-figures per month... Or more!


I mean don't get me wrong, that kind of money won't just fall into your lap without doing any work... But the harder you're willing to work at it, the more you stand to earn with it.
So if you're looking to get started but don't know which route you should go down or which program you should join (and don't want to waste money on bogus things that don't actually work), then I'd highly recommend checking out Commission Academy first. You can learn more about it here.