Keala Kanae has come up with a new online money making program and the internet is already flooded with Fullstaq Marketer reviews but unfortunately, most of them feature the paid promotional content.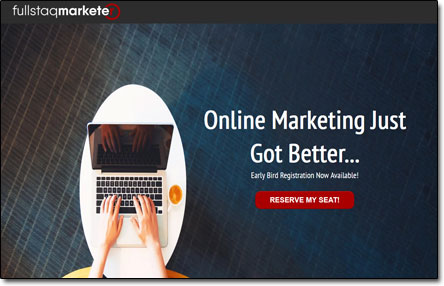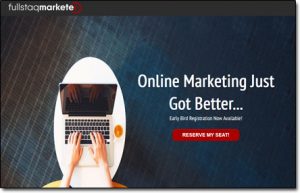 If you want to know the truth about Fullstaq Marketer then keep reading because we have investigated this new program and here is what we found.
Our honest Fullstaq Marketer review will reveal the truth that has been smartly covered by Keala Kanae's promotional strategy. We are going to tell you what Fullstaq Marketer actually is and what Keala Kenae is up to.
This Fullstaq Marketer review is going to be way different than those of the paid opinions. We are not here to promote get-rich-quick schemes but to help our readers know the truth about these programs.
What Is Fullstaq Marketer?   |   Complaints About Keala Kanae   |   How Does Fullstaq Marketer Work?   |   Is Fullstaq Marketer a Scam?   |   A Better Alternative
What Is Fullstaq Marketer?
Keala Kanae has introduced different income-generating programs over the years and Fullstaq Marketer is his latest adventure. Before we advance any further, it is important to bear in mind that Kanae is very good at promoting anything online and this is why you might come across different Fullstaq Marketer reviews talking high of this newly introduced scheme.
If you could remember, AWOL Academy emerged as a promising money-making program and Keala Kanae is the person behind that venture. With the passage of time, people finally know the reality and this is what forces these people to come up with a new name.
Fullstaq Marketer basically the revision on AWOL Academy. Kanae managed AWOL Academy along with his partners but now he has come with different plans and different allies.
Fullstaq Marketer is basically a training program focusing on online marketing strategies (specifically affiliate marketing). According to Keala, less than 5% of students manage to make any money online even after taking paid courses to learn online marketing.
We are not sure about the legitimacy of this claim. But there is a striking hint that could help you. Perhaps Keale based his claim on the results from the performance of the buyers of his own AWOL Academy. If that is the case, what could you expect from Fullstaq Marketer?
Complaints About Keala Kanae
Most of his customers are not happy with the long training sessions or webinars. They are around 3 hours each. But the worst thing is that the promotion of his own sales funnel eats up most of the time of his training sessions. His customers definitely didn't pay him to tell them about his own products and upsells. Now, Keala has sensed that his customers are right and they are no more ready to trust him. This is why he has thrown a new bait in the water.
How Does Fullstaq Marketer Work?
Keala is basically trying to win the confidence back and this is why he is trying to tell you that this new system doesn't feature the previously attempted promotional strategies. He is trying his best to disconnect himself from the ever failing AWOL Academy.
Fullstaq Marketer brings in some new material to encourage the customers to complete the course and make a significant impact with the help of practical implementation of what they learn. This time, Keala has divided the training program into different stages and he awards the successful customers with points as soon as they clean a stage. He does it to keep the customers engaged and motivated.
The objective is to facilitate the customers with a comprehensive training program that features all important factors for a comprehensive online marketing campaign. When you are looking to make money online, you are basically looking to earn more and more affiliate commissions or sell your own products to earn a profit.
So the idea is that you'll sign up to Fullstaq Marketer & you'll be shown how you can promote various products as an affiliate – such as products from Amazon or other online retailers… Or even services as opposed to products.
This is something that's known as affiliate marketing & it's actually the same way I personally make most of my own income online. I can vouch for the method, it's legit – but unfortunately, there are many training programs that are NOT legit.
One of the best training programs I've personally come across to date is Commission Academy… And the reason I claim that is the best because not only does it offer a LOT more content than most other places, but it also offers great value for money.
You see whilst programs like the Fullstaq Marketer are indeed legit (from a technical standpoint) they are what's known as high-ticket programs which means they end up being very costly & could see you spending thousands of dollars.
The reason these programs are so costly is because they too have affiliate programs themselves and to make the commissions seem more attractive to affiliates they have bumped up the price of the programs. It's not illegal, but it's not something I like because I believe products should be priced based on the value they provide not the amount people can earn by promoting them.
Anyway, inside of Fullstaq Marketer you'll be shown how to set up a sales funnel, how to add products into the funnel & then how to use paid advertising to generate traffic to it.
Again this is all legit but another problem arises here too, which is that you don't get the tools required to do all of this inside of Fullstaq Marketer so you will be required to spend even more money elsewhere (which if you use their recommended tools it'll run into hundreds of dollars per month).
And it relies on paid traffic which I would NEVER recommend to a newcomer because it's so risky. Paid traffic requires lots of trial & error & since your paying for it this means you could end up losing a lot of money as you try to figure out a profitable campaign.
Sometimes it takes around $5,000 or more just to figure out what's going to be profitable… And that's why I prefer programs that teach the free methods of getting traffic & making money.
Plus there's the whole thing about the AWOL Academy split, because what about those existing members of AWOL Academy?
Keala has distanced himself from that program & in my opinion, Keala should have shown some concerns but he didn't. We think that he doesn't care about his previous students and he is in no mood of offering some sort of compensation.
How do you know he isn't just going to do the same with Fullstaq Marketer a few months down the line? It seems a risky move to invest thousands into a program which could just ultimately end up disappearing in a few months.
Which brings me onto…
Is Fullstaq Marketer a Scam?
AWOL Academy is a huge failure and we can conclude Fullstaq Marketer review by stating that we can easily anticipate what Keala is up to. He is basically trying to catch more fish by changing the bait.
The reality is that this person is once again going to promote his own sales funnels via this new course. Nothing is going to change. The results will be the same as the AWOL Academy. Though it is not a scam we think that this program will also carry no value at all. He is presenting the same thing wrapped in new packaging.
All you're really going to be doing is buying into the Fullstaq Marketer program & then getting taught how to promote the Fullstaq Marketer program onto others with the opportunity to earn commissions at their expense.
In my opinion, it doesn't go into too much detail on how to start your own separate business around a passion that you're actually interested in. I mean sure, it touches on it, but it seems the primary focus is just on promoting Fullstaq Marketer to others.
So with that being said whilst Fullstaq Marketer is indeed technically legit I will say that I personally think it is overpriced & I also think that there are better alternatives available which are free or cheaper.
One of the best alternatives, in my opinion, is Commission Academy. The reason I say that is because Wealthy Affiliate has a LOT more training overall & you can get started there for free without paying anything upfront… Plus there is no huge costs like there is at Fullstaq Marketer & Commission Academy also provides all of the tools you need to get moving as well without having to pay any extra.
But whatever you decide to do & whatever program you decide to go with I just hope that my review of Fullstaq Marketer here has given you a good insight into how this thing works & what you can expect from it.
If you still happen to have any questions or comments though then, of course, don't hesitate to leave them below. 🙂
A Better Alternative
The sad truth is that unfortunately most of the programs promising to help you make money online are scams. I can say that confidently after exposing over 500+ of them here on this blog.
But the good news is that even though most of them are indeed scams, there are actually some very good programs in amongst them - some programs that can truly help you to earn money.
And out of all of the legit programs I've seen, the one I would recommend the most to anybody looking to get started online is Commission Academy. In my own opinion, that's the best place to start.
At Commission Academy, you'll be provided with everything you need (including the training & tools) to begin earning real money by promoting products or services for companies like Amazon online.
The best part is that there's literally no limit on the amount you can earn with it & the process is pretty simple which means that it's absolutely perfect for people that don't have much experience.
Some wealthy affiliates even earn as much as 5-figures per month... Or more!

I mean don't get me wrong, that kind of money won't just fall into your lap without doing any work... But the harder you're willing to work at it, the more you stand to earn with it.
So if you're looking to get started but don't know which route you should go down or which program you should join (and don't want to waste money on bogus things that don't actually work), then I'd highly recommend checking out Commission Academy first. You can learn more about it here.