The ability to earn easy money online is something everybody is searching for these days but unfortunately, many people often get deceived every now and then by highly lucrative but false claims. Get Paid To Try is yet another platform which supposedly offers an easy money-making opportunity.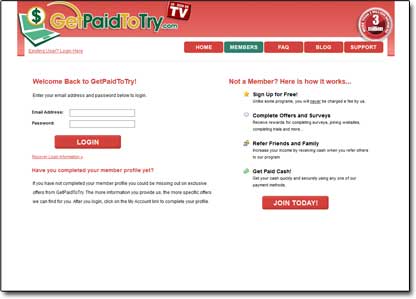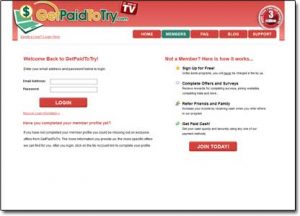 There are hundreds of websites which advertise similar offers and most of us consider trying them out to see if they work. The right approach though is to first investigate the website and this is what I'm going to help you with by writing this Get Paid To Try review.
It is important to know whether the Get Paid To Try scam warnings are true or just propaganda but the other important thing is that we need to focus on multiple aspects. Even if a website is not a scam, it could waste your time and effort for many reasons. I'm sure that this review will help you in making the correct decision even when also analysing similar websites.
What Is Get Paid To Try?   |   How Does Get Paid To Try Work?   |   What The Members Have To Say   |   Is Get Paid To Try a Scam?   |   A Better Alternative
What Is Get Paid To Try?
Get Paid To Try is a simple website which offers free memberships & as a member, you're said to be able to complete different surveys and offers against which you can earn some money. It also claims to award commissions for successful referrals and the best thing is that you'll get cash rewards (unlike sites like Reward Survey which only pay in "gifts").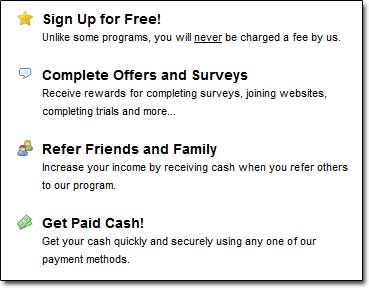 Right from the off though it's worth me pointing out that the Get Paid To Try website facilitates US residents only.
And whilst the website claims that you'll be taking surveys, in reality, I don't think that there is any such activity going on. The website doesn't seem to have to do anything with any research organizations.
The website also claims to offer cash rewards against successful referrals through an affiliate referral link. As soon as you sign up, $5 will be credited to your account and they call it the activation bonus.
The bonus page also contains some offers and promises the provision of $20 if you successfully fill the information. Up until now, everything looks fairly impressive. There isn't a hint of anything complex or malicious. To know more though we'll have to get into the details & explore the real inner-workings of Get Paid To Try.
How Does Get Paid To Try Work?
The first step is to sign up with the website (which is free)
You'll be presented with a form/profile and you have to fill in the details
You'll qualify for surveys based upon your profile information
They'll match your profile's credentials with offers requiring your demographic
You'll be asked to read different emails in an attempt to earn money through the platform
How Much Do They Pay?
Apart from the above-mentioned signup bonus, on an average, a survey will offer no more than $2 but this is the ideal case. More often that not you'll be paid somewhere between $0.25 & $1.25.
The time required to complete a survey may range from 5 minutes to 40 minutes.
Regarding offers, they may ask you to sign up for a free trial of a program, sign up with a website, or visit an online store. In the case of an offer, you can expect to earn anything from $0.50 to $5 per offer.
Warning!
Sometimes, the offers often encourage you to sign up with websites which ask for credit card information. You'll be told to enter your information to qualify for the "free" trials but the problem is, once the trial period gets completed, the website charges the price from your credit/debit card.
In the case of reading emails, you won't earn any more than a maximum of $0.05 per email.
$0.50 is what you earn for each successful referral.
Minimum Withdrawal
This is very important! There are hundreds of websites which show the credit in your account but restrict you from making withdrawals claiming that you can't withdraw below a certain amount, for instance, $30.
In the case of Get Paid To Try, $20 is the minimum amount which you can withdraw. Check or PayPal are the only options which facilitate you in this regard.
What Do The Members Have To Say?
After looking for reviews from other members of Get Paid To Try I found out that not many of them seem to actually be happy with the site. Below you'll see a summary of most of the member's thoughts who used this website in an anticipation of little contribution to their income.
They regret joining Get Paid To Try on following grounds:
The website may be misusing their personal information as the members have been receiving promotional calls and spam emails more frequently than ever before
The unsubscribing feature doesn't really work so you find it hard to stop the spams that you get after signing up
Hidden charges are inflicted in some cases when shopping through the website in an attempt to take an offer. The website directs you to the store, but they charge slightly more than promised
Most of the websites linked to from the platform ask you insert your credit card details even when purchasing a free trial. After some days/weeks, the money is then automatically charged from card despite it claiming to be "free"
Is Get Paid To Try a Scam?
Well, I wouldn't go as far as to say it's a scam as such, but it, in my opinion, it does only seem to be "borderline legit". I think the owners of the site are more focused about earning themselves money than helping the members earn money & as a result they're putting kinda deceitful offers out them… Offers that trick them into getting charged so the creators can earn commissions at their expense.
Basically it's not a paid surveys site I would recommend, especially when there are so many other legitimate paid survey sites… But overall to be honest I don't really recommend paid surveys anything because in my opinion, they're just a waste of time. They pay very little & in order to earn anything "decent" you have to put in a whole load of hours.
As far as I'm concerned there are ultimately many better ways to earn money online, ways that will reward you much better for your time & so for that reason like I say I won't be recommending Get Paid To Try to you.
Hopefully, after reading through this review, you can see why I've come to that conclusion. If you do still happen to have any further questions or comments about it though then don't hesitate to leave them below & I'll get back to you as soon as possible.
A Better Alternative
The sad truth is that unfortunately most of the programs promising to help you make money online are scams. I can say that confidently after exposing over 500+ of them here on this blog.
But the good news is that even though most of them are indeed scams, there are actually some very good programs in amongst them - some programs that can truly help you to earn money.
And out of all of the legit programs I've seen, the one I would recommend the most to anybody looking to get started online is Commission Academy. In my own opinion, that's the best place to start.
At Commission Academy, you'll be provided with everything you need (including the training & tools) to begin earning real money by promoting products or services for companies like Amazon online.
The best part is that there's literally no limit on the amount you can earn with it & the process is pretty simple which means that it's absolutely perfect for people that don't have much experience.
Some wealthy affiliates even earn as much as 5-figures per month... Or more!

I mean don't get me wrong, that kind of money won't just fall into your lap without doing any work... But the harder you're willing to work at it, the more you stand to earn with it.
So if you're looking to get started but don't know which route you should go down or which program you should join (and don't want to waste money on bogus things that don't actually work), then I'd highly recommend checking out Commission Academy first. You can learn more about it here.