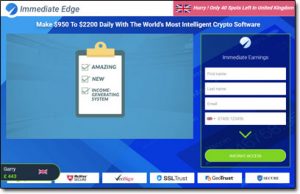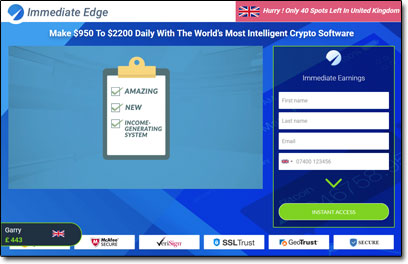 The newly launched Immediate Edge trading system appears to have been featured on an episode of Dragons' Den & it leads you towards believing that it can generate you between $950 to $2,200 daily through "automated cryptocurrency trading".
You're told that the Immediate Edge system is allegedly the worlds most intelligent crypto software & having apparently had the backing of the world-famous dragons you might be tempted to try it out to see if it really works…
But you're also probably thinking that it just sound WAY too good to be true… So what's the truth? Is it actually legit, or is the Immediate Edge system a scam that'll ultimately somehow just end up parting you with your cash?
Well I'm really glad that you decided to do you due diligence & came here to my review first before signing up to the Immediate Edge system because I can tell you that it's NOT what it seems – and it hasn't really had the backing of the dragons.
I'll explain more about that in just a moment but first before I do I'll point out that if you'd prefer to just head straight to something legitimate instead then you can check out my number 1 recommendation via the link below:
Go here to see my no.1 recommendation for making money online
(This 100% free training shares my exact strategy for making 5-figures per month)
Click Here To See My #1 Recommendation For Making Money
Or simply keep on reading for the truth about this new system…
What Exactly Is The Immediate Edge System?
You're led to believe that the Immediate Edge system is based around a new intelligent trading algorithm & the website states that it can literally make profitable trades on your behalf to generate you a completely passive income.
So apparently all you need to do is sign up, deposit some funds with the broker that they recommend & then activate the system in order to begin making money.
They even claim that you'll be guaranteed to make profits of between $950 to $2,200 daily which I think you'll agree is an absolutely crazy amount of money. It's more in a day than what some people earn in a month.

But that bold claim likely rings some alarm bells in your mind because it sounds WAY too good to be true.
I mean come on, if this thing really worked then why on earth isn't everybody using it? Especially if it was truly featured on Dragons' Den like the websites promoting it want you to believe.
Why would people still be working at jobs they dislike if they could simply sign up to the Immediate Edge trading system & earn more money without actually having to do anything? It doesn't add up…
I can tell you the real reason that people aren't doing that though & it's because as you probably already suspect the Immediate Edge system doesn't work as promised. It's actually nothing but a get-rich-quick scam.
The reason I can say that so confidently so soon into this review is because I've actually already exposed this exact same scam several times before right here on this blog. The person behind it simply keeps coming up with re-hashed versions in an attempt to escape the reviews which expose the truth.
Some of its previous names include Bitcoin Freedom, Big Money Rush & Crypto Comeback Pro… And unfortunately for the scammers behind this system here I am once again exposing the truth to protect people from falling victim to it.
So just how exactly does it work? Keep on reading because that's exactly what I'm going to explain next…
How Does Immediate Edge Work?
Well as I briefly touched on in the previous section of this review the creators of the Immediate Edge software want you to believe that you can just sign up to it (for free), make a deposit & then activate it to begin making money.
But that's not really how it works – and you will never really make any money.
You see instead the Immediate Edge software has been designed with 1 intention & 1 intention only which is to simply take money from you so that the people behind it (who remain anonymous) can get rich at your expense.
And there are a couple of very important things they fail to tell you which prove it doesn't really work as promised.
Those things are:
The fact that the creator of the Immediate Edge system is affiliated with the "recommended broker" meaning that if you deposit, he gets paid a commission.
The fact that the broker you're recommended is an unlicensed binary options broker.
These 2 things when combined together literally prove it doesn't work & the reason for that is because binary options brokers work very differently to normal brokers.
Through a binary options broker you don't "invest" in things like you would with a normal broker – you basically place bets on whether you think the value of something will go up or down over a set time period (usually under 60 seconds).
This means that if you win, the broker gives you your money back & pays you a small profit… But if you lose then you lose everything.
It also means that if you win, the broker has to pay you the money out of their own pockets – so it's absolutely not in their interests for you to win. They want you to lose because that's how they make their money.
So with that in mind ask yourself this – why on earth would a binary options broker who only makes money when you LOSE money pay commissions to the creator of a "guaranteed winning system" for getting you to trade via them?
There's absolutely no way they would because such a system would put them straight out of business. The real reason they're paying commissions to the creator of the Immediate Edge system is because they know it's designed to make you LOSE, not win.
It's Also Designed To Make You Lose a LOT
If you signed up with the Immediate Edge system, deposited with the broker & then found out it was all a con then that would be bad enough… But the whole thing is actually MUCH worse than that.
You see rather than just letting you discover the hard way that the whole thing is fake right after depositing, the creator has gone to extra lengths. He (or she) has actually created a fake trading system to make you think that you're profiting.
So if you did actually happen to make a deposit with the broker recommended via Immediate Edge (which of course I don't recommend) then you would indeed get access to the "trading system" as promised.
And then once you activated the system as you were instructed it would appear that you were actually making money like the website claimed you would… So you might think that you're on your way to getting rich.
And that's exactly what the creator wants you to think because the system is a total phony – it's not really connected to any live markets… It's basically just a video game & it's built with the intention of tricking you into depositing even more money.
Some people end up losing tens of thousands of dollars to these binary options scams before they find out they're not real.
Unfortunately people only get to find out it's not really when they finally push for a withdrawal. This is when the broker will either ignore it, refuse it – or may even ask for more money to "release it" which is just a further part of the scam.
Remember, the broker is unlicensed – they're in on the scam too. The creator of the Immediate Edge system & the broker that you're recommended to deposit with are both in cahoots on the whole thing together.
They just want to squeeze you of as much cash as possible, which brings me onto…
The Dragons' Den Feature
One of the biggest reasons people seem to getting caught out by these binary options scams like Immediate Edge is because the creators are also using cunning marketing techniques to trick people into thinking that they're legit.
In the past they've tried to make people believe the systems were featured on the news, but this time around they're trying to make people believe that the system has been featured on the popular TV show Dragons' Den.
After all if a system had been truly recommended by the dragons' then it would definitely be worth checking out – but in this case it hasn't.
As shown below the screenshot of the "news article" below, the website hosting it isn't even a real news website which you can tell from the address in the address bar of the browser: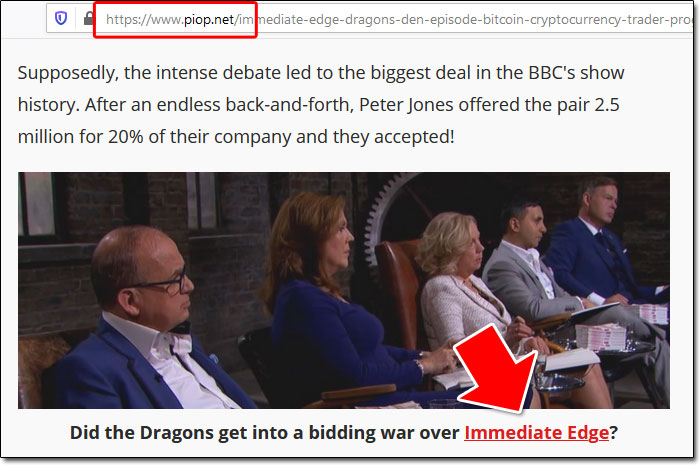 And the REAL newspaper outlines the facts, which states that it's fake (as shown below). Even Peter Jones stresses that it's a scam too (also shown in the screenshot below):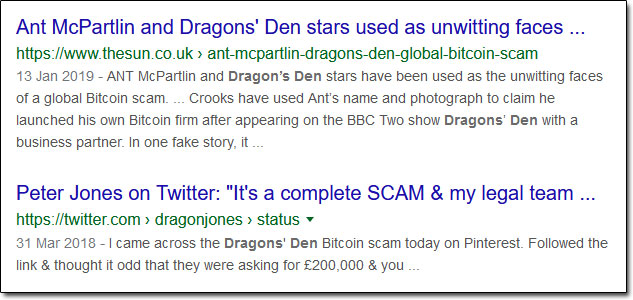 There's no way a legitimate trading platform would ever use such tactics to promote itself, so I think it's the appropriate time for…
My Verdict – Is Immediate Edge a Scam?
I'm sure you've already come to your own conclusion by now but yes, the Immediate Edge trading system is definitely a scam. The whole thing has been built upon pure lies & deceit & it's only intention is to trick you.
The people behind it just want to part you with as much cash as possible & they've gone to extreme lengths to do it. Hopefully now though after reading this review you won't fall victim to it.
And I'll point out that if you do still want to make money online legitimately then you can check out one of the proven methods that I've put on my top picks page right here.
You could also check out the same way that I personally use to make most of my own money online which is called affiliate marketing. In my opinion that's the best ever way to make good money online especially if you're new & don't want to spend much to get started.
It basically involves you promoting products or services online in return for commissions & there's no limit on the amount you can earn with it. The harder you work the more you stand to work. Plus you can even get started with it for free thanks to Wealthy Affiliate.
But like I say, whatever you decide to do I just hope that my review of Immediate Edge here has helped to prevent you from losing your cash to it. I also hope it's given you a good insight into how it works so that you can dodge any similar scams in the future.
If you still happen to have any further questions or comments though then of course don't hesitate to leave them below. 🙂