Impact Mailing Club is a newly launched program that claims it can enable you to easily earn between $200 to $400 per day by simply mailing out letters & it claims that you don't need any experience to get started.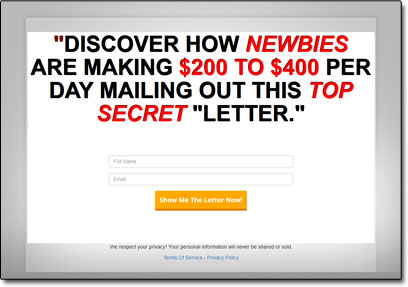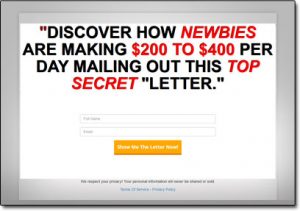 According to the creator of it (who remains anonymous) anybody can simply sign up & begin making money with it, but there's a catch – which is that in order to get started you have to hand over some of your money first.
So is Impact Mailing Club legit? Or is it just a scam that'll see you mailing money in the post & getting nothing return? Well I'm glad you decided to do you due diligence & came here to this review first before signing up because as you'll soon see it's NOT what it seems…
What Is Impact Mailing Club?   |   How Does Impact Mailing Club Work?   |   Proof It's Not As Easy As It Looks   |   Is Impact Mailing Club a Scam?   |   A Better Alternative
What Is Impact Mailing Club?
Impact Mailing Club calls itself a "mailbox money" program and it basically suggests that it can enable you to easily earn lots of money by simply mailing out pre-filled letters to random people…

You're led to believe that all you need to do is sign-up, mail the letters they give you & that you'll almost immediately begin getting paid commissions of between $200 to $400 per day.
But how does it work? And where is the money coming from?
Well the truth is that basically Impact Mailing Club is really just a Ponzi scheme – there's no real product & it's just a case of people buying into it, then trying to get others to buy into it exactly like they did to earn commissions…
The problem though is that whilst they make it sound lucrative, there are some HUGE flaws which mean that even though some people may make money, most people won't – instead they'll just end up losing it.
It's not the first time I've seen something like this though, I've seen & exposed various other "mailbox money" programs in the past like Postcards To Wealth & Envelope Work. They're just BS and they're built with the primary intention of making their creators wealthy, not the members.
You'll see what I mean when I explain in greater detail how it all works below (and why it likely won't work as they claim)…
How Does Impact Mailing Club Work?
Impact Mailing Club have really spent a lot of time trying to hype their opportunity up & trying to make it seem legit, but when you strip it back it's really just a Ponzi scheme through which you have to invest & then trick others into doing the same.
So if you've come across Impact Mailing Club then it was likely via somebody promoting it, and that's because that's the only way people are making money with it – by promoting it to others & trying to get them to join.
In order to get started with Impact Mailing Club you're instructed to firstly purchase one of the following plans: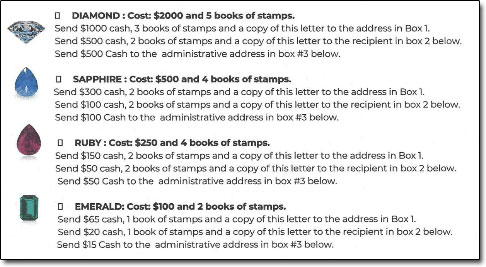 And yes, you are reading that right – their main membership costs a whopping $2,000, and what's worse is that if you don't upgrade all the way to that membership & purchase a lower one instead then you'll actually LOSE money (more on that in a moment).
What you'll notice though from the image above is that you're instructed to send off various amounts of cash to various different people which will likely sound pretty strange & make you sceptical about it…
But basically the concept is that once you send the money off to those people, you then get your name put onto the letter which you then mail out… And from there it's a simply a case of hoping that people do the same & send some money to you.
What I can tell you though is that it will be VERY unlikely that you'll receive any money from anyone & the reason for that is because the conversion rates on these types of things is extremely low.
As soon as people receive a letter like the ones Impact Mailing Club tell you to send they will just think "scam" and put it straight in the bin. Who on earth is going to send $1,000 cash (or even $15 cash for that matter) to some stranger that just randomly mailed them?
These things are made to look good in theory to trick you into sending your money, but the reality is that it's primarily only the creators who profit from these things (and their close associates positioned at the top).
The average Joe will just LOSE money with Impact Mailing Club, and to see proof of that just go ahead & take a look at the comments members left on my Club Cash Fund review (which was a program that worked in the exact same way).
Plus like I mentioned a little bit above, unless you actually upgrade all the way to the top level for $2,000 then you will only be able to earn on the levels you own… So if you only sign up to Emerald & somebody signs up to Diamond, you'll only get the Emerald commission ($65) and the rest of the money will be passed up to somebody else.
Here's a breakdown of the commissions for each level: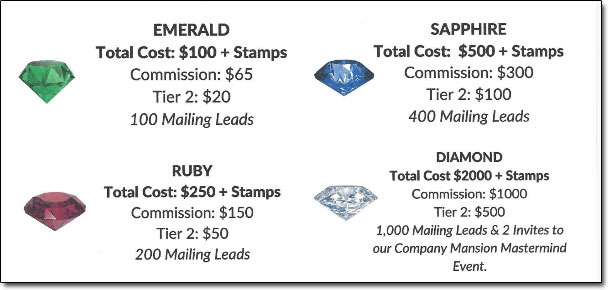 You Might Also Like:
PROOF It's Not As Easy As It Looks
One of the main selling points Impact Mailing Club repeatedly mention is the fact that it apparently "is super easy" and "literally only requires you to mail letters"… But I can tell you that's 100% not true.
I mean first of all, if there's no selling & if all you need to do is literally send mail like they claim then why on earth does it say on their letter that if you join Impact Mailing Club will "assist you in closing sales"? (as shown below):

So clearly there's some selling involved… And also if all you really need to do is "mail letters" then why are most of the members (like the one pictured below) creating their own websites and videos in order to promote it?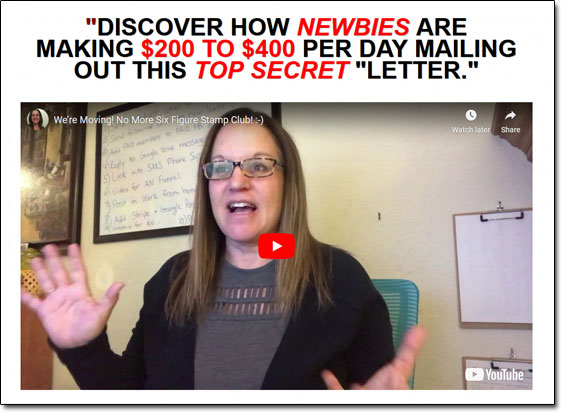 Clearly it's because "just sending mail" isn't good enough – but you probably already knew that because it just sound WAY too good to be true, and if something sounds too good to be true then as the saying goes, it usually is.
I mean yes, there are indeed many legitimate ways to make money online but what you must understand is that the internet is not magical (nor is the mail system) and it is not just going to see you getting rich with little to no work.
If these things really worked then everybody would be doing it, nobody would be left working a job & the world would be in crisis. I mean who the heck would waste time working a job for a paycheck if they could truly just mail letters & earn $200 to $400 per day? Clearly it is fake.
But don't get me wrong, you can indeed make a full-time income online legitimately it's just that you must be prepared to put in work to make it happen. It is not going to fall into your lap like get-rich-quick scams claim it will.
One of the best ways for building an income online in my opinion is something called affiliate marketing (which is what I actually do myself) and it basically involves you promoting products/services for commissions.
The great thing about affiliate marketing is that it's easy to get started with & that the amount you can earn with it is totally uncapped. If you're interested in it you can learn more for free over at Commission Academy.
But back onto Impact Mailing Club…
Is Impact Mailing Club a Scam?
In my opinion yes, it is a scam & the reason I say that is because it is extremely misleading & there is no real product in place. It's just a case of investing, then getting others to invest exactly like you did so that you can earn at their expense.
I mean yes, it is indeed "possible" to earn money with Impact Mailing Club however realistically it is just primarily set up for its creator to make money (and the close associates of the creator), not you or the average Joe.
After all what you have to think about when it comes to programs like Impact Mailing Club is that if people are making their money from other people, then not everybody can be making money… Otherwise nobody would be making money – everybody would just be spending!
And the other big problem is that the whole thing could be shut down at any moment in time because it is not a legitimate business model… So you could end up investing only to discover that it gets shut down the very next day.
Either way it's just too risky, especially when there are many alternative legitimate ways to make money.
So if you're still interested in making money then I'd advise you steer clear of the Impact Mailing Club program & just do something like affiliate marketing instead (which is the same way I personally make most of my own money).
Affiliate marketing is easy to get started with & it puts you in full control of your income. There's also no cap on the amount you can earn & if you're interested you can learn more or get started with it for free over at Wealthy Affiliate.
But whatever you decide to do I just sincerely hope that my review of Impact Mailing Club here has given you a good insight into how it really works & hopefully it has also helped you to save your cash. Feel free to leave any additional comments or questions below if you have any. 🙂
A Better Alternative
The sad truth is that unfortunately most of the programs promising to help you make money online are scams. I can say that confidently after exposing over 500+ of them here on this blog.
But the good news is that even though most of them are indeed scams, there are actually some very good programs in amongst them - some programs that can truly help you to earn money.
And out of all of the legit programs I've seen, the one I would recommend the most to anybody looking to get started online is Commission Academy. In my own opinion, that's the best place to start.
At Commission Academy, you'll be provided with everything you need (including the training & tools) to begin earning real money by promoting products or services for companies like Amazon online.
The best part is that there's literally no limit on the amount you can earn with it & the process is pretty simple which means that it's absolutely perfect for people that don't have much experience.
Some wealthy affiliates even earn as much as 5-figures per month... Or more!


I mean don't get me wrong, that kind of money won't just fall into your lap without doing any work... But the harder you're willing to work at it, the more you stand to earn with it.
So if you're looking to get started but don't know which route you should go down or which program you should join (and don't want to waste money on bogus things that don't actually work), then I'd highly recommend checking out Commission Academy first. You can learn more about it here.