The Postcards To Wealth website promises to provide you with access to a so-called proven postcard system which can allegedly enable you to generate what they call instant postcard wealth.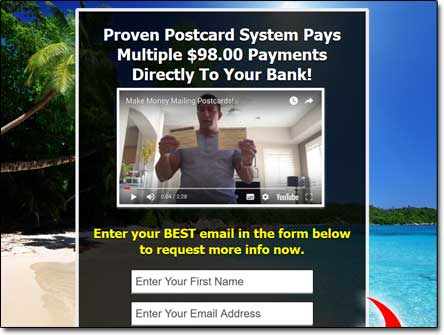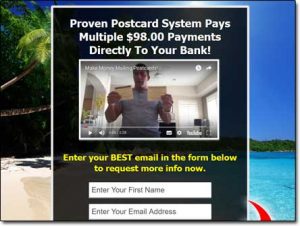 You're led to believe that you can simply sign up, start mailing postcards & begin banking multiple $98 payments every single day… But I think you'll agree with me when I say that it all sounds a little too good to be true, right?
So what's the deal? Can you really make money with the system or will Postcards To Wealth scam you rather than actually help you?
Thankfully if you're curious about it then you've landed in the right place to find out everything you need to know because I've taken a closer look into it & in this review, I'll be uncovering the truth about how it actually works.
What Is Postcards To Wealth?   |   How Does Postcards To Wealth Work?   |   A Big Problem   |   A Better Way To Make Money   |   Is Postcards To Wealth a Scam?
What Is Postcards To Wealth?
The Postcard To Wealth system has been put together by a guy named Adam Walker & Adam claims that the system will provide you with an easy way to achieve financial success online.
He states that his postcard system is totally step-by-step & that if you follow the steps right through you'll be able to take exotic vacations, drive fancy cars & buy a luxurious house with a pool in the backyard.

You're literally led to believe that all you need to do is mail some postcards & that from there you'll begin generating a hands-free passive income that could see you becoming a multi-millionaire in no time at all.
And Adam goes on to say that all you need to do in order to get access to this so-called amazing opportunity is pay a "measly" $98 registration fee…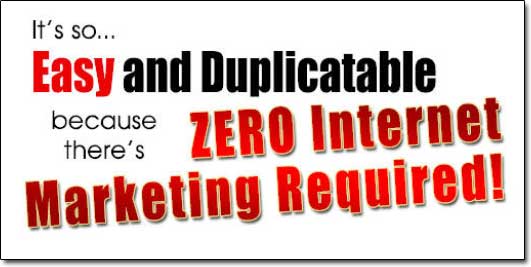 But if you pay the fee will you really be able to make money as easily as Adam claims? Well, the short answer to that is in my opinion no, you won't. As far as I'm concerned you'll be much more likely to LOSE money through his Instant Postcard Wealth system than you would be to make it & if you continue reading below you'll see why…
How Does Postcards To Wealth Work?
I'm gonna admit that right from the off it's easy for me to see that the whole Postcards To Wealth program isn't legit. In reality, as opposed to being a "great opportunity to make money" as it claims, it's blatantly just a flat-out cash gifting scheme that'll much more likely see you spending money rather than actually making it.
It reminds me of Easy 1 Up & My Residual Profit which were similar scams I've exposed on this blog in the past.
The way it works is pretty simple. You sign up for $98 (which is re-billed every month until you cancel) & then you receive the rights to earn $98 commissions by getting other people to sign up just like you did.
The $98 you paid gets paid directly to whoever it was that recruited you, or Adam the owner if you visited the website directly & didn't enter a sponsor.
From there the idea is that you just mail out postcards with your referral ID on, then the people you mail them to begin signing up & you start earning a whole bunch of recurring $98 commissions.
I know it sure sounds easy & you might be thinking that you could actually make some money from it, but trust me when I say it's much more difficult than it sounds.
I mean one of the examples shown on the websites states that from a mere 500 postcards sent out you could generate $980 profits from 10 sales… But in my opinion that is outrageously hyped up.

The reason I say it's hyped up is that firstly, most people just throw away these junk-type postcards without even paying attention to them – and even if they did pay attention to them these people are not what we call in marketing a "targeted audience".
Sure, if you were sending postcards to people who were actively seeking a way to make money then maybe you'd make a sale… If you were lucky… But to send them to 500 random addresses & expect sales… No way!
Plus There's An Even Bigger Problem…
Let's just pretend that you send the postcards out as you're told & you do indeed happen to reach a few people that are interested in the program. In order for you to earn a commission, there are 2 steps they have to complete…
Firstly they have to type in the URL on the postcard into their computer to visit the Postcards To Wealth website, then they also have to type in your unique referral ID that's printed on the card.
If they don't type in that ID & sign-up without doing so then guess who gets the money? Adam, not you!
And I can tell you that most people won't bother typing the referral ID in because there is no incentive for them to do so… So basically the whole thing is just a scheme for Adam (the creator) to make money.
That's how he's able to live his fancy lifestyle but sadly through his "proven postcard system" it's going to be unlikely that you'll be able to do the same. Instead, you'll just find yourself wasting money on a $98 recurring subscription & feeling disappointed at the results you achieve.
You Might Also Like:
There's a Better Way To Make Money
Adam's Postcard To Wealth program is just a bogus illegitimate money-making scheme… It's a scheme that could also potentially get you into quite a bit of legal bother if you chose to participate in it.
But the truth is that you can actually make good money online legitimately with the help of a proven & time-tested platform like Commission Academy. It's there that you'll learn step-by-step the proper method for making money online… And you'll get provided you with all of the tools you need as well.
Oh and the best part about it? You're not required to pay any crazy $98/mo fees just to get started… In fact, you can actually get started totally free of charge so if you haven't already done so I suggest you check out my Wealthy Affiliate review here to find out more.
Is Postcards To Wealth a Scam?
Calling it a scam would be a bit harsh, but it sure comes close & in my opinion, it's certainly not legitimate. The only reason I am refraining from calling it a flat-out scam is because there is indeed actually the potential to make money… It's just that it's way more difficult than you're led to believe, and that you'll likely lose money instead of actually make it.
I mean as far as I'm concerned it's clear to me that rather than being designed as a system with the primary intention of helping YOU make money like it claims, in reality, it's just been designed to make Adam it's creator money instead.
So you'll be paying money & doing all of the work & it'll be Adam that reaps the rewards.
Therefore overall it's safe to say that I'm not going to be recommending the Postcards To Wealth system because in my opinion it's just total BS & it's clearly a cash-gifting scheme that could potentially get you into trouble.
But like I said above in this review there are legitimate places such as Commission Academy where you can learn how to really make money online without all of the nonsense & the hype if that's what you're still looking to do.
Anyway though regardless of what you decide to do I just hope my review helped you out & more importantly I hope it helped you keep a hold of your hard-earned cash rather than lose it to the promise of "instant postcard wealth". If you do happen to have any further questions or comments about the program then don't hesitate to leave them below.