Inbox Pounds is one of those websites that promise to provide you with the ability to earn money just for signing up and participating in some online activities.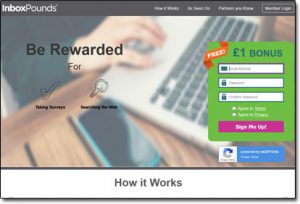 With everyone looking around for some easy and extra cash, these offers always seem attractive. But can you trust them?
We decided to put together this in-depth Inbox Pounds review to answer some important questions & provide you with everything you need to know.
What Is Inbox Pounds?   |   How Does Inbox Pounds Work?   |   How Do You Make Money With It?   |   Can You Earn Big?   |   Is It Trustworthy?   |   Is Inbox Pounds a Scam?   |   A Better Alternative
What Exactly Is Inbox Pounds?
If you are aware of Inbox Dollars, you'll likely already have an idea of what the Inbox Pounds website is all about. This website was created in 2012 as a UK based and targeted version of Inbox Dollars. It is a web portal that lets people make easy money for participating in simple activities such as completing surveys.
Inbox Pounds is owned by CotterWeb Enterprises INC which also owns three other reward websites catering the UK, US, CA and global audiences. This website claims to have paid $50 million overall to users to date. The figure may be appealing but we have our concerns.
One thing we are very sure about is that everything about Inbox Pounds is clear. You can trace its hosts and the third-party companies it deals with. There are no unnamed stakeholders involved… Everything is transparent.
It appears to be a good rewards website & you're led to believe that you'll be able to earn up to £50 to £100 per month. But being realistic no rewards website ever lets you make good money even if it promises you so. It would actually be a miracle if you can make as much as £25 a month. That's for a fact!
I've reviewed literally hundreds of paid survey sites & typically they are extremely low paying in return for your time… That's why I'm hesitant about recommending them because even though it's a legit way to earn money I believe there are many better alternatives available.
But if you're dead set on specifically doing paid surveys for money then Inbox Pounds could be a good site to get started with so let's take a closer look into how it all works & determine how much you could really earn…
How Does Inbox Pounds Work?
Inbox Pounds is a simple "reward" or "get paid to" offers website. It is completely free to join. All it requires is your email ID to sign up. You will be sent a confirmation email to complete the process.
Once you have signed up, you are asked to take a general information survey and then and interests surveys. Inbox Pounds uses the information provided in these surveys to decide which paid offers to direct towards you in the future.
However, one downside is that you cannot withdraw any cash earnings unless you have earned £20.00. That's certainly one high threshold but then that's typical of these type of rewards websites.
They always fix some earnings cap which must be reached before drawing any real money. And we certainly can't tell you how long it will take you to cross this threshold… What I do know though is that most people who join these types of sites will simply give up before they ever actually reach it.
The reason I say that is because as I mentioned towards the start of this review these reward sites typically pay VERY little in return for your time. Often it doesn't even equate to as much as £1 per hour.
Anyway, that aside let's take a look at how you can actually make money with Inbox Pounds…
How Do You Make Money With Inbox Pounds?
You earn your first pound when you sign up for Inbox Pounds! Isn't that quick and easy? Well, this bonus pound is your one & only "easy earning" on this website. After that, you have to work for your money!
There are several different options for you to explore. There are cash offers which let you pay some amount to avail the offer and get the amount back plus some bonus. In such offers, you can earn one or two pounds per offer. There are also trial cash offers that are free but may still require you to give your credit card details. Free cash offers may take at least 10 to 15 minutes to complete a task for you to earn a few cents only.
I would be very wary when it comes to the "trial offers" though because if you forget to cancel then you could see yourself getting substantially billed at the end of the trial period which I've seen happen before on other sites.
You can play games or take surveys to earn money via the Inbox Pounds too. The problem with surveys is qualification itself. You may take a long survey and may not even earn anything at all because you just didn't qualify. This means that you would be taking too many free surveys. Unfortunately, it's almost always like this with getting paid to take survey offers. Sigh!
The only survey company I've seen to date to give you any credit for surveys you turn out not to qualify for is Global Test Market, but even then all they give you is a mere 5 credits which doesn't add up to much.
Back onto Inbox Pound though, you can also get paid to use a certain search engine too. But only if you have enough time to do a web searching for merely one or two cents per search. It's just a wastage of your time and nothing else… This alone would take a LONG time to add up to anything substantial.
If you are an active Inbox Pounds member then they will send you emails with paid offers, however oddly (and annoyingly) if you don't spend time on their website, they don't send any of those paid offers through to your inbox. It's tit for tat!
You Might Also Like:
Can You Earn Big with Inbox Pounds?
We would have said a big yes if the question was whether you can simply earn or not, but you can't earn "big" on this website. It will take you at least ten minutes to finish one task and most tasks would only pay you some pennies or maximum a single pound if you are lucky enough!
Reaching the £20 mark itself just to actually cash out your money will be a hustle on its own!
Can You Trust Inbox Pounds?
As stated above in our Inbox Pounds review, the website has nothing shady about it. You may not earn big but you can be sure of earning something. If you withdraw money via cheque, it may take some two weeks to be delivered but there is no evidence to call them a scam.
And that brings me onto…
My Verdict – Is Inbox Pounds a Scam?
Our Inbox Pounds review doesn't provide any evidence to think of this website as a scam. It is quite legitimate and the company behind it appears to be very transparent. They even featured on a BBC program in the past, and as mentioned earlier in this review they also own Inbox Dollars.
You can certainly earn some extra money through Inbox Pounds but I think it should be looked at with a realistic approach… It's not a website that is going to see you earning anything big or leaving your job anytime soon… Maybe you could earn an extra £25 per month or so at most.
I mean don't get me wrong there's certainly nothing stopping you from signing up to multiple paid survey sites to try to earn more but even still I think even if you managed to complete surveys all day long, on average you're probably not going to earn much more than £1 to £2 per hour.
So yeah, it is a good site if you are just looking to earn a little extra but if you're wanting to earn more then I would recommend you check out one of these alternatives.
I'll also point out here that my personal all-time favourite way for making money online is something called affiliate marketing & the reason I say it's my favourite is because it's actually the same way I make a full-time income online myself.
Affiliate marketing may not be as easy as paid surveys but the benefit is that the amount you can earn with it is totally uncapped, and thanks to programs like Commission Academy it's still easy enough for beginners to get started with… It just takes a little work.
The good news though is that if you're prepared to put in the work then it can certainly provide you with a healthy income & if you're interested in it then you can learn how to get started with my free guide right here.
But whatever you decide to do I just sincerely hope that my review of Inbox Pounds here has given you a good insight into the rewards site & helped you decide if its really right for you or not. If you still happen to have any further questions or comments though then, of course, don't hesitate to leave them below. 🙂
A Better Alternative
The sad truth is that unfortunately most of the programs promising to help you make money online are scams. I can say that confidently after exposing over 500+ of them here on this blog.
But the good news is that even though most of them are indeed scams, there are actually some very good programs in amongst them - some programs that can truly help you to earn money.
And out of all of the legit programs I've seen, the one I would recommend the most to anybody looking to get started online is Commission Academy. In my own opinion, that's the best place to start.
At Commission Academy, you'll be provided with everything you need (including the training & tools) to begin earning real money by promoting products or services for companies like Amazon online.
The best part is that there's literally no limit on the amount you can earn with it & the process is pretty simple which means that it's absolutely perfect for people that don't have much experience.
Some wealthy affiliates even earn as much as 5-figures per month... Or more!

I mean don't get me wrong, that kind of money won't just fall into your lap without doing any work... But the harder you're willing to work at it, the more you stand to earn with it.
So if you're looking to get started but don't know which route you should go down or which program you should join (and don't want to waste money on bogus things that don't actually work), then I'd highly recommend checking out Commission Academy first. You can learn more about it here.