Inbox Dollars is what's known as a Get-Paid-To website which basically means that they'll pay you for completing a variety of different yet easy tasks such as watching TV, taking surveys & even shopping online.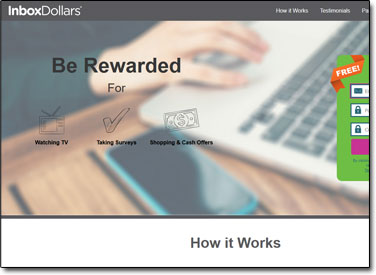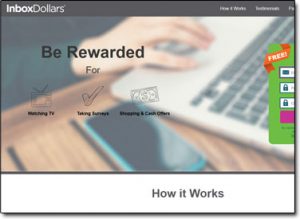 At the time of writing this review they're even claiming to offer a $5 bonus just for signing up, but is it actually legit?
Or is Inbox Dollars a scam that's just set out to part you with your time?
Well, you can rest assured that you've landed in the right place to find out as I've personally taken a closer look into it & in this Inbox Dollars review I'll be uncovering everything you need to know.
What Is Inbox Dollars?   |   How Does Inbox Dollars Work?   |   How Much Can You Earn?   |   How Do The Paid Emails Work?   |   How Do You Get Paid?   |   Is Inbox Dollars a Scam?   |   A Better Alternative
What Is Inbox Dollars?
As I briefly mentioned above Inbox Dollars is what's known as a Get-Paid-To website – and this means that they'll pay you money directly in return for you completing small tasks via their website.
The tasks you can get paid for include various things like watching videos, completing surveys & shopping for things online – but as you can imagine since they're all fairly easy you won't be earning a great deal.
Though it's not bad if you're just looking for a bit of extra cash… But if you value your time (and you're not desperate for money) then you'd probably be better off picking another method of making money.
The thing that separates Inbox Dollars from most of the other popular Get-Paid-To websites like Global Test Market & InstaGC is that Inbox Dollars run something called PaidEmail through which they actually pay you money for reading & clicking on emails.
I'll explain more about that in a moment, but firstly…
How Does Inbox Dollars Work?
You might be wondering why Inbox Dollars would be willing to pay you for simple tasks that could almost be classed as being fun, so before I go ahead & get into the finer details let me explain how it works.
Basically, Inbox Dollars (and the other companies like them) work with various brands who are looking for consumer opinions & are willing to pay for them. They then act as a middle man between these brands & the people who are willing to give their opinions in return for a little bit of extra money (aka potentially you).
The brands pay Inbox Dollars, they then take a little slice of pie for themselves & the rest gets paid to you.
I've noticed some Inbox Dollars scam rumours floating about the web but they're definitely not a scam – they've most likely just been written by people who don't really understand how the process works.
Though when it comes to these Get-Paid-To websites you do have to be careful because just recently I uncovered two scams named Fix Monthly Income & Teens Earn Cash which weren't paying their members.
Thankfully unlike those scams, Inbox Dollars has a solid reputation for paying their members.
Basically, the Inbox Dollars process looks like this:
You sign up for free
You complete a short profile about yourself (so they can send you relevant tasks)
They start sending you regular emails with tasks to complete
You complete them & accrue funds in your account
Once you've racked up $30 of earnings you can make a withdrawal
They also run a referral program too through which you can earn extra money by getting your friends to join Inbox Dollars through a special link that you're given. You'll get 10% of their earnings for life which is a pretty sweet deal.
How Much Can You Earn With Inbox Dollars?
As you can probably imagine the amount of money you'll be able to make through Inbox Dollars isn't going to be anything life-changing, but you can potentially make enough to take a chunk out of the bills each month.
On average the tasks generally pay around $1 a pop, and typically they'll take up about 20 minutes of your time. Based on the normal frequency you're sent new tasks you'll likely be able to earn around $20 to $60 per month with Inbox Dollars.
To make the latter amount you'll have to really dedicate some time towards the tasks & have a good month of being sent a lot of tasks, but the possibility of an income around that mark is definitely there.
Though the reality is that when you factor everything in you'll actually be working for much less than minimum wage as it actually works at being paid around $3 per hour, so if you value your time you might want to try something else instead.
In my opinion, there are certainly better ways to make money online but these type of websites just provide a nice hands-off way for people who are only looking to make a little bit extra without any real commitment.
How Do The Paid Emails Work?
Inbox Dollars run a scheme they called PaidEmail which basically allows you to earn more money through the opportunity & it's actually pretty cool, though there is a little catch you've got to watch out for.
Basically, if you decide to participate in the PaidEmail program then Inbox Dollars will start sending emails to your inbox, and if you open them & click on the links you'll be taken to an advertisers website & earn money.
The number of emails you'll be sent will vary depending on how active you are inside Inbox Dollars – so the more tasks you complete the more emails you'll be sent, up to around a max of 3 per day.
However there is a little catch – basically, you'll earn money providing you open the email & click the link, but then on the advertiser's website you're taken too you'll often be offered the opportunity to earn extra money through Inbox Dollars by signing up to a trial of a product or service.
This is great in one respect because it gives you the ability to earn more money, but on the other hand, if you forget to cancel it then you could see yourself ending up with a hefty bill the following week or month.
Also, the PaidEmail service is sadly only available for members in the USA.
You Might Also Like:
How Do You Get Paid From Inbox Dollars?
Inbox Dollars have a minimum withdrawal limit of $30 & once you've reached that you'll be able to request the money in the form of an electronic gift card, or alternatively you can request to be sent a prepaid Visa or check in the mail.
Be aware that unless otherwise specified there is a $3.00 withdrawal fee.
Is Inbox Dollars a Scam?
Inbox Dollars certainly isn't a scam – I think those scam rumours have just come from people not really understanding the service & how it works, but at the same time, in my opinion, it's not the best way to make money.
I mean sure if you're just looking a make a little bit of extra cash without putting in a great deal of thought or effort then yeah, Inbox Dollars is probably the one for you, but if you value your time then there are definitely better things you could be doing to ultimately make more money in the long run.
One of those things is affiliate marketing which is where you basically promote other peoples products online & get paid commissions in return – it's a great way to make money & you can learn how to get started through Commission Academy.
But in terms of Get-Paid-To websites, I'd probably say Inbox Dollars is up there with one of the best – especially if you live in the USA because you'll be able to make money through the PaidEmail scheme too.
Another good one is Fusion Cash.
So overall it's a thumbs up from me for Inbox Dollars & if you're looking to join a Get-Paid-To website then I'd say it's one of the top ones, but in general, I'd say there are better opportunities to make extra money online.
A Better Alternative
The sad truth is that unfortunately most of the programs promising to help you make money online are scams. I can say that confidently after exposing over 500+ of them here on this blog.
But the good news is that even though most of them are indeed scams, there are actually some very good programs in amongst them - some programs that can truly help you to earn money.
And out of all of the legit programs I've seen, the one I would recommend the most to anybody looking to get started online is Commission Academy. In my own opinion, that's the best place to start.
At Commission Academy, you'll be provided with everything you need (including the training & tools) to begin earning real money by promoting products or services for companies like Amazon online.
The best part is that there's literally no limit on the amount you can earn with it & the process is pretty simple which means that it's absolutely perfect for people that don't have much experience.
Some wealthy affiliates even earn as much as 5-figures per month... Or more!


I mean don't get me wrong, that kind of money won't just fall into your lap without doing any work... But the harder you're willing to work at it, the more you stand to earn with it.
So if you're looking to get started but don't know which route you should go down or which program you should join (and don't want to waste money on bogus things that don't actually work), then I'd highly recommend checking out Commission Academy first. You can learn more about it here.