The Income Elite Team system by Steve Peirce claims in bold red letters on the very top of the website, that you'll earn up to a whopping $80k per month! Are you wondering you should go for these exciting income claims, or if it will simply turn out to be just another rip-off?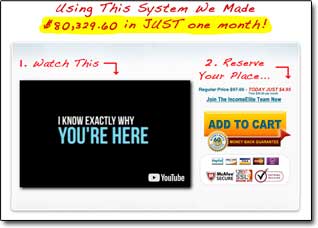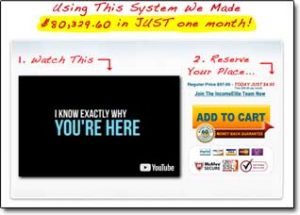 After watching the vague sales clip on their website, you might still be questioning what you'll be getting into and the expenses that come with it. You may still have teeny tiny doubts about what the system claims in the video, even if the video has convinced you to have faith in their assertions. I've decided to go into more detail about the system to write a reliable Income Elite Team review.
Having reviewed a number of similar systems, I can tell you what you're in for. If you're uncertain about the integrity of the platform, this is the right review for you. In this review, I'm going to shed light on what the system truly is, how it actually works and whether Income Elite Team is a scam or legit way to make money.
What Is Income Elite Team?   |   How Does Income Elite Team Work?   |   Is Income Elite Team a Scam?   |   A Better Alternative
What Is Income Elite Team?
I've spent a considerable amount of time in digging into the Income Elite Team system and I'll tell you what I came to know about the platform. An issue with their main page is that the video does not contain details about the way the system works. The only thing explained in the video is how much money is being made with statistics that are not even up to date. They state that all you have to do to start earning money is to copy what they're doing, follow their footsteps and put it into action.
According to the information on the page, the system runs totally on auto-pilot and you only have to set it up to start passively making money from the system. After the system is initially set up you're then led to believe that money will simply keep pouring into your account without you having to do anything extra.
Sounds good, but don't go rushing into signing up just yet because as you can probably guess in reality it's not quite as it seems…
The Claims
Claiming that they make $5.2m in 4 years, the Income Elite Team declares that you can earn $80k plus per month if you use their system… And I think you'll agree when I say that's a pretty bold claim.

The description makes it look so easy like it is extremely easy to make generous amounts of money sitting at home. I went into more detail to find out what the system does and how it really works to offer you such kind of money within a month. Reading more about the system on the page, they state that they started off with just a cheap computer, an internet connection, no online experience and from home. All this may give you the feel that if you only have these few things with you, you can make thousands of dollars in a month, but I highly doubt that is the case. I'll elaborate further on the system and its ways in the review.
How Does Income Elite Team Work?
Initially buying into Income Elite Team costs $4.95, which may seem very reasonable, until you find out after your opening trial that you're going to be billed at $39.95 a month. The members' area in the system offers a good deal of exercise and training to let you discover various different ways you can make money online. The most commonly used technique in systems similar to the Income Elite Team is the method of diverting visitors to a landing page in order to create a list of emails for marketing.
This allows the systems to market the business to the visitors with various chances of making money.
The system claims that this is not something new as a lot of products, including the Insider Profit System, are using this technique. In my opinion, these marketing techniques are basically another way of forcing a subscriber to give attention to a product in order to increase the product's audience and selling the product to people who are not familiar with you or cannot find out what the product is about. In this system, you won't learn how to divert your audience to market your product. In fact, you will use paid traffic at all times. This can cost you thousands of dollars a month paying for traffic or in advertisements if you're not good at it. A lot of websites do not use paid traffic and still get an enormous number of visitors per day. Building user confidence will be a lot more difficult when getting paid traffic for your page too.
Additional Costs
$57/month Templates – websites/landing pages
$39.95 – $69.95 Traffic Packages – which include 3 packages for traffic to choose from. A traffic package should be bought from a reliable source.
$197/month Video Vault & Personal Mentoring – this is the fee you have to pay for help.
Is Income Elite Team a Scam?
In my opinion, Income Elite Team is not technically a scam, but at the same time, I won't be recommending it because I feel like it's pretty misleading & that if you buy into it you'll end up disappointed at what you receive.
I personally feel like the system's sales page itself doesn't contain enough information to let the visitors know exactly what they are getting in to and exactly how the system works. The results and stats shown on the website are not up to date either – and the income claims are massively overhyped.
The techniques used for building an email list are not the ones I would prefer to get visitors and develop a better relationship with the audience. After building an online business, an email list should be created to accompany the business in order to stay in touch with your subscribers. Building trust in the community is very important to let the audience know that the business is popular. Spamming people with your products will not bring a quality audience to your business, viewers who trust your business and will be willing to buy from you, instead, most people in your mailing list will not know what the business is and how it works and will not be interested in buying any of the products being offered.
If it was possible to make thousands of dollars just by sitting at home comfortably on your couch, everyone would start doing it… So, in my opinion, it would be better to avoid this system and I would not recommend the Income Elite Team.
If you want to learn how to make good money online properly then you should check out Commission Academy instead – that's a legitimate program which provides a step-by-step training course (and all the tools you need) to get started online the right way. It's one of my top recommendations & as far as I'm concerned it's much, much better than the Income Elite Team course.
But anyway whatever you decide to do I just hope this review helped you out & gave you a better insight into how this program actually works. I also hope it helped you save some of your hard-earned cash.
If you do happen to have any further questions or comments though then don't hesitate to leave them below. I always do my best to respond to them as soon as possible.
A Better Alternative
The sad truth is that unfortunately most of the programs promising to help you make money online are scams. I can say that confidently after exposing over 500+ of them here on this blog.
But the good news is that even though most of them are indeed scams, there are actually some very good programs in amongst them - some programs that can truly help you to earn money.
And out of all of the legit programs I've seen, the one I would recommend the most to anybody looking to get started online is Commission Academy. In my own opinion, that's the best place to start.
At Commission Academy, you'll be provided with everything you need (including the training & tools) to begin earning real money by promoting products or services for companies like Amazon online.
The best part is that there's literally no limit on the amount you can earn with it & the process is pretty simple which means that it's absolutely perfect for people that don't have much experience.
Some wealthy affiliates even earn as much as 5-figures per month... Or more!

I mean don't get me wrong, that kind of money won't just fall into your lap without doing any work... But the harder you're willing to work at it, the more you stand to earn with it.
So if you're looking to get started but don't know which route you should go down or which program you should join (and don't want to waste money on bogus things that don't actually work), then I'd highly recommend checking out Commission Academy first. You can learn more about it here.