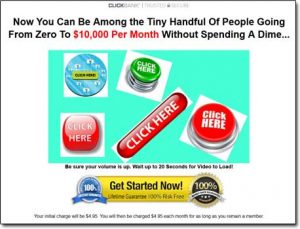 Income Quickies is a newly launched program & its creator claims it's been designed to provide you with simple & quick ways to make over $10,000 per month online, even if you've never made a single penny online before…
He says that each month you'll be provided with a new method & that with just 30 minutes of work you'll be able to generate a 5-figure income… But that's a pretty bold claim right? So I know what you're likely wondering… Is Income Quickies a scam? Or is it a legit program that can actually help you make money?
Thankfully you've landed in the right place to find out because I've took a closer look into it all & in this review I'm going to be uncovering everything there is that you need to know, including how it all works & of course whether or not you can really make money with it. ?
What Exactly Is Income Quickies?
As I briefly touched on above, Income Quickies is a program that claims to provide you with exclusive access to various "simple & quick" ways to easily make over $10,000 per month in extra cash…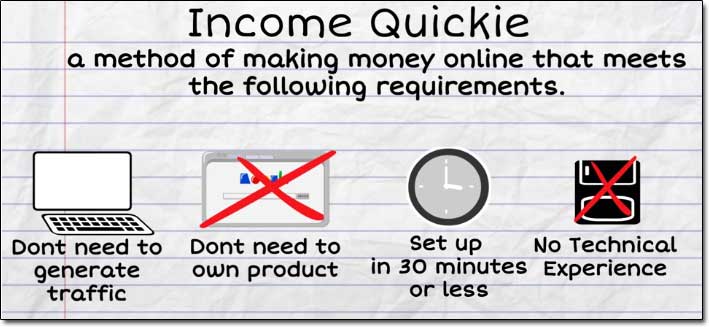 However the program doesn't come free of charge, instead to get access to it you'll be required to pay a seemingly small fee of $4.95, which you will continue to be billed every month until you decide to cancel.
So is Income Quickies legit? And is it worth $4.95 per month?
More importantly if it is legit, why on earth is the creator selling ways to make $10,000 per month for just $4.95/mo? It doesn't really make much sense at all does it?
Well you'll soon see what's really going on when I show you how it all actually works below.
How Does Income Quickies Work?
Right from the off you're told a whole bunch of lies on the Income Quickies website so it doesn't really set itself up for a great start. One of them is the fact that you're told "you won't have to pay a dime", yet immediately below you're asked to hand over $4.95.

Despite the website not really giving much away with regards to what's actually involved in the program & what you'll be doing in order to make money, the fairly good news is that after handing over your cash you do indeed get access to some money making methods that could potentially work…
The bad news though is that most of them will not generate you anywhere near $10,000 per month as claimed, and those that have the potential to generate you anything close to that are much more complicated than you're led to believe.
So basically whilst the website portrays the idea of being able to help you make lot's of money quickly & easily, in reality this couldn't be further from the truth… And to be honest I'm not really surprised.
You see, whilst the internet can indeed provide you with plenty of ways to make extra money, unfortunately it's not magical & it's not going to make you rich with little to no work like the Income Quickies program promises. In order to make good money you must be prepared to put in the work… If you aren't prepared to put in the work & are instead looking for "shortcuts" then the hard truth is that you will simply fail to make good money… Because there are no "shortcuts".
The good news though is that if you are indeed willing to put in the work then there are legitimate programs out there like Wealthy Affiliate that can guide you through the steps that you need to take to make real money online.
Can You Really Make Money With Income Quickies?
Like I mentioned above, after handing over your cash & signing up with the Income Quickies program you are indeed provided with some legitimate ways to make extra money… However I can almost guarantee that you'll find yourself disappointed because the methods shown to you in my opinion do not live up to the hype.
For example, the methods that are actually easy (such as filling in paid surveys) will not generate you anywhere near the promised amount of $10,000 per month. Heck you'd be lucky to make a few extra dollars per month & you'd definitely have to work for more than 30 minutes to achieve that…
And the methods that are harder but can help you make more money don't come with enough training to actually guide you on how to start… So basically you'll just be left feeling confused through no fault of your own.
Therefore in answer to the question above, yes you can technically make some money with Income Quickies however you'll be paying $4.95 for access to money-making methods that I've already published here on my blog for free.
So why bother subscribing to an overly-hyped program for a $4.95/mo fee that'll probably be difficult to cancel when you can just check out my list & see which methods take your fancy… No subscription required. ?
My Personal Thoughts On Income Quickies
As far as I'm concerned the Income Quickies program isn't really set out to help you make money like it's creator claims it is. Instead in my opinion the whole thing has just been setup to make the creator wealthy at your expense instead.
From what I can see he's basically created a low-cost subscription program that under delivers on it's promises with the hope that most of it's subscribers will simply forget about the "seemingly small" payment & keep earning him a monthly income in the background.
I mean if you think about it even if just a mere 1,000 people sign up, that's $4,950 he'll be earning in recurring payments… And often programs like this reach tens of thousands of people, so he could be earning a fortune from all of this!
The whole sales page trying to get you to buy into this system is way over-hyped & there's no way the program delivers on it's claims. Like I say you'd be lucky to make a few extra dollars per month through the program let alone the thousands that it claims. In my opinion you're therefore just being "tricked" into signing up to the $4.95 subscription.
The only positive thing is that it's sold through a third-party merchant named ClickBank who are usually fairly good at issuing refunds, so if you've already been caught out by the Income Quickies program then hopefully you should be in a pretty good position to cancel your subscription & get your money back.
My Verdict – Is Income Quickies a Scam?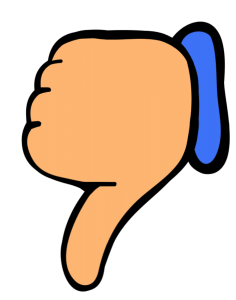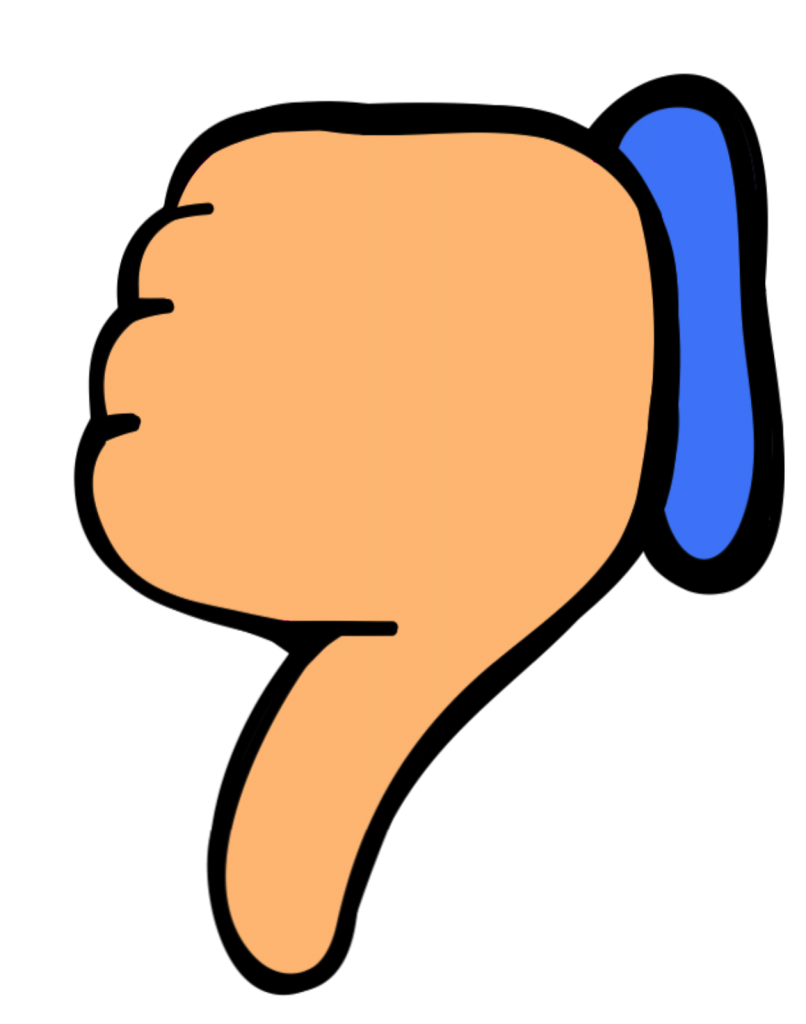 Well it's not really a scam as such, I think that would be a pretty harsh verdict to arrive at… After all you pay for some money-making methods & you are indeed provided with some in return… It's just that they do not live up to their expectations (at least not in my opinion anyway) and it's extremely unlikely that you'll make anywhere near the amounts that you're promised.
Like I say as far as I'm concerned the whole thing has just been setup as a way for the creator to make money at your expense by tricking you into signing up to a recurring $4.95 fee that he'll be making money from every month. The sales page is really hyped up & boasts exaggerated claims but the program fails to deliver on any of it's promises & you're merely provided with money-making methods that you can access for free elsewhere.
So overall it's safe to say that I won't be recommending the Income Quickies program to you because I don't believe you'll find any value from it. Instead I just think you'll be disappointed that you signed up to it.
The good news though as I mentioned earlier in this review is that you can indeed make good money online – it just requires work, but if you're prepared to do that then there are legitimate programs out there like Wealthy Affiliate where you can learn the exact steps that you need to take.
You can also check out my own ultimate guide to making money online as well where you'll learn more about the different methods (for free)… But whatever you decide to do I just hope this review here helped you out & gave you the insight into this program that you were looking for. ?
Oh and by the way if you do happen to have any further questions or comments then don't hesitate to leave them below & I'll do my best to get back to you with a response as soon as possible.