The Insiders Cash Club system promises to be a fool-proof system that'll allegedly provide you with a super-easy way to begin earning as much as $500, $1,000 or even $5,000 per week online (regardless of whether you're brand new or not).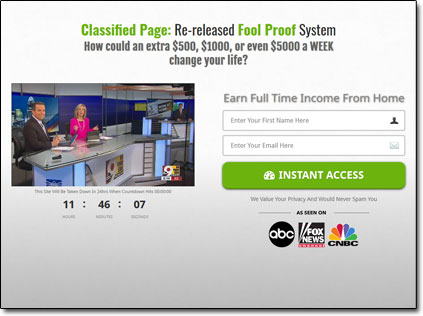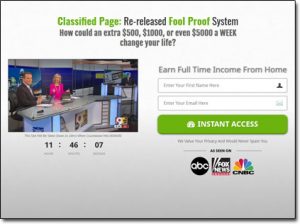 But can you really earn so much money so easily? It certainly sounds like an extremely bold claim…
So is it actually legit? Or will the Insiders Cash Club scam you & just leave you out of pocket instead?
The good news is that you've landed in exactly the right place to find out as I've taken a closer look into how it all works & in this honest review I'll be uncovering the TRUTH about this brand new system (including whether or not you can really make money with it).
What Is Insiders Cash Club?   |   How Does Insiders Cash Club Work?   |   Fake Testimonials Exposed   |   Is Insiders Cash Club a Scam?   |   A Better Alternative
What Is Insiders Cash Club?
The Insiders Cash Club system has been put together by a company named Ortiz Capital LLC & it claims to have been built around a revolutionary way to make money online which is allegedly super easy…
The whole thing portrays that you can simply sign up & begin earning large amounts of money each week without really having to do anything… But no doubt you'll agree that sounds an awful lot like a scam.
After all, as the saying goes, if something sounds too good to be true – it usually is!
And the company behind the Insiders Cash Club (Ortiz Capital LLC) is also the same company that's behind other make-money schemes such as the Income Engine System & the Pay It Forward System.
Those 2 systems were launched prior to the Insiders Cash Club & they did NOT get good reviews… In fact several people deemed them flat out scams & at the bottom of those websites (as shown below) Ortiz Capital LLC published a disclaimer which read "The typical purchaser does not make any money using this system"…

That's certainly not reassuring – and when the whole website stresses how easy it is to make money whilst the disclaimer states that the average person doesn't make money, how do you know what to believe?
Plus Ortiz Capital LLC also has an active lawsuit against them (I'm not sure what it's for though – the case is hidden)…
Either way, it all sounds a bit fishy!
But don't worry, even though the whole thing doesn't look good from the off I won't brush it off as a scam right away… After all I'm always interested in things that show any (even small) potential to make money, so keep on reading & I'll dig deeper into exactly how it works…
How Does Insiders Cash Club Work?
You've probably noticed that prior to signing up to the Insiders Cash Club very little is given away with regards to how it all actually works, instead you're just hyped up about how easy it's going to be & how much money you'll be able to make…
Sadly though that's also a common tactic of a get-rich-quick scam, and I should know because I've exposed literally hundreds of them right here on this blog.
But luckily for you, I've done the digging so you don't need to hand over your cash (or risk your cash) to find out what it's about. Instead, I can tell you that what you'll be getting access to is a training course on e-commerce.
On the checkout page, the course is described as a "step by step guide on how to excel in the e-commerce world"…
And in case you don't know, this is basically where you sell products online – often via the likes of Amazon. You'll be responsible for sourcing/ordering & selling real physical products, which can take a lot of work.
In my personal opinion whilst you can indeed make money through e-commerce, I feel that affiliate marketing provides a much better (and easier) way to make money since as an affiliate you don't have to mess around with the products… You just promote products that people have already made & earn commissions on any sales you generate.
Plus you can even get started with affiliate marketing for free at Commission Academy, and here's a quick visual rundown of how it works: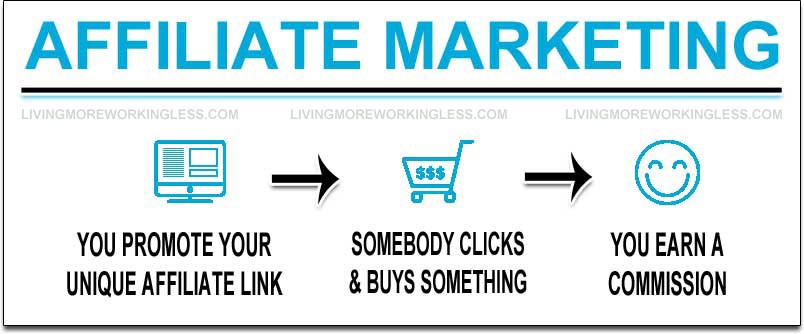 Like I say the problem with e-commerce is that whilst you can potentially make money with it, you'll have to handle all of the products AND you'll have to have a relatively large upfront budget to hand in order to initially purchase the products you plan on selling.
But anyway, can the Insiders Cash Club really help you make money?
Well yes & no…
Don't get me wrong, you do actually get provided with some training through the Insiders Cash Club… So it isn't really a complete scam, but the training is very low quality in my opinion & I don't really think it'll help you get anywhere…
You certainly won't be able to make money as quickly and/or as easily as the video on the sales page for it makes out as that is massively overhyped & misleading which I really don't like.
It reminds me of the My Ecom Club program which uses similar hyped up videos to trick people into purchasing its training… I don't know about you but I like honesty when it comes to being told what I'm buying into (not tricks!).
Also, the product (again in my opinion) is massively overvalued. For example on the checkout page, the creator of the whole thing claims that having a CD "fast-tracked" to your door is worth $150 value…

You know as well as I do that's total BS… There's plenty of companies that offer next day fast-tracked delivery for under $10…
And I mean this next one is just completely laughable – you're told all in all that the Insiders Cash Club program is worth a whopping $11,605, yet the creator is supposedly giving you the chance to get access for just $8.99/month LOL.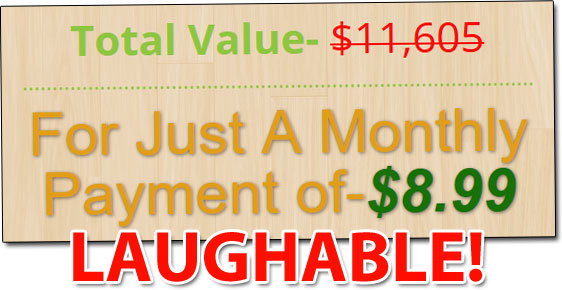 That's just crazy – if the product was really valued at $11,605 there is absolutely no way the creator would be selling it for just $8.99… It wouldn't make sense to do that at all… You may as well just give it away for free if that was truly the case.
The reason it isn't being given away for free though is because they want to entice you into giving them your credit card details so that they can trick you into purchasing more expensive "1-click upsells" as you progress through the course.
What starts out as an $8.99/mo program could quite quickly end up costing you hundreds or even thousands of dollars – just like the My Ecom Club program.
You Might Also Like:
Then There Are The Fake Testimonials…
It seems that the Insiders Cash Club really have gone all out on their tricks to try & get you to buy into their program. Not only have they really hyped up the opportunity to be much easier than it actually is, but they've also gone to the extent of using fake testimonials – and this is where things get very dodgy.
I mean come on, as a legitimate company why would you ever need to use fake testimonials?
The only instance I could imagine you'd want to use them is if no real people had anything good to say about your company, but you still wanted to trick people into thinking that you were doing good…
Well, either way, the Insiders Cash Club IS using fake testimonials… So make of that what you will.
The screenshot below is of the Insiders Cash Club checkout page & it shows a guy who is supposedly named Bill Hasiotis praising the system & thanking a guy named Jeremy Scott (who I assume must, therefore, be behind it)…

However, the guy pictured isn't named Bill Hasiotis at all, and a quick reverse image search via Google reveals that. He's actually Paul Glover & he runs a website about suffering from something called fibromyalgia (shown below):

And it's the same story with the lady shown on that page, Beth Ayala too.
Which brings me onto…
Is Insiders Cash Club a Scam?
Well, in my opinion, yes, I do believe that the Insiders Cash Club is a scam – or at least borderline a scam anyway. I mean sure, you do get access to some training as promised – but the sales video is very misleading & the fact that they've used fake testimonials is alarming, to say the least.
There's also the fact that the company behind it (Ortiz Capital LLC) are behind some other money-making systems which people have branded as scams, and their refund policy ties them to the EZ Money Team scam which I personally previously exposed… So it doesn't look good at all.
Basically I won't be recommending it to you anyway because I personally believe there are better ways to make money online. I mean sure e-commerce is a pretty good way to make money online, but it doesn't mean it's the best.
I personally prefer affiliate marketing (which as I mentioned you can get started with at Commission Academy) because at least as an affiliate you don't need a huge start-up budget & you don't need to handle or sell products… You basically just connect people with the products they're looking for & get paid commissions in return for doing so.
So yeah, what you decide to do is up to you – but even if you do decide to go down the route of e-commerce I wouldn't really recommend the Insiders Cash Club as a good training program to start with & hopefully after reading my review here you can see why.
Feel free to leave any comments or questions below & as always I'll do my best to get back to you in the quickest time possible.
A Better Alternative
The sad truth is that unfortunately most of the programs promising to help you make money online are scams. I can say that confidently after exposing over 500+ of them here on this blog.
But the good news is that even though most of them are indeed scams, there are actually some very good programs in amongst them - some programs that can truly help you to earn money.
And out of all of the legit programs I've seen, the one I would recommend the most to anybody looking to get started online is Commission Academy. In my own opinion, that's the best place to start.
At Commission Academy, you'll be provided with everything you need (including the training & tools) to begin earning real money by promoting products or services for companies like Amazon online.
The best part is that there's literally no limit on the amount you can earn with it & the process is pretty simple which means that it's absolutely perfect for people that don't have much experience.
Some wealthy affiliates even earn as much as 5-figures per month... Or more!

I mean don't get me wrong, that kind of money won't just fall into your lap without doing any work... But the harder you're willing to work at it, the more you stand to earn with it.
So if you're looking to get started but don't know which route you should go down or which program you should join (and don't want to waste money on bogus things that don't actually work), then I'd highly recommend checking out Commission Academy first. You can learn more about it here.