Millionaire Middleman is the name of a course that's been produced by 2 guys named Abdul & Chance & it essentially promises to provide what they call "freedom-seeking entrepreneurs" with everything they need to create wildly profitable online businesses…
But as you can likely imagine the course doesn't come free of charge & so there are likely a few questions floating around in your mind about it – such as is it actually legit?
And is it really worth your time?
Or is Millionaire Middleman a scam that'll ultimately just see you spending money & not really getting anything valuable in return?
Well, the good news for you is that you've landed in exactly the right place to find out the answers to all of those questions as I myself have personally taken a closer look into it & in this honest Millionaire Middleman review I'll be uncovering everything you need to know – including of course whether or not it'll truly help you to create a profitable business like they claim. 🙂
What Is Millionaire Middleman?   |   How Does Millionaire Middleman Work?   |   A Better Way To Make Money   |   Is Millionaire Middleman a Scam?
What Exactly Is Millionaire Middleman?
Abdul & Chance, the two guys behind Millionaire Middleman are online entrepreneurs that make livings (other than from selling courses) by acting as "middlemen" in the world of online advertising – hence the name of their course.
Abdul allegedly makes around $2 million per year doing it & Chance apparently pulls in somewhere around $800,000 per year… And the Millionaire Middleman course, in short, is essentially designed to show you how they do it and more importantly how you can too.


So what you'll be learning through the course is ultimately how to set up your own online "freelance" advertising agency whereby you'll be seeking clients who are spending money on advertising & then offering to manage it for them on their behalf (at a cost).
In a way it's quite similar to Tai Lopez's Social Media Marketing Agency & Sam Oven's Consulting programs, however, the Millionaire Middleman course is primarily geared towards managing local Google ads instead.
The "trick" though that you're taught in the course is to essentially find people who are already advertising but advertising badly… So this is what you'll be taught how to look out for, and then the idea is that if you show them how you could do it better they'll be quite likely to take you up on the offer (for a fee).
So you'll be managing the ads for them on their behalf & they'll be paying you a fee on top in return for doing so – and if you do a good job the idea is that you'll have gained yourself a long term client who'll continue paying you for as long as you keep their ads performing well.
Now I can tell you here as a former agency owner that both in theory & in practice this is indeed actually a pretty effective method of gaining clients – but the only trouble these days is that with the rise of so many agencies there's a heck of a lot of competition.
It's still certainly possible to make money doing this though – and a lot of it as well.
And on that note, it's worth me pointing out that in the course you'll also learn about outsourcing the management of the ads too which will allow you to scale the business up & ultimately step back from managing the ads yourself.
So next question…
How Does Millionaire Middleman Work?
Essentially the Millionaire Middleman course is a video training course, so once you join you'll get access to training that's laid out in a step-by-step & modular format which makes things pretty easy to follow.
On top of that, you'll also get access to their "Big Money from Small Business" community on Facebook too, but that's also accessible for free for members who haven't joined the Millionaire Middleman course anyway.
Though on the topic of the Facebook group I have to admit that other than posts published by Abdul & Chance themselves the group doesn't actually seem all that active, and at a glance it seems to be more a "boasting" ground showcasing how much money members are allegedly earning as shown below:

On the other hand though I guess this shows that it's probably pretty easy to actually reach Abdul or Chance directly…
And after digging deeper I did indeed discover that there was actually a community hidden away for paid members as well – and Chance & Abdul have actually employed "mentors" to help out within this private community too. This means that every question you post should realistically receive an answer (or at least you'd hope so anyway).
But anyway that aside, back onto how it works…
Basically the first thing you'll learn about is how to actually find clients – and you'll do this by browsing sites like Google looking for ads & specifically looking for some pretty obvious, easy to fix mistakes with their campaigns.
Specifically, though the focus is on local advertising, so as an example you can see a local ad listing for a plumber in London below:

And like I say you're job from here will be to try and spot obvious mistakes within the campaign. Is there some way you can make it better? If there is your next step will be to contact the company that's being advertised & tell them, and then offer to help them fix it.
Obviously, you won't be giving too much detail away to them about what they're doing wrong (as they'd likely fix it themselves), but enough to show them you know what you're talking about – and then this will be where you pitch your ad management services to them.
A "tip" mentioned in the Millionaire Middleman community is to offer the first month for free, so they just pay for the ad spend & nothing on top… Which essentially gives you a chance to prove yourself, and then from the following months you begin charging them a fee if they decide to continue with your service.
Anyway once you've mastered all that – and once you've mastered the actual management of the ads (which is the trickiest part) then you'll finally be taught how to scale up the business by outsourcing the management to others.
So the end goal is that you'll have outsourced everything to the point where you'll merely be overlooking things… Though I can tell you that in this game even just "overlooking things" can be pretty darn hectic.
Still, though the method itself is sound & there's definitely a lot of money in doing this…
However…
You Might Also Like:
I Believe There's a Better Way To Make Money
Okay so the truth is that if you want to be successful in creating your own advertising management agency then you're going to have to be able to make the campaigns of your clients profitable, there's no doubt about it.
If the campaigns ain't turning a profit, they ain't gonna pay for your services – it's as simple as that.
Now ask yourself this – if you have the skill to generate profit from advertising for other companies, then why the heck wouldn't you just do it for yourself & generate profits for yourself?
That way things would be much easier to scale as you wouldn't need to keep sourcing new clients, you could just put more money behind your campaigns.
So in my opinion whilst the training inside of Millionaire Middleman is pretty good in the sense that it can help you start an ad agency business, I personally believe you'd be better starting an affiliate marketing business & using paid ads to generate revenue for yourself, rather than clients.
And in case you don't already know, affiliate marketing is basically where you promote products from companies online in return for commissions. So as an example you could become an affiliate of Amazon & promote their products in return for commissions (as highlighted in the image below):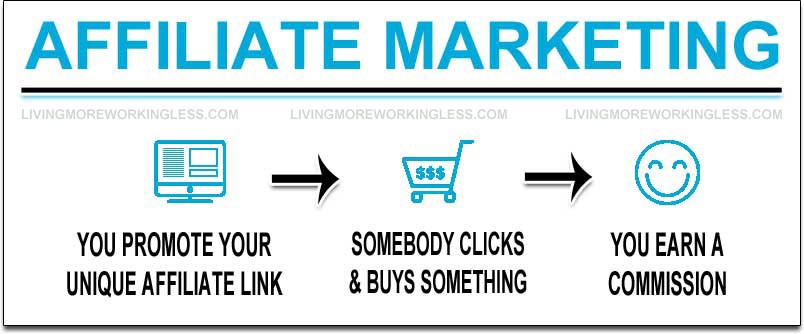 This means that in order to generate profits for yourself it would be a simple case of affiliating yourself with a company whose products you wish to promote & then using paid advertising to drive traffic to them.
This way rather than making a profit for somebody else & charging them a fee, you're making the profit entirely for yourself.
Plus the good news here is that over at Wealthy Affiliate you can actually get training on how to do this for free – and on top of that they'll also provide you with all of the tools that you need to get started as well.
And when it comes to Commission Academy I can definitely vouch for that course as I've even personally met the owners of it at a conference (shown below) where we literally brainstormed ideas of how to help members as best we could: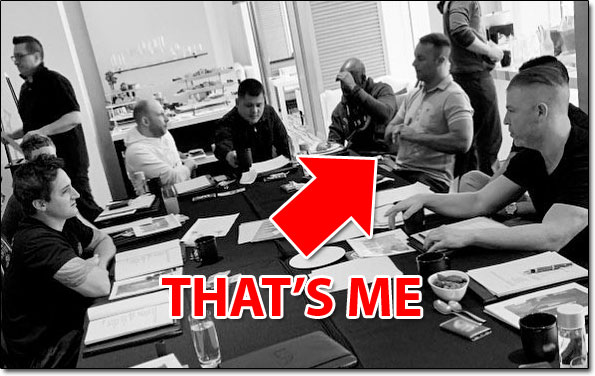 The guys behind it (Kyle & Carson) are 100% legit & they truly care about the success of every single member. That's easy to see once you're inside the platform so I'd definitely highly recommend you check it out – and like I say it's free.
But anyway, back onto the Millionaire Middleman course…
My Verdict – Is Millionaire Middleman a Scam?
To be honest I don't really like associating the word "scam" with a legitimate course however I appreciate that when it comes to any sort of opportunity that promises to help you make money people are always wary so regardless the question does need answering…
What I can tell you though is that the Millionaire Middleman course is definitely NOT a scam. It's a legitimate course & it's a course that could truly help you find some quite substantial success as advertising agency owner.
I'll also point out that the Millionaire Middleman course is partnered with a large & reputable marketing firm named the HOTH (Hit Them Over The Head) which further proves its legitimacy as there's simply no way they would partner themselves with a low quality "scammy" program.
So yeah, Millionaire Middleman does get a thumbs up from me & if you're specifically looking to make money by managing advertisements online for people then it's a program that could definitely be worth checking out… However, like I said above in this review I do personally believe there's a better way to make money than managing ads for other people.
It all essentially just boils down to what you want to do though – but before you dive into it I would recommend checking out all of these other legitimate ways that you can make money online too as you may feel that something else will be a better fit to your circumstances.
Whatever you decide to do though the one thing I hope is that my Millionaire Middleman review here gave you a good insight into how the program actually works & what you'll truly be getting from it. Of course if you do still happen to have any further questions or comments though then don't hesitate to leave them below & I'll get back to you as soon as I can. 🙂