Have you come across The Money Academy system? The video on their website shows a whole bunch of people allegedly making profits from this system & the creators claim that if you don't make money they'll pay you a whopping $500 in cash.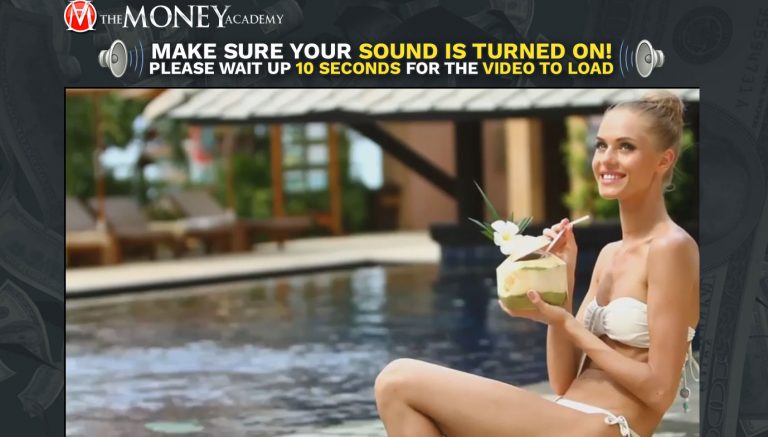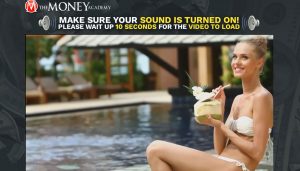 But is it actually legit or is The Money Academy a scam that's just out to take your cash?
Well, you can rest assured that you've landed in the right place to find out as I've personally looked into it & now in this review I'm going to be sharing what I've found.
What Is The Money Academy?   |   What Is MOBE?   |   The Real Problem   |   What About The $500 Guarantee?   |   Is The Money Academy a Scam?   |   A Better Alternative
What Is The Money Academy?
The Money Academy claims to provide you with a "done-for-you" online business & you're told that you can simply sign up, follow some steps & start making lot's of money almost right off the bat…


However in reality that's not quite true – The Money Academy is actually just a sales funnel that's been put together to get you to buy into another online business opportunity named MOBE.
Basically, an affiliate of MOBE (somebody who is getting paid commissions to promote it) has put this system together to try & get more people to sign up to MOBE so that they can earn more money.
And this isn't actually the first 3rd party sales funnel I've seen for MOBE either – I've actually seen quite a few prior to this one.
Some of the other ones include the $500 Cash Club & the Accelerated Income Program – you might have seen those getting promoted online, they are basically the same thing as The Money Academy.
It seems to be quite common for the top affiliates of MOBE to create their own sales funnels – I guess they're finding it easier to sign up people up by tricking them into thinking they can earn quick & easy money.
Anyway…
What Is MOBE?
Since The Money Academy is just a sales funnel that's been designed to get you to buy into MOBE you're probably now wondering what MOBE actually is & whether or not it can help you make money…
Basically, MOBE is what's known as a high-ticket network marketing opportunity – it's an expensive training course that's designed to help people become successful online & it also gives people the opportunity for people to earn commissions by reselling the course itself onto other people.
But being a network marketing company as well as being restricted to only earning from your own efforts you're also able to recruit others into the business & earn from their efforts too.
So ultimately it's like this – you sign up to MOBE, you learn how to promote MOBE, you then go out & try to get other people to sign up to MOBE so that you can earn money when they pay to learn how to promote MOBE…
MOBE claim that the training is designed to help you start an online business & that you don't have to promote MOBE if you don't want to but it's clear to me that the training is heavily geared towards the reselling of MOBE itself.
That's why although it is technically legit I personally don't recommend it.
Well, that & the fact that it's a pay-to-play program which means if you want to earn commissions by promoting the products you'll first need to purchase them yourself (which could set you back over $50k).
So it's safe to say it requires quite a lot of investment if you want to get the most out of the program – and what's why the top affiliates are going all-out on promoting it, because they're able to earn huge commissions by getting people to invest large amounts into the program.
There's a lot of gurus that have actually made millions with it, but whilst it is possible for anybody to make money with MOBE sadly most of the people who join make little to no money at all.
Some don't even recoup their initial investment.
But Here's The Real Problem
The problem here is not with MOBE itself, it's with the way you are being sold into MOBE by The Money Academy system – basically, they're selling you into it on a complete pack of lies.
After watching the video on the website of The Money Academy you're left to believe that if you sign up then you'll be able to start making money quite easily just by following a few simple steps.
Ultimately that couldn't be further from the truth – and there is absolutely no mention about the large investment that will be required if you want to potentially see the maximum success from MOBE.
Yes you can make money with MOBE, and yes it is a case of following steps – but essentially it is a business opportunity & therefore there is absolutely no guarantee of success, the ball is in your court.
To make money with the opportunity you'll be required to treat it like a real business & whilst quite a lot of things are "done-for-you" you'll still have to put in an awful lot of work to actually get visitors & make sales.
If they actually honestly told you what was involved then it wouldn't be too bad but because of the way they're selling you into it I can almost guarantee that you'll only find yourself disappointed.
You Might Also Like:
What About The $500 Guarantee?
Basically, MOBE claim that if you go through their training & don't find yourself making money then they'll give you a refund & pay you $500 on top to make you feel like you can't really lose.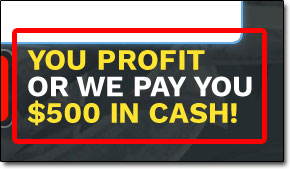 However, be careful – because over the years I've seen several people fail to find success with MOBE and none of them have managed to get a refund let alone the additional $500 they promised.
Each time MOBE has turned around and said that they either didn't follow the steps properly, that they didn't dedicate enough time or basically just any old excuse that puts the fault onto the person & not MOBE.
So whilst the guarantee might sound good in theory, sadly it does seem to be just a theory – I certainly wouldn't rely on it because the chances are you will not get it, but despite this, all the sales funnels that promote MOBE like to talk about this $500 guarantee to encourage you to sign up (just like the $500 Cash Club which is solely based around the guarantee).
Is The Money Academy a Scam?
In my opinion yes, it is a scam – whilst the opportunity that it's selling you into (MOBE) is technically legit, sadly I feel that The Money Academy is just filling you with lies to part you with your cash.
It's clear to me that the affiliate of MOBE who has created this system is only really interested in making himself (or herself) rich at the expense of others – they're not really out to help you.
Yes, you could make money as a result of going through the training in this program but it will not come without hard work & a lot of investment – it certainly won't be as easy or simple as you're led to believe.
So for those reasons, I'm not going to be recommending this system to you & whilst I don't have anything against MOBE as a standalone business I'll certainly be giving The Money Academy system a huge thumbs down.
A Better Alternative
The sad truth is that unfortunately most of the programs promising to help you make money online are scams. I can say that confidently after exposing over 500+ of them here on this blog.
But the good news is that even though most of them are indeed scams, there are actually some very good programs in amongst them - some programs that can truly help you to earn money.
And out of all of the legit programs I've seen, the one I would recommend the most to anybody looking to get started online is Commission Academy. In my own opinion, that's the best place to start.
At Commission Academy, you'll be provided with everything you need (including the training & tools) to begin earning real money by promoting products or services for companies like Amazon online.
The best part is that there's literally no limit on the amount you can earn with it & the process is pretty simple which means that it's absolutely perfect for people that don't have much experience.
Some wealthy affiliates even earn as much as 5-figures per month... Or more!


I mean don't get me wrong, that kind of money won't just fall into your lap without doing any work... But the harder you're willing to work at it, the more you stand to earn with it.
So if you're looking to get started but don't know which route you should go down or which program you should join (and don't want to waste money on bogus things that don't actually work), then I'd highly recommend checking out Commission Academy first. You can learn more about it here.