The Money Come First website (found at MoneyComeFirst.com) claims to be a new & innovating online job site that supposedly offers unlimited job positions & can enable anybody to make money online even if they have no previous experience.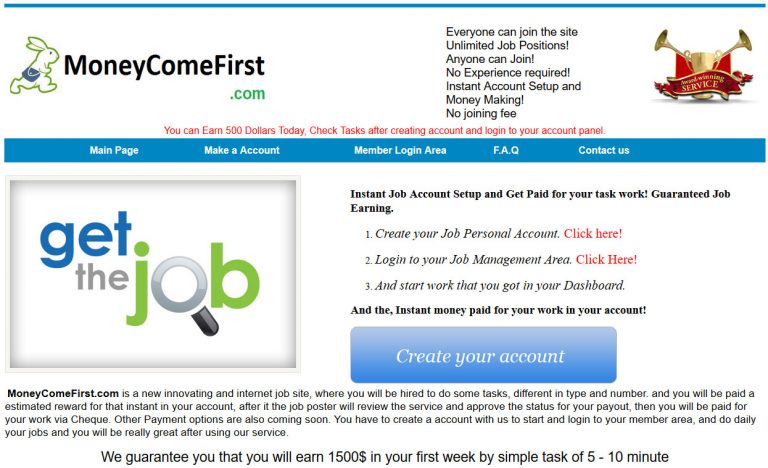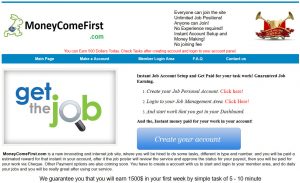 The website even goes on to claim that they guarantee their members will earn a minimum of $1,500 in their first week by working just 5 to 10 minutes.
But is it actually legit? Or is Money Come First a scam?
I've looked into it & in this review, I'll be uncovering the truth.
What Is Money Come First?   |   How Does Money Come First Work?   |   Is Money Come First a Scam?   |   A Better Alternative
What Is Money Come First?
Money Come First claims to be a new & innovating job site through which you can sign up, complete simple tasks & earn money in return. The main difference with this particular website though is that they claim to payout a LOT of money in return for completed tasks.

Generally, the legit Get-Paid-To websites similar to this one only pay out around $0.50 to $1 per task, yet Money Come First claims to pay you a whopping $10+ per task which is obviously well above average.
Naturally, that's made a lot of people suspicious & I received a lot of emails about this company asking me to check it out – so I did, and sadly it turns out that none of the claims they make hold true.
The reality is that Money Come First is a scam – it's actually just a relaunch of another scam I recently exposed on this blog named Fix Monthly Income which worked in the exact same way.
Obviously, they want to try & escape the negative Fix Monthly Income reviews so that they can scam more people which will be why they have launched this new site under a different name.
How Does Money Come First Work?
Basically, you're told that you can simply sign up to Money Come First, start completing tasks & earn money. You're also encouraged to recruit other people into the program & you're told that you'll earn $10 for every new member that you get to sign up.
When you sign up (which I don't recommend you do) you'll get access to the dashboard where the alleged "jobs" are listed. To begin earning money you will be expected to complete surveys, sign up trials & enter competitions…
The problem is that none of the tasks presented to you in the member's area are legitimate – if you look at the small print on any of the tasks you'll see that these companies you are submitting your details to will be selling your information or signing you up to trials without your knowledge which will then begin billing you each week or month.
The creator of this website will be earning a huge chunk of cash for each task a member completes because they'll be getting paid by the companies whose "offer" they referred you too.
The problem is that they set a huge minimum payout limit of $300 but the tasks run out before you can reach this so in order to become eligible for a withdrawal you will then need to recruit other people into the program to reach the minimum payout amount.
But this is the scam…
Basically, they want you to complete all the tasks so that they can earn money from you, then they want you to bring more people in so that they can then earn money from them too…
The problem is that when you do finally get round to earning enough to request a withdrawal you'll find that the company will not pay you – it will simply shut up shop & change names as I mentioned at the start of this review.
All the people who got scammed by the Fix Monthly Income program found that they couldn't request a withdrawal so what did the company do? They just relaunched under a different name, Money Come First.
This is the exact same scam under a different name just trying to con more people.

Don't Get Caught Out…
When you complete the tasks inside the Money Come First system your account balance will increase accordingly but don't let this trick you into thinking that you are actually earning money because this is how many people get caught out.
Yes, they will make it seem like you are earning money & that it is legitimate the whole time but then when you come round to asking for a withdrawal that's when you'll find out it's a scam.
Sadly the creators of this program really don't care about you they just want to make money at your expense & they want you to bring other members into the scheme so that they can scam them too.
You Might Also Like:
Is Money Come First a Scam?
Yes, this program is 100% a scam – it's actually one of the worst scams I've seen because not only are they trying to earn money at your expense but they're also trying to get you to recruit others into the scheme so that they can scam them too.
The problem here is that many people won't do their due diligence by looking for Money Come First reviews first & they might end up signing up to it & getting their friends or family members involved in the scam too.
Basically, the website consists of nothing but lies & they are just trying to get you hyped up about the potential opportunity of earning lots of easy money online (which in reality doesn't exist).
Then when you come to withdraw your money you'll find that the company will just ignore your request or possibly disappear altogether – it's just a churn & burn scam then soon it will likely reappear under a different name & start all over again.
Don't get me wrong it is possible to make money online but the internet isn't magical & you can't just expect to earn lot's of money by doing very little work like the Money Come First program makes out you can.
A Better Alternative
The sad truth is that unfortunately most of the programs promising to help you make money online are scams. I can say that confidently after exposing over 500+ of them here on this blog.
But the good news is that even though most of them are indeed scams, there are actually some very good programs in amongst them - some programs that can truly help you to earn money.
And out of all of the legit programs I've seen, the one I would recommend the most to anybody looking to get started online is Commission Academy. In my own opinion, that's the best place to start.
At Commission Academy, you'll be provided with everything you need (including the training & tools) to begin earning real money by promoting products or services for companies like Amazon online.
The best part is that there's literally no limit on the amount you can earn with it & the process is pretty simple which means that it's absolutely perfect for people that don't have much experience.
Some wealthy affiliates even earn as much as 5-figures per month... Or more!


I mean don't get me wrong, that kind of money won't just fall into your lap without doing any work... But the harder you're willing to work at it, the more you stand to earn with it.
So if you're looking to get started but don't know which route you should go down or which program you should join (and don't want to waste money on bogus things that don't actually work), then I'd highly recommend checking out Commission Academy first. You can learn more about it here.