My Traffic Business System is a newly launched program that claims it can enable its members to generate profits of over $397 per day all by just allegedly "sending a few emails before bed"…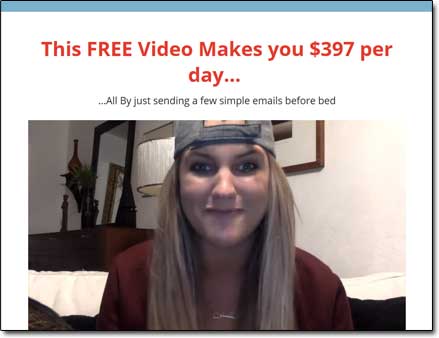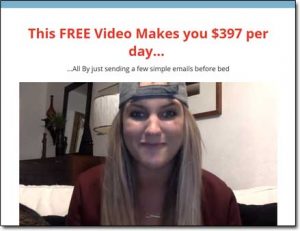 But that's clearly a pretty bold claim and no doubt it's got you asking the question, is My Traffic Business a scam or is it really a legitimate program that will actually help you make money as it promises?
Well, the good news is that you've landed in exactly the right place to find out because I've taken a closer look into this system & in this review, I'll be uncovering what it's all about, how it actually works & whether or not you can really make money with it.
What Is My Traffic Business?   |   How Does My Traffic Business Work?   |   Fake Testimonials   |   Is My Traffic Business a Scam?   |   A Better Alternative
What Is My Traffic Business?
According to their website you're led to believe that the My Traffic Business System (found at pro.mytraffic.biz) is a "turn-key money making system". They state that all you need to do is follow 4 simple steps & that you can begin making as much as $397 per day, even if you have no prior experience at making money online.
But like I mentioned above I think you'll agree with me when I say that that's an extremely bold claim. I mean come on, if this system could really help people generate so much money so easily then why isn't everybody doing it?
There must be a catch right?…
And yep, you guessed it – there is. The truth is I can tell you right from the off that the My Traffic Business System is nothing but a flat-out get rich quick scam. The reason I can say that so confidently is because I've seen the exact same thing before launched under the name of Wake Up To Cash Now.
But obviously I'm not just going to expect you to take my word for that. I appreciate that you might have been really hoping the My Traffic Business System would work for you so instead if you keep reading I'll show you exactly how it works so that you can see for yourself what's really going on.
Oh and PS don't worry – whilst the My Traffic Business System itself might not be able to help you make money like it claims there are still legitimate & proven programs out there like Commission Academy that can help you get started.
How Does My Traffic Business Work?
Well you're told via the My Traffic Business System website that all you need to do to begin making money is follow 4 simple steps but basically that's just a misleading claim to trick you into signing up.

Instead after you sign up you'll be left to find out the hard way that things are not quite as easy as they seem. I mean sure, they do indeed provide "some" training in return for your money as promised but there is no way that you'll start seeing profits as easily as they claim.
There's certainly no way you'll earn as much as $397 per day & to be honest because the training that is provided to you is such poor quality you'd actually be lucky to make as much as a single dollar.
It's much more likely that you'll just end up losing your investment, and if you do somehow manage to earn anything back it won't be "by just sending a few emails before bed" as they claim – it'll take a LOT more work than that.
The whole concept of making money via the My Traffic Business System is through affiliate marketing / email marketing. So the training will teach you how to create an email list, then you'll become an affiliate of the My Traffic Business System & you're job will be to drive traffic to the page & get others to sign up to it just like you did.
If the people you refer don't buy-in right away then their email will be added to your email list & your job will be follow up with them & convince them to sign up. That's why they say it's as "easy as sending a few emails before bed"… But in reality it's not.
Firstly, like I say the training is VERY poor quality – meaning if you're new to all this you'll struggle getting everything setup.
Secondly, there is NO traffic training – so if you do manage to get things setup then you'll be left wondering how to get traffic, and without traffic you won't be making any money. That's why I advise joining a proven (and free) program like Commission Academy instead that gives you ALL the step-by-step training you need.
Thirdly, if you do manage to get it setup, and you do manage to get traffic… Essentially you'll be promoting a get-rich-quick style scam, so would you really be happy getting people to sign up to that knowing that they will likely just lose their money. I hope not!
In a nutshell as far as I'm concerned the program is just bad news all round. That's why the creators of the system keep changing it's name so frequently – to try and escape the negative reviews so that they can continue tricking people into parting with their cash… Don't fall for it.
The Testimonials Are Fake Too…
Don't get drawn into believing the people shown in the video who claim to have made lot's of money from the system either because they're totally fake as well – they're just actors from the website Fiverr.
Here's proof of that: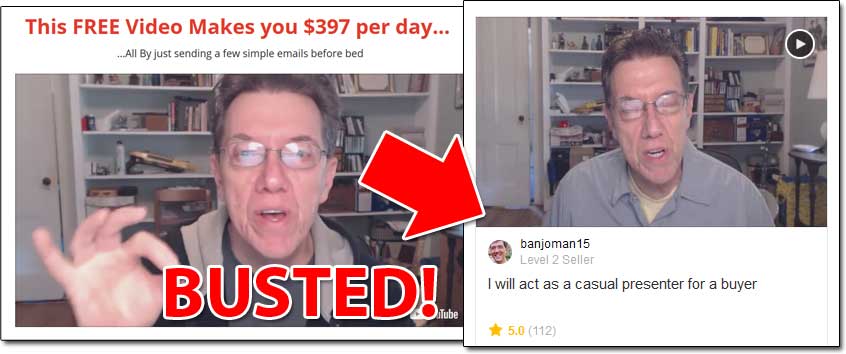 The guy in the video who claims to be making thousands is selling testimonials on the Fiverr website – and so are all of the others in the video too. The whole system is built upon deceit & lies.
Which brings me onto…
You Might Also Like:
Is My Traffic Business a Scam?
The answer to that question in my opinion is a big fat YES. I mean sure, they do indeed provide you with some training after you hand over your cash, but it's rubbish – and the sales page is page is totally misleading.
As far as I'm concerned rather than being geared towards helping you make money like it claims, it's just geared towards making it's creators rich at your expense instead (and surprise surprise they remain anonymous).
Like I mentioned earlier in this review the truth is that you can actually make good money online, it's just that you need a proven & legitimate program like Commission Academy to do so… Not some overhyped BS junk like the My Traffic Business System.
As the saying goes "if it sounds too good to be true it probably is"… So it's safe to say that overall I won't be recommending the My Traffic Business System to you because I don't believe you'll find any value from it whatsoever. Instead if you buy into it I believe you'll just find yourself disappointed.
But anyway hopefully my review here helped you save your hard earned cash & hopefully it gave you a good insight into how the system really works. If you do happen to have any further comments or questions though then don't hesitate to leave them below.
A Better Alternative
The sad truth is that unfortunately most of the programs promising to help you make money online are scams. I can say that confidently after exposing over 500+ of them here on this blog.
But the good news is that even though most of them are indeed scams, there are actually some very good programs in amongst them - some programs that can truly help you to earn money.
And out of all of the legit programs I've seen, the one I would recommend the most to anybody looking to get started online is Commission Academy. In my own opinion, that's the best place to start.
At Commission Academy, you'll be provided with everything you need (including the training & tools) to begin earning real money by promoting products or services for companies like Amazon online.
The best part is that there's literally no limit on the amount you can earn with it & the process is pretty simple which means that it's absolutely perfect for people that don't have much experience.
Some wealthy affiliates even earn as much as 5-figures per month... Or more!

I mean don't get me wrong, that kind of money won't just fall into your lap without doing any work... But the harder you're willing to work at it, the more you stand to earn with it.
So if you're looking to get started but don't know which route you should go down or which program you should join (and don't want to waste money on bogus things that don't actually work), then I'd highly recommend checking out Commission Academy first. You can learn more about it here.