Whilst Norwex isn't technically an "online business" as such, I've recently noticed the opportunity to make money through the company has been getting pitched a lot online (mainly through social media) so I figured I'd take a closer look at it to find out what it's all about.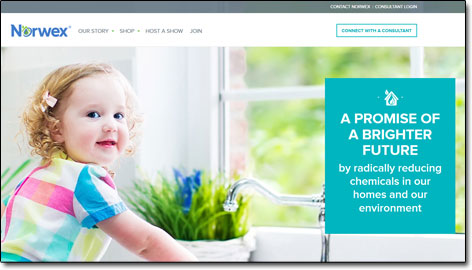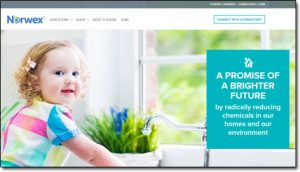 So if you've been pitched the Norwex products or opportunity by somebody & you're looking to determine whether or not it's actually legit then you can rest assured that you've landed in the right place to find out.
In this review I'm going to be going over everything there is to know about Norwex, including figuring out if it's actually just another MLM style scam (something you can't seem to move for lately).
What Is Norwex?   |   What Are The Products?   |   The Consultant Opportunity   |   How Much Does It Cost To Join?   |   Should You Join?   |   A Better Alternative
What Is Norwex?
Norwex is a company that sells cleaning products, products that they claim are different to most others as they do not contain harmful chemicals.
Now I did quite a bit of background research on the products prior to writing this review & their products actually do get very good reviews – however, there's one common trend & that is everybody seems to think their pricing is outrageous.
And well, that's because in my opinion it kind of is.
Fortunately enough for Norwex though they don't have to worry about the pricing too much because Norwex is an MLM company which means they rely on "consultants" to do the selling for them… You know, through home parties – that sort of thing.
The consultants, of course, enjoy the higher priced items because whilst it makes it a harder sale it ultimately means they'll earn higher commissions on the products they do sell. That brings me to the first main point I want to make…
I personally feel like the items may have been priced with the consultant's compensation plan in mind as opposed to the actual value they bring to the marketplace. It's just my opinion, but it's quite a common thing for MLM companies to do in order to make their opportunity seem more lucrative.
And the second point I want to make is that whilst yes, I do feel Norwex is legit (at least as far as MLM's get legit) – I won't be recommending it & I'll explain why in just a few moments… But if you're considering it you'll definitely want to stay tuned for that.
What Are Norwex's Products?
Norwex originally started out purely selling microfiber cleaning cloths & that's what they are most known for to this very day, but they've since branched out into selling a whole bunch of other cleaning related products too.
The newer products to their line include things like toothbrushes, face washes, hand cleaners, body scrubs, dishwasher detergent…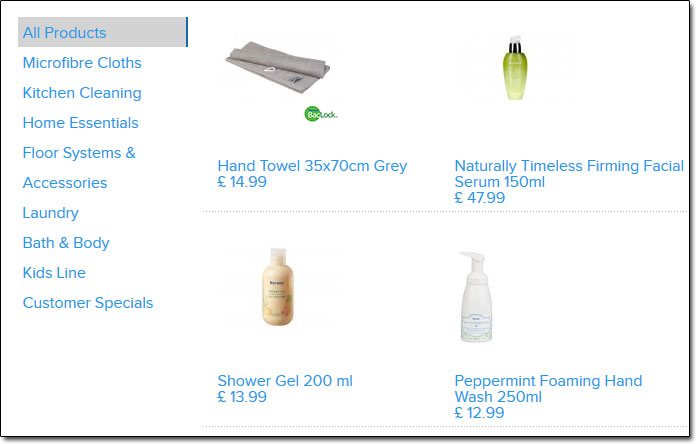 Basically almost ANYTHING related to cleaning.
And just to give you an idea of pricing, one of their floor mops (named the XL Mop System) would set you back £148.49 if you were to purchase it today. (Yikes).
The Norwex Consultant Opportunity
Chances are that if you're heading reading this review then you're more interested in the consultant opportunity itself as opposed to finding out more about the products…
That's because if you've heard about the products then you've most likely heard about them through a home-party through which you'll already have been bombarded with endless amounts of information about them.
So with that being said let's take a look at the opportunity itself & find out whether it's actually going to be worth your while (and money)…
Firstly there's the 4 Star Hosting Program – through this, you won't earn any money, but you will earn money-off towards various Norwex products. So basically you'll be hosting home parties demonstrating the products to your friends & if any of them decide to purchase anything you'll be awarded money off credits. The more you sell the more credits you'll get.
Secondly, you earn 35% commissions on retail sales – so basically if you refer somebody to Norwex & they purchase through your consultant ID you'll get a 35% commission. That's actually quite high for an MLM company & that's why I suspect their products are higher priced compared to their non-MLM competitors (because they're trying to make up for paying this commission to consultants).
Then thirdly you can earn money by recruiting people to Norwex – in typical MLM fashion you have the opportunity to not only make money from your own sales but to be able to make money from the sales of others you refer to the business too. Norwex gives you the ability to earn 8 levels deep, so if you refer somebody & they refer somebody – you can make money off that second person's efforts too. Just be aware that VERY few people manage to make a profit with the Norwex opportunity.
How Much Does It Cost To Get Started?
I'm not quite sure how much it costs here in the UK, but I know if you want to get started in the US you'll be required to pay a $200 fee for the starter kit (plus taxes & delivery charges). I'd imagine the UK is the same, so whatever the $200 translates to in GBP which at the moment is around £155.
Along with the kit, you'll be provided with 20 customer order forms so that you can begin presenting your home parties – and potentially begin earning commission (or money off credits through the 4 Star Hosting Program). Once you've used up your first 20 order forms you'll be required to pay $10 per 100 after that.
It's more than likely though that your customers (friends) will want to purchase through the website at their leisure, and by default to do this they'll need your consultant ID which they'll have to manually enter prior to purchase. This leaves room for error & in my opinion, you won't see great success carrying on like this.
Norwex also agrees that the chances are you won't see much success like this so they offer you the option to have a "personalised" website. It's basically the Norwex website but it has your picture & your consultant ID is automatically programmed in so your friends can just visit your link & purchase at their leisure without having to mess around. This way it's easier for them & you'll still be credited with the commission. The "website" costs $10 per month (in my opinion it should be free).
If you manage to make $2,000 in sales in your first 90 days then they'll reimburse you for the cost of the Starter Kit, but be aware this is very unlikely unless you are some kind of MLM veteran. The average person makes NO profit with an opportunity like this.
You Might Also Like:
Should You Join Norwex? My Final Verdict
I'm going to come straight out & say no, I don't believe you should. Yes, I agree that an MLM opportunity can be lucrative, but more often than not people who join MLM companies are left spending money upon money whilst working tirelessly to chase some kind of profit (or even just to try & recoup their initial investments).
That's because most MLM companies (Norwex included) have crazy "maintenance requirements", which if you don't meet will see your account cancelled, your profits capped, or simply you being required to pay even more money to keep going.
In this instance of Norwex, you must be selling at least $250 worth of product every 3 months otherwise you'll be required to keep purchasing more & more product yourself in order to stay as an "Active Sales Consultant". If you're not meeting the requirement then with your 35% discount this will see you spending around $162.50 every 3 months, whilst stockpiling product in your garage in the hope that you can eventually catch up and get rid of it all.
As you can imagine most people don't catch up & just end up with a garage looking something like this: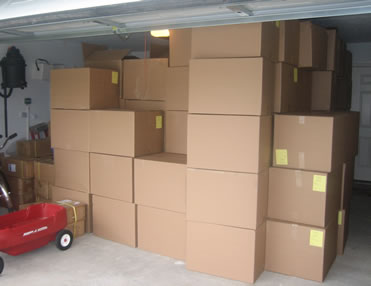 So if you're new to MLM & somebody has told you that Norwex will be a great money-maker for you then take it from me that the chances are it won't be. Do yourself a favour and avoid it (because MLM sucks!).
If you happen to be an MLM superstar & are wondering whether Norwex could be lucrative for you then yes, it possibly could & you could promote it with fairly decent integrity as they do seem to offer high-quality products… But keep in mind the pricing!
Even as an MLM superstar I'm fairly confident you'll have a hard job pitching mops at almost £150 apiece!
So basically to summarize – Norwex is not a scam, but it's an MLM company that will most likely see you spending more money than you'll ever make. Yes, they do have fairly decent products (according to various online reviews) but in my opinion & the opinion of several others, they are way overpriced.
My personal advice would be to avoid the company & look for an alternative opportunity, one which doesn't require you to spend the kind of outlay required by Norwex & one that doesn't have stupid "maintenance requirements"… You can find plenty of alternatives here.
A Better Alternative
The sad truth is that unfortunately most of the programs promising to help you make money online are scams. I can say that confidently after exposing over 500+ of them here on this blog.
But the good news is that even though most of them are indeed scams, there are actually some very good programs in amongst them - some programs that can truly help you to earn money.
And out of all of the legit programs I've seen, the one I would recommend the most to anybody looking to get started online is Commission Academy. In my own opinion, that's the best place to start.
At Commission Academy, you'll be provided with everything you need (including the training & tools) to begin earning real money by promoting products or services for companies like Amazon online.
The best part is that there's literally no limit on the amount you can earn with it & the process is pretty simple which means that it's absolutely perfect for people that don't have much experience.
Some wealthy affiliates even earn as much as 5-figures per month... Or more!

I mean don't get me wrong, that kind of money won't just fall into your lap without doing any work... But the harder you're willing to work at it, the more you stand to earn with it.
So if you're looking to get started but don't know which route you should go down or which program you should join (and don't want to waste money on bogus things that don't actually work), then I'd highly recommend checking out Commission Academy first. You can learn more about it here.