When you land on the Online Profits Breakthrough website you're told that you are number 67 out of 70 people & that as a result you've been given the opportunity to get access to a $2,739 per day formula.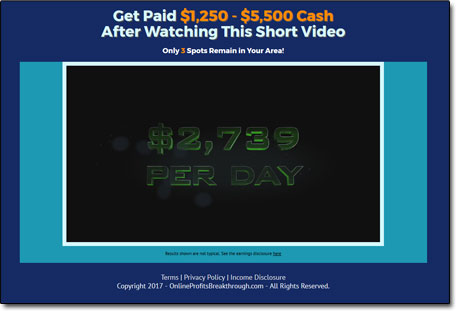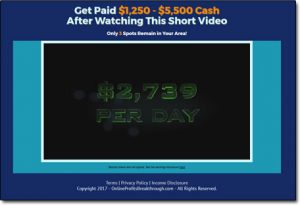 Allegedly, only 3 spots remain in your area & if sign yourself up into one then you'll be able to start generating commissions of between $1,250 & $5,500 immediately after watching the video.
Sounds fantastic, I'm sure you'll agree, but is it legit? Or is Online Profits Breakthrough a scam that's merely set out to part you with your hard-earned cash? And how's it even supposed to work?
Those are the exact things I'm going to be uncovering in this Online Profits Breakthrough review in which I'll personally be taking a closer look at this system to find out what it's all about, how it works & whether or not you can really make any money with it.
What Is Online Profits Breakthrough?   |   How It Really Works   |   What Is MOBE?   |   Is Online Profits Breakthrough a Scam?   |   A Better Alternative
What Is Online Profits Breakthrough?
As I touched on above the Online Profits Breakthrough system is something that claims can enable you to start generating profits of $2,739 per day by copying a "done-for-you" online business.
I think you'll agree that those are some pretty bold claims & naturally you'll probably be pretty sceptical – especially since this system clearly uses a few underhand tricks to get you to sign up like the "only 3 spots left" thing which is often a common trait of a scam.
The other problem here is that the Online Profits Breakthrough system doesn't really go into any great deal as to how it works or what you'll be doing, the video just sells you on the opportunity of making money.
Then after watching the video despite being any wiser as to what the system actually entails you're asked to part with $97 to gain access, which they claim is a discount off the usual price of $997.
So is it worth the money & if you don't buy into this system will you really be missing out on some kind of once in a lifetime opportunity to earn easy money online from this "done-for-you" business?
Here's How It Really Works…
After going the process I was able to find out that the Online Profits Breakthrough system isn't actually a system at all – it's merely a sales funnel that's been put together to get you to buy into the MOBE opportunity.
I've seen a lot of similar sales funnels that have been promoting the MOBE opportunity, one of which I actually just recently reviewed which was called the Borderless Income System (I didn't recommend it).
So basically there is no Online Profits Breakthrough system at all, if you hand over your money what you're actually buying into is MOBE which is a different opportunity altogether. It's clear to me that an affiliate of MOBE has created the OPB system in an attempt to sign more people up so that he or she can earn more money at other peoples expense.
So, What Exactly Is MOBE?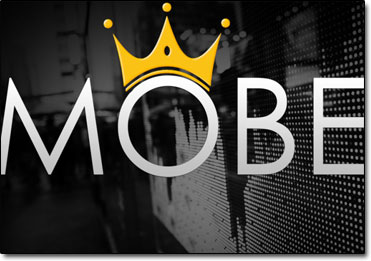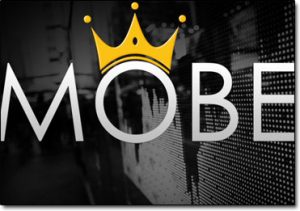 Since the real product here that you're going to be buying into is MOBE you're probably wondering what the heck is actually is so let me talk a little more about that to give you a better understanding.
Basically, MOBE is whats known in the online world as a high-ticket network marketing opportunity. In short that basically means they sell expensive products & give people the opportunity to earn money by reselling the products onto other people.
Whilst MOBE is technically legit the problem for me is that it's also what's known as a pay-to-play program, which means if you want to earn money by reselling the products then you must first purchase the products yourself.
As I said above the products are expensive which means you could potentially see yourself spending around $50,000 before you even get started with the opportunity & that's no exaggeration.
But don't get me wrong you can certainly make money with MOBE, it's just that the business model is quite questionable & in my opinion spending that kind of money means there's way too much risk.
Especially when you can get started elsewhere online for free, such as Commission Academy for example through which you can learn all about affiliate marketing without spending a single penny whatsoever.
You Might Also Like:
Is Online Profits Breakthrough a Scam?
Well as we've determined above the real product that you're being sold here is MOBE which is technically legit, however, whilst you can potentially make money with MOBE the Online Profits Breakthrough makes it sound way easier than it actually is (and doesn't mention a thing about the high level of investment required).
To make money with MOBE you're going to be required to initially spend a lot of money & put in a lot of work – there are no 2 ways about it, MOBE needs to be treated like a real business if you want to become successful.
The Online Profits Breakthrough system sells you the idea that you can simply hand over $97 & start making money without even doing anything (or spending any more money) which just simply isn't true.
Therefore whilst I don't deem MOBE itself to be a scam I certainly won't be recommending the Online Profits Breakthrough system to you as ultimately it's selling you into MOBE on a pack of lies.
A Better Alternative
The sad truth is that unfortunately most of the programs promising to help you make money online are scams. I can say that confidently after exposing over 500+ of them here on this blog.
But the good news is that even though most of them are indeed scams, there are actually some very good programs in amongst them - some programs that can truly help you to earn money.
And out of all of the legit programs I've seen, the one I would recommend the most to anybody looking to get started online is Commission Academy. In my own opinion, that's the best place to start.
At Commission Academy, you'll be provided with everything you need (including the training & tools) to begin earning real money by promoting products or services for companies like Amazon online.
The best part is that there's literally no limit on the amount you can earn with it & the process is pretty simple which means that it's absolutely perfect for people that don't have much experience.
Some wealthy affiliates even earn as much as 5-figures per month... Or more!

I mean don't get me wrong, that kind of money won't just fall into your lap without doing any work... But the harder you're willing to work at it, the more you stand to earn with it.
So if you're looking to get started but don't know which route you should go down or which program you should join (and don't want to waste money on bogus things that don't actually work), then I'd highly recommend checking out Commission Academy first. You can learn more about it here.