In this review, I'm going to be taking a closer look at the Borderless Income System, which is a new system that I have recently seen one of the top "gurus" in the online marketing industry promoting via email.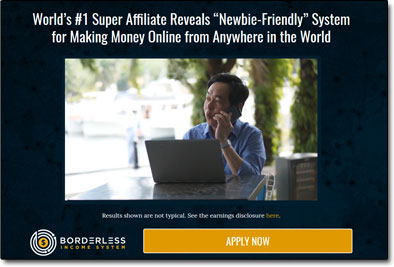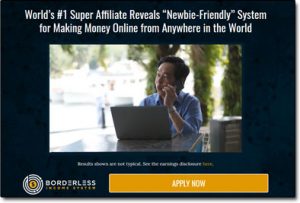 The system claims to have been revealed by the world's #1 super affiliate & states that everything's "done-for-you" so newbies can simply plug-in & start making money online from anywhere in the world.
Obviously, I think you'll agree those are some pretty bold claims, so what's the deal? Is it legit? Or is the Borderless Income System a scam that's somehow out to part you with your hard-earned cash?
That's exactly what I'm going to be uncovering in this Borderless Income System review, along with how it all works & whether you can really make money – meaning if you've been thinking about getting started with this system you can rest assured that you've landed in the right place to find out everything you need to know about it before you do.
What Is The Borderless Income System?   |   How Does It Work?   |   What Is MOBE?   |   Is The Borderless Income System a Scam?   |   A Better Alternative
What Is The Borderless Income System?
As I briefly touched on above the Borderless Income System claims to be some kind of "done-for-you" online business that newbies can plug themselves in to start generating commissions online.
The system itself has been launched by a guy named Ewen Chia, who was actually a very successful affiliate several years ago (and I can vouch for that). He says that people refer to him as the #1 super affiliate.
To be honest, I don't really know what happened to Ewen Chia, I used to see him promoting things online quite a lot but over the last couple of years, I haven't really heard much about him. I'm not sure if he's just been keeping a low profile or whether he left the industry altogether & just came back with this system like Chris Jones did with the Generation Hero program.
Anyway, regardless the important part here is that Ewen Chia sure is the real deal when it comes to online business & he's definitely found a lot of success so he sure knows what he's talking about.
But can we really trust his new system – or has he just come back to make a quick buck? The sales page for it certainly makes some very hyped-up claims which leaves me feeling a little sceptical.
How Does The Borderless Income System Work?
After reading through the content on the sales page for this system some of it was starting to sound very familiar, and when I hit the "Apply" button it became very clear what this was all about.
The Borderless Income System in itself isn't actually a system at all, it's merely a sales funnel that's been put together to get you to buy into the MOBE online business opportunity.
I've actually seen several more of these sales funnels that are all promoting the MOBE opportunity under different names, two of which that spring to mind include the Rookie Profit System & the Simple Profit Secret.
So ultimately when you hand over your money & buy into the Borderless Income System what you're actually buying into is the MOBE opportunity – the sales funnel just kinda conceals that until you're in.
So What Exactly Is MOBE?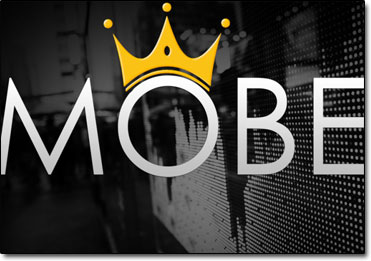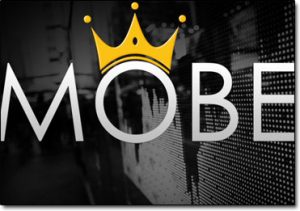 Since we've established that what you're really being sold into here is MOBE, you're probably now left wondering as to what the heck MOBE actually is – so let me explain a little more about that…
MOBE is basically what's known as a high-ticket network marketing opportunity, which basically in short means that it sells expensive products & gives you the opportunity to earn money by reselling these products onto other people.
But being a network marketing company it also gives you the ability to earn commissions from other peoples efforts too by recruiting people into the business & getting them to sell the products as well.
However the issue is that whilst it initially sounds good in theory, it's also what's known as "pay-to-play" program which means in order to be eligible to earn commissions on the products you must first purchase them yourself… and as I said these products are known to be expensive so you could easily see yourself spending 5 figures before you even get the ball rolling.
On the plus side, MOBE is technically legit as there is definitely the potential for you to make money through the opportunity, but on the negative side due to the large investment, it involves a lot of risks.
It's certainly not a flat-out scam like many of the other systems I review such as the 7 Figure Profit Code which are purely designed to do nothing other than part you with your cash.
However, some people claim that its practices are quite questionable & that the products don't provide value for money (their words, not mine). You can find out more about MOBE in my review here.
You Might Also Like:
Is The Borderless Income System a Scam?
To be honest no, it's not a scam – however, it's not really a system in itself it's just a sales funnel that's been put together in an attempt to get you to buy into the MOBE business opportunity.
The problem for me is that whilst MOBE is technically legit, the Borderless Income System hypes it up & makes it seem like you can make lots of money really easily which simply isn't true.
Therefore whilst it's not really a scam I would probably say that if you bought into the system you would only go on to find yourself disappointed after realizing that you have to put in a lot of work to actually be able to make money. Not to mention that you'd also be required to spend a lot of money to get the ball rolling too (potentially over 5 figures).
So whilst it's not a scam in the sense that it will take your money & run, I do believe that due to the high investment required there is a lot of risk involved & it could certainly see you out of pocket.
I just believe that there's no need to be spending the kind of money required by the MOBE opportunity to get started when there are several other ways you can make money online without startup cost.
And with that being said overall I've decided that I won't be recommending this system to you because in my opinion, the risk involved far outweighs the chance of seeing success with it.
A Better Alternative
The sad truth is that unfortunately most of the programs promising to help you make money online are scams. I can say that confidently after exposing over 500+ of them here on this blog.
But the good news is that even though most of them are indeed scams, there are actually some very good programs in amongst them - some programs that can truly help you to earn money.
And out of all of the legit programs I've seen, the one I would recommend the most to anybody looking to get started online is Commission Academy. In my own opinion, that's the best place to start.
At Commission Academy, you'll be provided with everything you need (including the training & tools) to begin earning real money by promoting products or services for companies like Amazon online.
The best part is that there's literally no limit on the amount you can earn with it & the process is pretty simple which means that it's absolutely perfect for people that don't have much experience.
Some wealthy affiliates even earn as much as 5-figures per month... Or more!

I mean don't get me wrong, that kind of money won't just fall into your lap without doing any work... But the harder you're willing to work at it, the more you stand to earn with it.
So if you're looking to get started but don't know which route you should go down or which program you should join (and don't want to waste money on bogus things that don't actually work), then I'd highly recommend checking out Commission Academy first. You can learn more about it here.