The Simple Profit Secret is a system that's just launched claiming it can generate it's users profits of $1,000 to $7,000 after they watch a short video & follow some "super simple" step-by-step instructions… But is it actually legit?
It certainly shows all the signs of a typical scam but I don't want to jump to conclusions so I've decided to take a closer look at it to find out exactly what it's all about & how it's supposed to work…
Meaning if you've came across the Simple Profit Secret system & you're thinking about getting involved with it but aren't quite sure if you should or not then you cant rest assured you've landed in the right place to find out.
In this Simple Profit Secret review I'll be giving you everything you need to know to enable you to make an informed decision and don't worry, I'm not an affiliate so you you'll be getting the honest truth.
What Exactly Is The Simple Profit Secret System?
When I first landed on the Simple Profit Secret website I was almost certain that I was dealing with some sort of scam as it shares a lot of common traits with other scams that I've seen recently such as Clone My System & the EZ Money Team.
These traits include things like promising easy riches with little work or time required, fake countdown timers that are designed to rush you into making a decision & massively over-hyped sales videos.
However shortly into the video I actually seen a familiar face – the guy you see pictured below (behind the $200,00 in 2 months claim) is a guy named Jason & he's a successful internet marketer: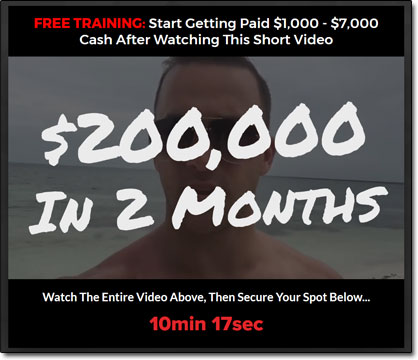 Jason is involved with an opportunity named Digital Altitude along with several other internet marketers who also feature in the same Simple Profit Secret video & once I seen their faces appear it became clear to me what this system is all about.
The Simple Profit Secret system isn't actually a system at all, it's just a sales video that's been put together to get people to buy into the Digital Altitude opportunity (which I'll explain more about in a moment).
The Simple Profit Secret website isn't the first website that's launched selling Digital Altitude, in fact there's actually been quite a few. Some of the others include Aspire Today & Digital Income Method – they were both heavily promoted so it's likely that you've already come across them.
So What Is Digital Altitude?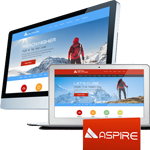 Now that we've established that the Simple Profit Secret system isn't actually a system in itself & that's it's just a sales funnel that's been put together to get you to buy into the Digital Altitude opportunity, you're probably wondering what the heck Digital Altitude actually is…
Basically Digital Altitude is what's known as a "high ticket" network marketing opportunity, which in other words means that it's an expensive network marketing opportunity… But if you're a good marketer this could work in your favor since higher priced products mean higher commissions (which is why so many marketers are promoting DA & making these kinds of sales funnels to increase sales).
Here's how it works…
Somebody will approach you & pitch you the Digital Altitude opportunity claiming that it can enable you to make lot's of money online – they'll also claim that it only costs around $1 (or $37) to get started which is true, but there's a catch…
Once you buy into Digital Altitude for this low price you'll then go through 21 steps & you'll be upsold after each step. A "coach" who's actually a salesperson will call you up to "check your progress" after each step & then recommend that you buy in at a higher level to increase your profits.
You can only earn commissions on the products you personally own so they'll recommend you personally purchase them so that you don't miss out on any big commissions – and since naturally nobody would want to miss out on commissions it's easy to see yourself quickly being sold on products costing well over $10,000.
Then, once you're through the steps & ready to make money you'll find out that the way you make money is actually by going out & selling the exact same products to other people by telling them the system is a great way to make money.
I'll let you come to your own conclusion about Digital Altitude – but let me tell you that according to their earnings disclaimer very few people who join ever find any real level of success, and even fewer manage to actually recoup any of the funds they invested.
In my advantage Digital Altitude (and other high-ticket network marketing opportunities like MOBE) are purely designed for experienced marketers to take advantage of newcomers looking to get started.
There are plenty of alternative ways you can make money online without investing in these crazy high-ticket network marketing schemes which could see you spending thousands & don't even guarantee you'll ever make any of it back.
My Honest Verdict On The Simple Profit Secret System
Whilst high-ticket network marketing opportunities like Digital Altitude are legit by technicality because you can potentially make product & there are products, I feel that unless you are a very experienced online marketer you would struggle to find success with such a system.
And whilst Digital Altitude does provide products, in my opinion they do not provide value for money. I feel that the products have simply been priced with the business opportunity in mind (thinking about commissions) as opposed to being priced based on their quality.
On top of that sales pages like Simple Profit Secret really don't make things any better because they're simply selling you on hype – everything you are promised you are not going to get & after paying the $37 you'll be left feeling disappointed.
The internet is a great tool & it can certainly enable you to build an income but it's not magical & there's no way you're going to start generating those sorts of commissions within just 10 minutes of getting started.
Anyway I'll leave it at that but hopefully you found the review insightful & if you've like to learn how you can get started the right way you can do so by clicking here.