In this Rookie Profit System review, I'm going to be taking a look at one of the latest money-making systems which has been launched by a guy named Steven Bransfield.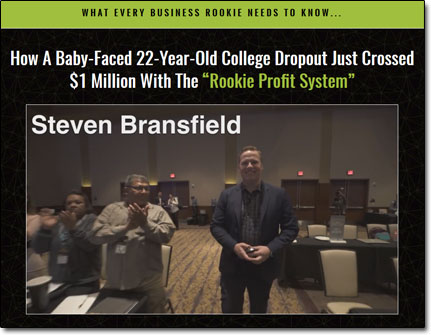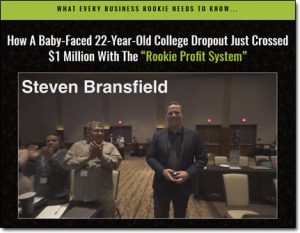 Steven claims that the system enabled him to earn over $1 million in commissions online by just age 22 with no prior experience & that he now wants to help other "rookies" like him do the same.
So I'm going to be checking it out to see if it's actually legit, how it all works & whether it's actually worth your money – meaning if you've come across the Rookie Profit System & have been thinking about signing up then you can rest assured that you've landed in exactly the right place to find out everything you need to know about it before you do.
What Is The Rookie Profit System?   |   Is The Rookie Profit System a Scam?   |   Should You Join?   |   A Better Alternative
What Is The Rookie Profit System?
The Rookie Profit System claims to be a "done-for-you" online business that pays you big commissions of between $1,250 & $10,000 per sale. You're told that all you need to do is focus on sending leads (visitors) to the sales page & that the company behind it will do all the rest…
However whilst the website does go into mild detail on how it works the majority of the content seems to be focused on hyping you up. There's an awfully strong focus on Stephen's success & little focus on explaining what it's all about or what you'll actually be doing.
A couple of things I did notice throughout the sales-letter though were that it claimed;
this is not MLM
you don't need any marketing or business experience
it doesn't require an email list
And I can tell you right off the bat that those claims are not true.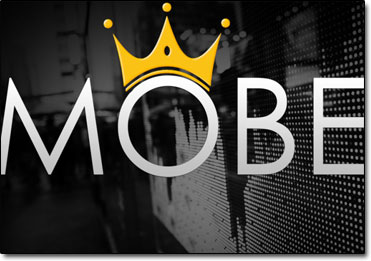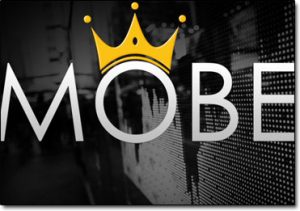 After doing a little bit of research I was able to discover that the Rookie Profit System is actually another sales funnel that's been designed to get you to buy into the MOBE business opportunity, which is a high-ticket network marketing opportunity.
So first things first – it is MLM because MOBE is a network marketing company, which is MLM…
And MOBE isn't just any old MLM, it's a high-ticket MLM which basically means they're able to pay out high commissions because they sell super high-priced products… But if you want to earn the commissions on these products then you've got to personally purchase the products yourself first.
It's a pay-to-play program & that means whilst you could potentially see yourself earning $10,000+ commissions you'll first of all have to invest WAY more than that to become eligible to get them.
Then there's the bit about not needing marketing experience or an email list which is also wrong. At the very start of the Rookie Profit System sales page, you're told that all you need to do is "send leads to the sales page" – so you're either going to need to know how to market the sales page or you're going to need an email list of people that you can send it to.
Is The Rookie Profit System a Scam?
I wouldn't go as far as to say that it's an outright scam because technically you could make money through the company but because of the way the business works if you don't manage to find any success you could see yourself massively out of pocket.
The problem with these companies is that whilst they claim to be designed to help newbies get started online, in my opinion, they're actually designed for gurus to take advantage of newbies & that's why if you take a look at the income disclaimers you'll see that only a very small minority seem to find success with these programs (aka the gurus).
You see to make money with MOBE you'll need to go through their 21 steps training program & in reality those 21 steps are not really designed to train you, they are designed to upsell you into higher levels.
So you'll buy-in for a low-ish price of around $47 & begin the steps, then as you progress through the coach that you're assigned (who's actually a salesperson) will recommend that you upgrade to the next level to have a better chance of finding success with the program (by becoming eligible to earn higher commission).
This will continue throughout the remainder of the 21 steps & by the end of them, you could see yourself parting with over $50,000 with no guarantee of ever making a single penny of it back.
Then, once you've finished the steps you'll find out that the way to make money through MOBE is by getting other people to do exactly the same as you did – and if you want to earn the big money then you'll have to get other people to buy-in at the highest levels too.
So, in a nutshell, it's one of those programs where you make money by selling the idea of making money onto other people…
And in typical MLM fashion, you get the opportunity to earn percentages of the commissions that the people you refer then go on to bring in themselves (in a pyramid-like fashion)… This is why you see people boasting such huge commission cheques because they've got in early and been able to build a HUGE downline.
If you're getting in now (considering MOBE has been going for several years) it would probably be an awful lot harder to do that.
You Might Also Like:
Should You Join The Rookie Profit System?
Well as we've established the Rookie Profit System isn't actually a system, it's just yet another sales funnel that's been designed to get you to buy into the MOBE business opportunity which is a high-ticket "pay-to-play" network marketing company.
I've seen a couple of similar sales funnels launch in the past that were also selling MOBE, 2 of which were the Ultimate Dot Com Lifestyle system & the WiFi Millionaire system. The problem with them, like the problem with the Rookie Profit System, is that whilst you can potentially make money with MOBE they make it sound way easier than it actually is – and they don't go into any detail at all about the fact that to actually earn the high-ticket commissions you need to purchase the products yourself.
It's clear to me that to find true success with MOBE you need to spend an awful lot of money, and the other problem is that the training is heavily geared towards the reselling of MOBE itself as opposed to actually teaching you how to build your own stand-alone internet business. This means that if MOBE goes, your income will go with it which is a big risk when you could be investing over $50k.
For those reasons, I won't be recommending the Rookie Profit System or MOBE to you, but I am not saying that either of them are scams. I just feel that are much better ways to get started – for example, you can join Wealthy Affiliate for free & in my opinion, you will get much better training through that program than you ever would through MOBE as you can apply it literally any business online.
A Better Alternative
The sad truth is that unfortunately most of the programs promising to help you make money online are scams. I can say that confidently after exposing over 500+ of them here on this blog.
But the good news is that even though most of them are indeed scams, there are actually some very good programs in amongst them - some programs that can truly help you to earn money.
And out of all of the legit programs I've seen, the one I would recommend the most to anybody looking to get started online is Commission Academy. In my own opinion, that's the best place to start.
At Commission Academy, you'll be provided with everything you need (including the training & tools) to begin earning real money by promoting products or services for companies like Amazon online.
The best part is that there's literally no limit on the amount you can earn with it & the process is pretty simple which means that it's absolutely perfect for people that don't have much experience.
Some wealthy affiliates even earn as much as 5-figures per month... Or more!


I mean don't get me wrong, that kind of money won't just fall into your lap without doing any work... But the harder you're willing to work at it, the more you stand to earn with it.
So if you're looking to get started but don't know which route you should go down or which program you should join (and don't want to waste money on bogus things that don't actually work), then I'd highly recommend checking out Commission Academy first. You can learn more about it here.