Our Wealth Secret is a newly launched make-money program that claims it can help you to easily generate wealth online, even if you've never actually made a single penny online before & are totally new to the whole thing.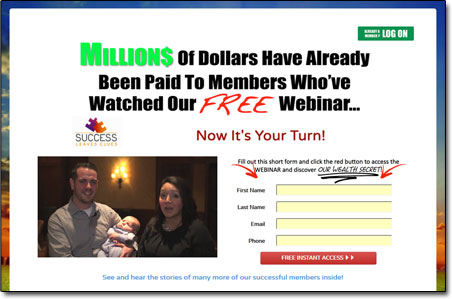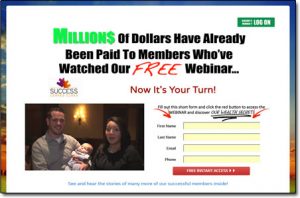 But obviously that seems like a pretty bold claim, so what's the truth about it? Is it actually legit like they make out or is Our Wealth Secret a scam that'll just part you with your cash & leave you worse off than before you joined?
Thankfully you've landed in the right place to find out because I've done the digging on this system & in this Our Wealth Secret review I'm going to be sharing everything there is that you need to know & most importantly determining whether or not you can actually make money with it.
What Is Our Wealth Secret?   |   How Does Our Wealth Secret Work?   |   Is Our Wealth Secret a Scam?   |   A Better Alternative
What Is Our Wealth Secret?
Well initially the website itself for this system doesn't give much away, instead after landing on it you're merely presented with several member testimonials & the option to enter your contact details to find out more.
The creators of this website know though that you'll likely become curious & do just that, especially since the majority of the members giving testimonials each claim that the system is the greatest thing ever & that as a result of joining they've gone on to make tens (some even hundreds) of thousands of dollars…
However, when you do enter your contact details you'll be redirected to another page & that's when you'll really begin to find out what this system's all about. You'll discover that the Our Wealth Secret system isn't actually a system at all, it's just a sales funnel that's been designed to get you to buy into the 8 Figure Dream Lifestyle business opportunity (which is what you're redirected to after entering your details).
Now let me point out here that the 8 Figure Dream Lifestyle business is technically legit, however in my review I chose not to recommend it because personally I believe there to be a few problems with it.
Firstly, it's a very expensive business to get involved with (I'm talking a $2,000+ minimum investment being required) and secondly it's a lot harder to succeed with this particular business than the website makes out.
So essentially whilst the business model itself is technically legit, I feel like you're kinda being misled into it by both the Our Wealth Secret & 8 Figure Dream Lifestyle websites. The truth is that whilst some people are indeed making money with it, an overwhelming amount of people who join actually only end up losing money, not making any.
Let me run you through how it works so that you can see what I mean for yourself…
How Does Our Wealth Secret Work?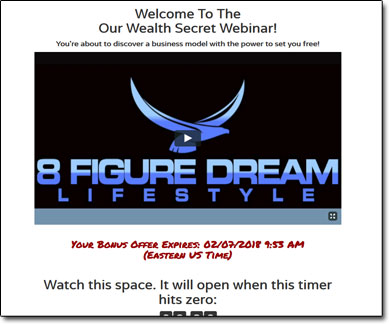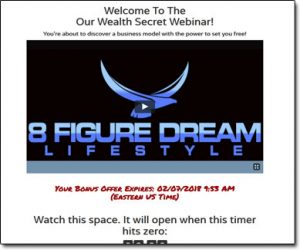 Okay, so the Our Wealth Secret website is basically just a sales page for the 8 Figure Dream Lifestyle business which in short is what's known as a high-ticket network marketing company. This essentially means that you've got to pay money to join & then you make money by recruiting others to join just like you did – the Our Wealth Secret website is what you'll be promoting to them.
So the process looks like this…
You land on the Our Wealth Secret website & enter your contact details to find out more about the opportunity, then once you do you will be redirected to the 8 Figure Dream Lifestyle website where you'll be given the option to purchase a package & get started.
These are the following packages that are available:
Basic Membership = $2,000 + $149 Fee
Builder Package = $3,500 + $295 Fee
Advanced Package = $6,600 + $395 Fee
Pro Package = $12,500 + $445 Fee
VIP Package = $22,000 + $449 Fee
The cheapest level of membership here is $2,149 so as you can see this is a pretty darn expensive program to get involved with. It may be OK for an experienced marketer who is confident in their promoting ability to spend this much money, but for a newbie that's one really big risk.
Anyway, if you did happen to purchase a package & get involved with this program you'd find out that the way you actually make money with it is by promoting the exact same thing to other people & getting them to buy in just like you did.
You'll get a unique tracking link & you'll send visitors to the Our Wealth Secret sales page (or one like it). If the visitor enters their details then they'll be forwarded to you & you'll be responsible for contacting them & getting to buy-in. If they do then congrats, you earn a commission – but only on the level, you're personally enrolled.
So let's say you're enrolled at the Basic level & you make a VIP sale. Despite the total payout for that level being $22,000, you would only actually earn $2,000 of it because you don't personally own any of the other packages. It's a real kicker, to say the least, but it's done to push you into upgrading to the highest level.
Another kicker is the fact that you miss out on your first commissions for each level, so you don't actually earn any money until your 2nd sale, and because of the fee involved this means that you won't actually even be into profit until your 3rd sale at least.
So whilst these large commissions might sound nice on the surface, unless you're already a marketing expert it's not going to be so easy to make money with this system… In fact, the odds are actually on you losing money.
That's just a brief overview, but if you want to find out more about the compensation plan then you can read my full review here.
You Might Also Like:
Is Our Wealth Secret a Scam?
Well, the reality here is that it's not technically a scam since there is indeed the potential for you to make money, but the big problem is that it's expensive, not as easy as it's made out to be & the likelihood is that you will actually end up losing money rather than making it unless you are already a marketing expert.
For that reason, I didn't decide to recommend the 8 Figure Dream Lifestyle system when I reviewed it & since this Our Wealth Secret system is associated with that I won't be recommending this one either. Instead, I recommended a program named Commission Academy which is very similar but it's actually free so there's no heavy upfront investment or risk involved.
Alternatively, there are of course many other ways to make money online & you can find out more about them in my ultimate guide to making money online (which is also free to check out by the way).
But don't get me wrong, you could potentially go on to make good money with the Our Wealth Secret/8 Figure Dream Lifestyle system providing you work hard at it & I'm confident that there are some members out there making good money. The only trouble is like I said above is that there's a lot of risks involved due to the buy-in costs & I just couldn't justify spending that much money when there are other cheaper & even free alternatives available.
So anyway overall my verdict is that I won't be recommending it, simply because I don't really think you will find massive value from it & because you could potentially lose a lot of money to it. If you happen to have any further questions or comments about it though don't hesitate to leave them below.
A Better Alternative
The sad truth is that unfortunately most of the programs promising to help you make money online are scams. I can say that confidently after exposing over 500+ of them here on this blog.
But the good news is that even though most of them are indeed scams, there are actually some very good programs in amongst them - some programs that can truly help you to earn money.
And out of all of the legit programs I've seen, the one I would recommend the most to anybody looking to get started online is Commission Academy. In my own opinion, that's the best place to start.
At Commission Academy, you'll be provided with everything you need (including the training & tools) to begin earning real money by promoting products or services for companies like Amazon online.
The best part is that there's literally no limit on the amount you can earn with it & the process is pretty simple which means that it's absolutely perfect for people that don't have much experience.
Some wealthy affiliates even earn as much as 5-figures per month... Or more!

I mean don't get me wrong, that kind of money won't just fall into your lap without doing any work... But the harder you're willing to work at it, the more you stand to earn with it.
So if you're looking to get started but don't know which route you should go down or which program you should join (and don't want to waste money on bogus things that don't actually work), then I'd highly recommend checking out Commission Academy first. You can learn more about it here.