Panel Bucks poses as a legitimate paid survey website & promises to provide you with enough surveys each day to help you make a good income from home. You're led to believe that you can simply sign up, start taking surveys & begin earning almost right away…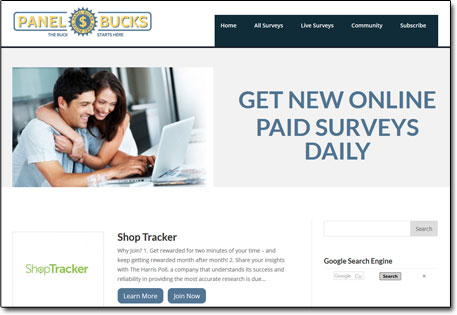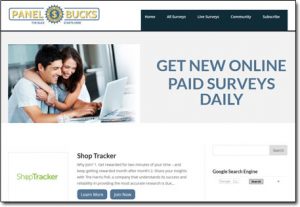 They even claim to offer you a $25 bonus just for signing up, but I think you'll agree with me when I say it sounds a little too good to be true… So what's the deal, is it actually legit or is Panel Bucks a scam that'll just see you wasting time rather than making any money?
Thankfully you've landed in the right place to find out because I've taken a closer look into it & in this review I'll be uncovering everything there is that you need to know, including how it all works & whether or not you can really make money with their surveys.
What Is Panel Bucks?   |   How Does Panel Bucks Work?   |   Is Panel Bucks a Scam?   |   A Better Alternative
What Is Panel Bucks?
As I briefly mentioned above Panel Bucks is a website that poses as a legitimate paid survey website, and the reason I say poses is because in reality it's actually not a legitimate paid survey site at all.
It's what's known as a "survey aggregator" site which basically means rather than actually providing you with surveys directly, it just tricks you into signing up & then redirects you through to various other survey websites so that the creators can earn money when you sign up via their links.
To be honest even though you can access paid survey companies without having to sign up to sites like Panel Bucks, this in itself isn't all that bad – providing of course that they were redirecting you to legitimate survey sites…
The real problem is that Panel Bucks doesn't redirect you to real survey sites – instead they redirect you through to phishing scams that attempt to install software on your computer to steal your details.
For example after clicking on one of the so called "surveys" inside of Panel Bucks, this is what I was presented with: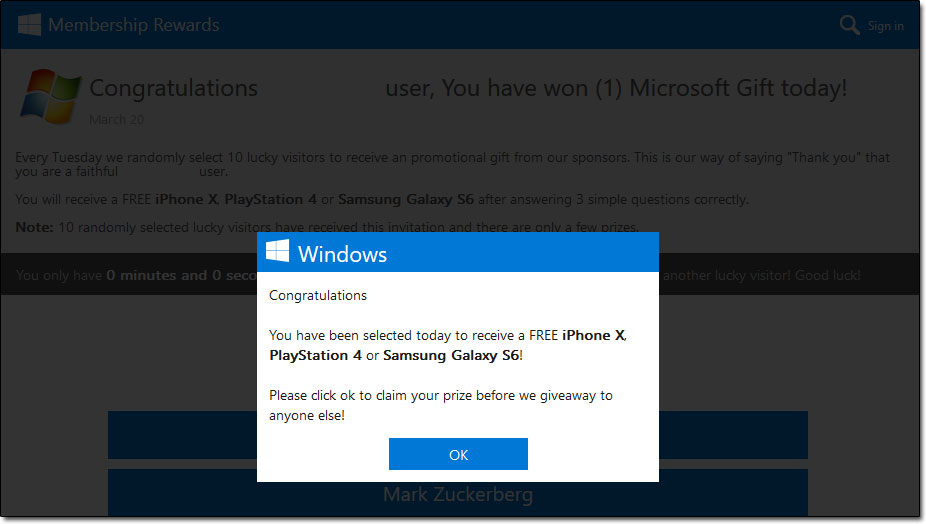 It's a fake Microsoft site & it claims that I've been selected to receive a free iPhone X, PlayStation 4 or Samsung Galaxy S6… Obviously though it's a total lie, it's just a trick to get you to fill in a survey or download some software.
And I absolutely wouldn't recommend doing either of those things, because if it's pretending to be the Microsoft site (which it clearly isn't based on the web address that displays in your browser) then it is almost certainly set out to scam you.
How Does Panel Bucks Work?
Basically Panel Bucks hasn't been designed with the intention of helping you get paid surveys at all, it's merely been designed purely to make it's creator as much money as possible at your expense… By tricking you into signing up to scams.
Whoever is behind Panel Bucks (surprise surprise they keep themselves anonymous) has affiliated themselves with various scams. This means if they can get you to sign up to the scams & invest money or install software etc then they'll get paid big commissions…
So essentially Panel Bucks is just a ploy to trick you into signing up to these scams.
At first you're lured in with the promise of receiving access to high paying surveys & as mentioned earlier in this review you're even promised a $25 bonus just for signing up… But again this is totally fake.
This is just a ploy for the owner of Panel Bucks to get your details so that he (or she) can then keep pushing the scams onto you…
One of the major red flags is the fact that they promise insane amounts of up to $75 per survey (as shown below) – you see paid survey companies are renowned for paying out very little & any site that promises to pay large amounts is likely trying to scam you.

The internet provides you with great ways to make money but you are not going to make that kind of money by just doing something super easy that anybody could do such as filling in paid surveys… Like I say, it's just a false promise designed to trick you into signing up.
Like I say, all of the "surveys" listed inside of Panel Bucks are totally bogus. Take the one below for example:

For a start it's not even a survey at all, it's a work from home opportunity that claims you can make $400+ from home – but when you click on it you're redirected through to the Automated Daily Income system which is a known scam that I've already exposed on this blog.
So clearly the Panel Bucks website is just 100% bad news & should definitely be avoided.
Which brings me onto…
Is Panel Bucks a Scam?
Well technically Panel Bucks itself isn't a scam but it's extremely misleading & it does redirect you through into various 3rd party scams & dangerous phishing sites so I certainly won't be recommending it.
As far as I'm concerned it's been launched with the sole intention of making it's creator wealthy at your expense. You're led to believe that it's got your best interests at heart but in my opinion this simply isn't true.
To be honest even if Panel Bucks was legit & did recommend good paid survey sites there's no need to sign up to sites like that to access them… I've put a list of paid survey sites here that you can browse without submitting any details.
So yeah overall Panel Bucks is going to be getting a big thumbs down from me because I feel like it's solely set out to take advantage of you. If you do happen to have any further comments or questions about it though then don't hesitate to leave them below.
A Better Alternative
The sad truth is that unfortunately most of the programs promising to help you make money online are scams. I can say that confidently after exposing over 500+ of them here on this blog.
But the good news is that even though most of them are indeed scams, there are actually some very good programs in amongst them - some programs that can truly help you to earn money.
And out of all of the legit programs I've seen, the one I would recommend the most to anybody looking to get started online is Commission Academy. In my own opinion, that's the best place to start.
At Commission Academy, you'll be provided with everything you need (including the training & tools) to begin earning real money by promoting products or services for companies like Amazon online.
The best part is that there's literally no limit on the amount you can earn with it & the process is pretty simple which means that it's absolutely perfect for people that don't have much experience.
Some wealthy affiliates even earn as much as 5-figures per month... Or more!

I mean don't get me wrong, that kind of money won't just fall into your lap without doing any work... But the harder you're willing to work at it, the more you stand to earn with it.
So if you're looking to get started but don't know which route you should go down or which program you should join (and don't want to waste money on bogus things that don't actually work), then I'd highly recommend checking out Commission Academy first. You can learn more about it here.