Plug-In Profit Site is a website created by Stone Evans, a self-proclaimed affiliate marketing millionaire & through it you're led to believe that you can get access to your very own "free money-making website".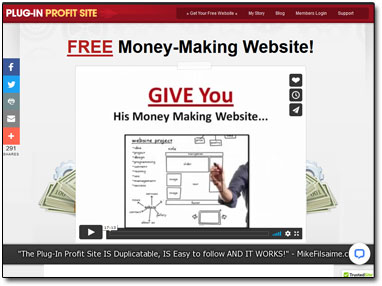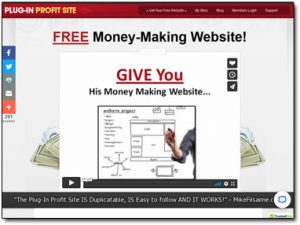 Stone claims that the website you'll be getting access to is an identical copy of the exact same website he personally uses to make money & he even claims that he'll set it up for you, all completely free of charge.
So as the name suggests you're led to believe that you can indeed just simply "plug-in" and profit.
But is it really legit? Or is Plug-In Profit Site a scam that's just set to somehow part you with your hard-earned cash?
Well, the good news is that you've landed in the right place to find out as I've personally taken a closer look into it & in this honest Plug-in Profit Site review I'll be uncovering everything you need to know.
What Is Plug-In Profit Site?   |   Who Is Stone Evans?   |   How Does Plug-In Profit Site Work?   |   Is It Really Free?   |   The Suspicious Testimonials   |   Is Plug-In Profit Site a Scam?   |   A Better Alternative
What Is Plug-In Profit Site?
Stone Evans, the founder of Plug-In Profit Site claims that his Plug-In Profit Site program provides one of the easiest ways for people to begin making money online, even if they're completely new.
According to him, all you need to do is literally "plug-in" and profit.
He claims that he will do all the work & set you up with the exact same website that he has personally used to generate millions of dollars online & he claims that he'll even do it without any costs whatsoever.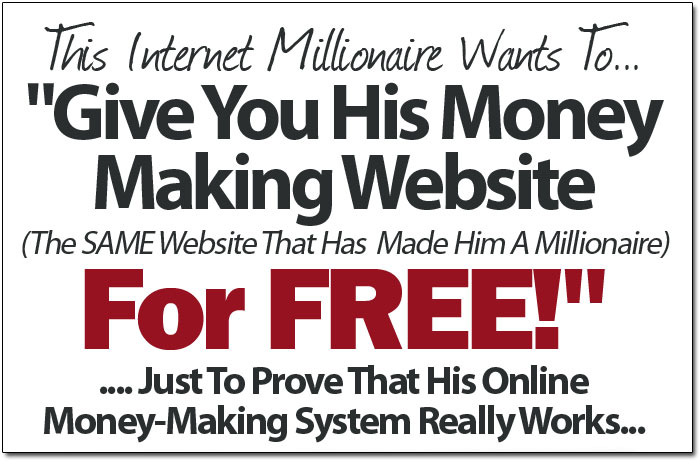 But I know what you're thinking… There has to be a catch.
And you'd be right, there is a catch.
The catch is that whilst the Plug-In Profit Site system is technically free, in order to stand any chance at making money from it you need to sign up for 5 different programs & these each cost money.
Not only that but Stone Evans is affiliated with them meaning that when you do sign up to them, he'll find himself earning some pretty hefty commissions at your expense.
That's kinda why he's so desperate to build you a "free" site… To lure you in.
But will you actually be able to make your money back & generate the profits that Stone Evans promises? That's the big question & I'll answer it in a moment but first, let's take a closer look at the man himself, Mr Stone Evans…
Who Is Stone Evans?
Stone Evans boasts all throughout the Plug-In Profit Site website that he is an affiliate marketing millionaire & that he pretty much knows everything there is to know about making money online…
But do his claims hold true?
In fact, is Stone Evans even a real person?
Well, I did some digging & honestly, there isn't actually a huge deal to be found about Stone Evans. It seems if he has made millions online then he's done it at the expense of those joining his Plug-In Profit Site system.
The only thing I can confirm is that he is indeed a real person… So I guess that's some small positive at least.
But as to whether or not he's really made millions online… Well, I guess we'll just have to take his word for it.
How Does Plug-In Profit Site Work?
So as I've mentioned throughout this review already, the idea is that if you sign up to Plug-In Profit Site, Stone Evans will set you up with a website that you can immediately profit from.
And in a way, it's kinda true…
He does provide you with a website & technically, it is possible that you could find yourself earning money with it.
But it seems that he's forgotten 1 vital component.
And that vital component is something known as traffic.
You see, when it comes to making money with a website there is 1 thing you need to be able to stand ANY chance whatsoever of being successful & that is visitors… Otherwise known as "traffic".
Visitors arrive at the website, then you send them to offers.
But if your website is getting any visitors then you've got nobody to send to the offers & if you're not sending anybody to the offers then you've got absolutely no chance of earning any money.
And surprise, surprise, generating traffic is the most difficult part of the process.
Anybody can build a profit-ready website but getting visitors to the website in order to actually begin generating those profits is where it gets more tricky & that's where Stone's program falls down.
That, and the fact that all of the websites that Stone is providing his members with are pretty much just duplicated copy & paste style websites as shown below:

They're "slightly different" but that's about it.
And the reason I'm showing you this is because this makes it quite clear to me that Stone Evans isn't really interested in the success of his members. He's just interested in earning at their expense.
That brings me to my next point…
Is Plug-In Profit Site Really Free?
In short, no – it's not. In fact, despite Stone Evans claiming that his system is completely free, Plug-In Profit Site could actually end up costing you tens of thousands of dollars.
And yes, I really did say tens of thousands – that's not a typo.
You see, if you scroll all the way down the Plug-In Profit Site website you'll notice a link that says "Refunds Policy" and if you click on it you'll be presented with the following message:
Some of the affiliate programs and complimentary services which are part of the Plug-in Profit Site do require a financial investment to become a member of their program including Empower Network, SFI, Traffic Authority, Traffic Monsoon, Got Backup and Plug-In Profit Site Domains. Each of these independent programs is governed by their own Refund/Return Policy. Please consult each independent website or service for details of their policies.
Traffic Authority, for example, costs over $8,000… And Empower Network can set you back well over $5,000.
That's $13,000+ just to begin with & don't forget, those are only 2 of the 5 "income streams" that Stone Evans requires you to sign up for to take advantage of his so-called "free" offer.
So whilst it may be free to initially sign up for the Plug-In Profit Site program, you WILL be required to invest if you want to stand any chance of earning the big commissions that Stone boasts about.
And if you do happen to invest, just know that the way you earn money with the Plug-In Profit Site is by going out & getting others to do exactly the same.
You know, just like you would do in a pyramid scheme.
You Might Also Like:
The Suspicious Testimonials
One thing you've probably noticed is that there are lots of testimonials on the Plug-In Profit Site homepage.
One of them is from Russell Brunson, founder of ClickFunnels… Another is from Joel Therien, founder of Now Lifestyle.
But more alarmingly, one of them is from Simon Stepsys – a guy who was described by a national newspaper as the "habitual purveyor of get-rich-quick schemes" (as shown below):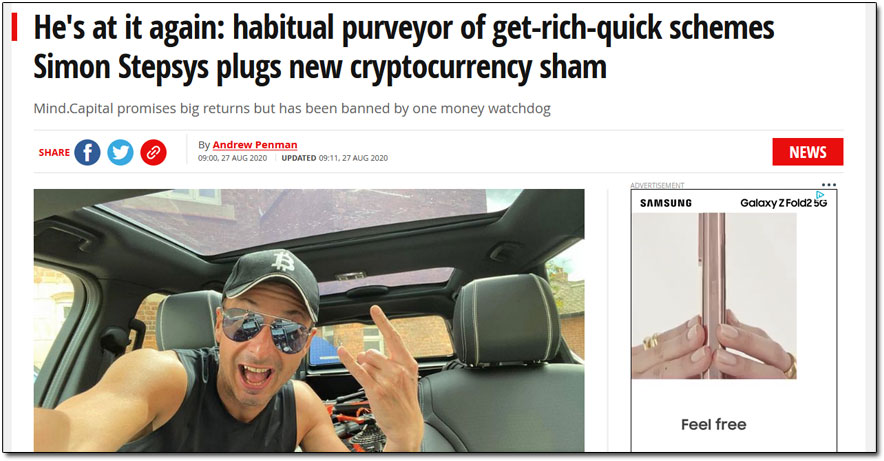 So here we have a program that looks like a pyramid scheme & we have a testimonial from somebody who is known for his involvement with pyramid schemes. Hmmm…
That's not good.
In fact, I think on that alone, you can count me out!
Is Plug-In Profit Site a Scam?
I mean, I don't believe I can call it a scam as such since there is the small "possibility" to earn money but being realistic it is clear to me that the majority of people who join will just spend money, not earn it.
The only person that'll be truly profiting will be Stone Evans, the creator… And of course, he'll be generating his profits at the expense of all those who are signing up to make money.
So it may not be a scam, but as far as I'm concerned it's massively overhyped & the chances of you actually finding yourself making any money with it will be slim to none.
Therefore I am going to be advising that you steer clear of Plug-In Profit Site & instead, if you still want to earn money online I would suggest you stick with one of these proven alternatives.
But whatever you decide to do I just hope that my honest review of the Plug-In Profit Site system here has helped you out & most importantly I also hoped it's helped you to save some money.
Feel free to leave any comments or questions below.
A Better Alternative
The sad truth is that unfortunately most of the programs promising to help you make money online are scams. I can say that confidently after exposing over 500+ of them here on this blog.
But the good news is that even though most of them are indeed scams, there are actually some very good programs in amongst them - some programs that can truly help you to earn money.
And out of all of the legit programs I've seen, the one I would recommend the most to anybody looking to get started online is Commission Academy. In my own opinion, that's the best place to start.
At Commission Academy, you'll be provided with everything you need (including the training & tools) to begin earning real money by promoting products or services for companies like Amazon online.
The best part is that there's literally no limit on the amount you can earn with it & the process is pretty simple which means that it's absolutely perfect for people that don't have much experience.
Some wealthy affiliates even earn as much as 5-figures per month... Or more!

I mean don't get me wrong, that kind of money won't just fall into your lap without doing any work... But the harder you're willing to work at it, the more you stand to earn with it.
So if you're looking to get started but don't know which route you should go down or which program you should join (and don't want to waste money on bogus things that don't actually work), then I'd highly recommend checking out Commission Academy first. You can learn more about it here.