Pocket Money GPT is what's known as a Get-Paid-To website & they claim they'll pay you in return for completing small tasks such as filling in surveys, completing offers, entering contests & even referring friends.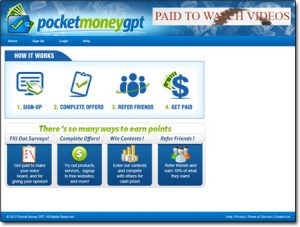 But whilst there are some legit GPT websites out there sadly there are many rogues too, so what's the deal with this one?
Is it actually legit or is Pocket Money GPT a scam that'll ultimately part you with your cash?
Luckily you've landed in the right place to find out because I've done the digging & in this Pocket Money GPT review I'm going to be uncovering everything you need to know, including whether or not you can actually make money with it.
What Is Pocket Money GPT?   |   How Does Pocket Money GPT Work?   |   Is Pocket Money GPT a Scam?   |   A Better Alternative
What Is Pocket Money GPT?
As I briefly mentioned above Pocket Money GPT (hence the name) is what's known as a Get-Paid-To website. Now whilst there are indeed some legitimate Get-Paid-To websites about, sadly many of them are nothing but scams.
In fact just this week alone I've already exposed a handful of other GPT scams such as the Dollar True program & the Email Sending Jobs system. Both websites promised the world but in reality, delivered nothing.
So it's, therefore, safe to say that when it comes to this type of thing you definitely need to do your due diligence.
Anyway, the concept is that you can sign up to Pocket Money GPT for free & then begin completing short, easy tasks to make money. Pocket Money GPT claim to pay you for a variety of different things such as filling in surveys, completing offers, entering contests & referring friends.
Though as the name suggests they are not really going to be paying you any sort of life-changing amounts of money, but that's generally typical of all GPT websites because the tasks are so straight forward.
How Does Pocket Money GPT Work?
The process of earning money with Pocket Money GPT is actually pretty simple & the good news is that you can get started for free. It's all really easy to do but you'll be lucky to make a few extra dollars a month.
The first thing you will need to do to get started with them is create a free account via their website. To do this you'll just need to hit the "Sign Up" button & enter a few details such as your name, email & payment address.
Once you've got an account you'll be able to login & access your dashboard – it's from here that you'll be presented with a list of tasks to complete & after completing each one your account will begin collecting credits.
To give you an idea of how much credits are in real money, 100 credits is equal to 1 USD. It will likely take several tasks before you manage to reach 100 credits but the good news is once you do you can immediately cash out as the withdrawal limit is just 1 USD too.
The amount of credits you earn varies on the tasks you are completing, here's a run-through of the different tasks that will be offered to you at Pocket Money GPT:
Surveys
This one is probably self-explanatory, but yeah – Pocket Money GPT work with advertisers who basically want to know your opinion. They'll provide you with surveys & you'll earn credits for each one you complete.
The number of credits you earn will depend on the length of the survey as they can range from around 5 to 15 minutes, with obviously the longer surveys paying more credits since they're taking up more of your time.
Offers
Again, Pocket Money GPT has a panel of advertisers who have offers for you to complete. This generally consists of you signing up to things like free trials or creating free accounts on websites.
Once you complete the offers you'll be given credits & the number of credits will depend on how hard the offer was to complete. For example, if you only had to enter your email then you might not get a lot of credits, but if you had to submit a lot of information then you'll likely get a lot more.
The only issue here is that some of the things you're asked to sign up to could end up costing you money if you forget to cancel them. Just make sure you either remember to cancel or avoid any offers that ask for payment details altogether if you don't want this to happen to you.
Contests
Every now & then Pocket Money GPT run contests which you can enter to stand the chance of winning credits. Pretty straight forward really.
Referring Friends
Overall this is probably the most lucrative way to earn with Pocket Money GPT because the other methods of earning don't really pay a great deal. When you refer friends you will get a percentage of their earnings, so this means that rather than you doing all the work you can simply refer people over via your unique link & take a cut from their efforts instead.
You'll get 10% of the points the people you personally refer earn. Then on top of that if the people you refer also refer people themselves you'll get 3% of the earnings made by them too, and finally 2% on the next level down below them as well…
Hopefully, that makes sense!
You Might Also Like:
Is Pocket Money GPT a Scam?
No, I don't believe Pocket Money GPT is a scam – as far as I'm concerned it's a legitimate website.. and the good news about this particular website is that the cashout limit is set very low at $1 so you don't have to do a great deal before you can request a withdrawal (so that you can see it's legit).
Some of the scam GPT websites set their cashout limit really high so that you end up wasting a whole chunk of your time before you're able to find out that it's fake, like Dollars True for example which sets the limit at a whopping $300.
But yeah, Pocket Money GPT looks good to me. The only problem is that despite it being a fairly easy site to make money through the reality is that you're not really going to be able to earn a lot of money through it…
The credits you're given for the tasks you complete don't really equate to much in terms of real money & so you'll be giving up a lot of your time for very little reward. In my personal opinion, there are much better ways to make money online.
So overall whilst I am going to say that yes, Pocket Money GPT is legit, I am not going to be recommending it because realistically I think that this type of method for making money is kind of a waste of time.
However, if GPT websites are your thing then yes, by all means, give it a try – it's just I'm confident that if you value your time you will likely find it disappointing. You can also find more legitimate GPT websites by clicking here.
Anyway, hopefully this review provided you with the insight that you were looking for into this company & helped you decide whether or not you actually wanted to join. If you do happen to have any further comments or questions don't hesitate to leave them below.
A Better Alternative
The sad truth is that unfortunately most of the programs promising to help you make money online are scams. I can say that confidently after exposing over 500+ of them here on this blog.
But the good news is that even though most of them are indeed scams, there are actually some very good programs in amongst them - some programs that can truly help you to earn money.
And out of all of the legit programs I've seen, the one I would recommend the most to anybody looking to get started online is Commission Academy. In my own opinion, that's the best place to start.
At Commission Academy, you'll be provided with everything you need (including the training & tools) to begin earning real money by promoting products or services for companies like Amazon online.
The best part is that there's literally no limit on the amount you can earn with it & the process is pretty simple which means that it's absolutely perfect for people that don't have much experience.
Some wealthy affiliates even earn as much as 5-figures per month... Or more!


I mean don't get me wrong, that kind of money won't just fall into your lap without doing any work... But the harder you're willing to work at it, the more you stand to earn with it.
So if you're looking to get started but don't know which route you should go down or which program you should join (and don't want to waste money on bogus things that don't actually work), then I'd highly recommend checking out Commission Academy first. You can learn more about it here.