Make $500 per day starting today – that's what the Point To Click Profits system claims you can do thanks to their so-called "virtual black box" that'll allegedly see you cashing in from e-commerce transactions all on complete auto-pilot…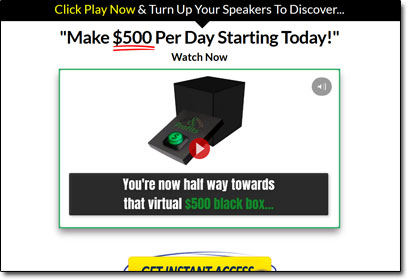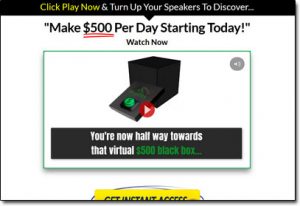 You're literally told that you don't need to do a thing & that the system will make all of the money entirely on your behalf… But is the so-called black box actually legit or is Point To Click Profits a scam that you should just avoid?
Well thankfully you've landed in exactly the right place to find out as I myself have personally taken a closer look into it to see if there's any substance to it & in this honest review I'll be uncovering everything you need to know, including whether or not you can really make any money with it.
What Is Point To Click Profits?   |   How Does Point To Click Profits Work?   |   Can You Make Any Money With It?   |   Is Point To Click Profits a Scam?   |   A Better Alternative
What Is Point To Click Profits?
At a glance it might seem like the Point To Click Profits system is a dream come true as it basically promises that it will provide you with easy, automated & unlimited wealth from online e-commerce sales… Even if you're totally brand new.
You're literally told that you don't need any experience or technical knowledge & that thanks to a so-called black box you'll be able to tap into a multi-billion dollar industry & begin earning at the click of a button…
But there's one thing, which is that the whole thing just sounds too good to be true, don't you think?
And you know what they say about stuff that sounds too good to be true… It usually is!
I mean if this Point To Click Profits system really worked as promised then why isn't everybody doing it? Why are people still working still working their jobs if they can just click a button & get rich?
The answer is because sadly the Point To Click Profits system doesn't really work as promised. It's actually nothing but a scam, and if we take a closer look at the so-called "black box" shown in the Point To Click Profits video (shown below) then we can see that it's actually just a re-hashed version of the Copy & Paste Commissions scam that launched a few months back: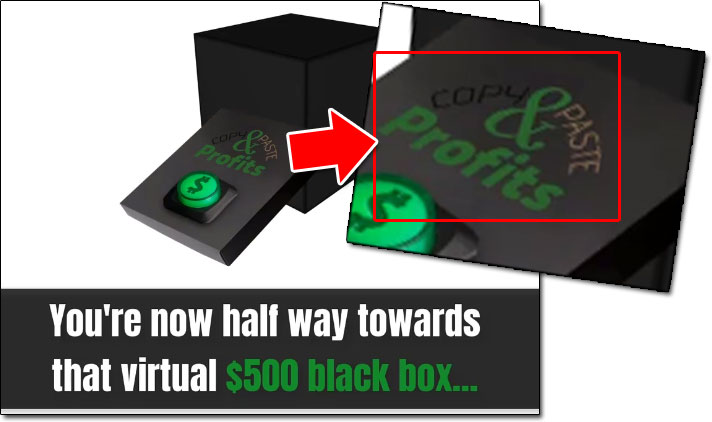 But I appreciate that you likely won't want to simply "take my word for it" when I say that, after all I understand that some of you reading this review may have been really hoping that the Point 2 Click Profits system was going to work for you…
So instead keep on reading & I'll explain below exactly how it all work so that you can see first-hand for yourself what's really going on & why this thing likely won't really help you to make any money like it claims. 🙂
How Does Point To Click Profits Work?
All throughout the sales video you're basically told that the Point To Click profits system provides an automated, hands-off way for you to begin making lots of money online… But that couldn't be further from the truth.

They're just telling you a pack of lies to trick you into handing over your cash so that the people behind it can earn at your expense (just like any other typical get-rich-quick scam). Then after handing over your cash you'll simply be left to find out the hard way that the whole thing doesn't really worked as promised.
There is no black box, and there is no automated system – instead after signing up all you get is some very basic training on a method called dropshipping, which is basically where you source & sell physical products online through sites like Amazon & Shopify.
And whilst the method in itself is technically legit, the training provided via Point To Click Profits sucks & there's no real chance of it helping you to see success… Instead you'll just find yourself spending more than you actually ever make.
But to be honest even with proper dropshipping training (like that provided through Amazing Selling Machine) I still don't really recommend it as a good way to make money online, because it's expensive to get started with & involves a lot of risk.
In my opinion there are many better alternatives, such as affiliate marketing which is actually the same way I personally make most of my own income online.
Affiliate marketing is much easier, requires less work & involves less risk, and you can actually get started for free with affiliate marketing over at Wealthy Affiliate.
You see rather than sourcing & selling products (and handling sales/refund) like you have to do with dropshipping, all you need to do with affiliate marketing is connect people with the products that they're looking for, and then you get paid a commission if they go on to make a purchase.
So as an example you could become an affiliate of Amazon which would mean you'd be able to earn commissions from any of the products that are found on their website. You simply get a unique link to them to share & if somebody clicks it & buys something, you get paid… Just like I've shown below: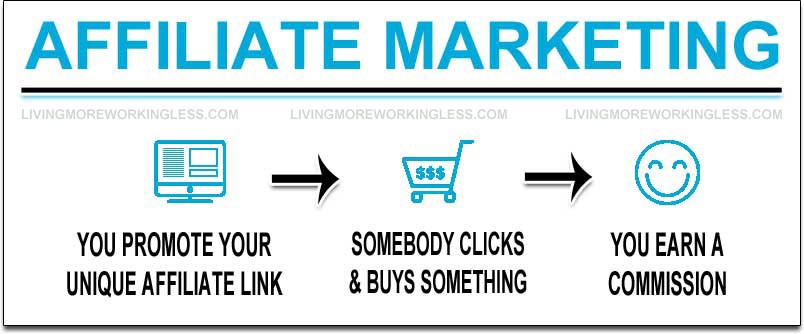 And just in case you're still contemplating "trying out" Point To Click Profits, I know there's something else you're probably wondering, which is…
You Might Also Like:
Can You Make Any Money Point To Click Profits?
Point To Click Profits clearly makes some extraordinary claims, such as being able to make $500 per day… And whilst it is indeed possible to actually make that kind of money online, sadly it is not going to happen without putting in a lot of work.
So when Point To Click Profits says that you are going to earn all of that money on complete autopilot, they are lying 100%.
But can you make any money at all with it?
Well the answer here is yes & no – because like I mentioned above in this review, the method that Point To Click Profits is built around (which is dropshipping) in itself is actually legitimate, and you can make money with it…
BUT… In order to actually stand any chance of making money with dropshipping you need 2 things, a huge budget & some really excellent training, and the training provided by Point To Click Profits is far from excellent.
So whilst it is possible to make money in a technical sense, the real likelihood is that you will actually just end up spending money via the Point To Click Profits system rather than actually making it, as the whole thing is just designed to make its creators rich, not you.
Plus if you think the cost is just $47 like it says on the sales page then think again. The low cost they've advertised on the sales page is just a trick to get you to input your credit card details so that they can sign you up for what's called "one-click billing".
This means that once you've signed up & paid $47, they will save your details & then they can bill you with literally just the click of a button… So immediately after paying the $47 you'll be bombarded with further upsells costing hundreds, potentially even thousands of dollars before you can even get access to the lame training centre that they've put together.
Which brings me onto…
Is Point To Click Profits a Scam?
I appreciate that some people might say it's not a scam because it does give you access to some training in return for your money (even though it's rubbish) but in my opinion the whole thing is clearly built for the creator to earn at your expense so I personally am going to say that yes, it is a scam.
I mean the chances of you actually making money with Point 2 Click Profits are next to none, and instead you will likely just find yourself spending money.
Plus the creator has previously launched the system before under the name of Copy & Paste Commissions & has changed the name in an attempt to escape the negative reviews so that he can continue conning people out of their hard earned cash which is clearly a major red-flag on its own.
So therefore it's safe to say that I won't be recommending the Point To Click Profits system to you & instead if you're still looking for a legitimate way to make money then I urge you to check out Wealthy Affiliate which is where you'll learn about the same way that I personally generate most of my own income online.
Or alternatively you can check out my top picks page here which lists several other legitimate methods too.
But either way whatever you decide to do I just sincerely hope that my Point To Click Profits review here has given you a good insight into how the program really works & more importantly I hope it has helped you to save your hard earned cash.
If you do however still happen to have further questions or comments about the system then please don't hesitate to leave them below & as always I'll do my best to respond back to you in the quickest time I can.
A Better Alternative
The sad truth is that unfortunately most of the programs promising to help you make money online are scams. I can say that confidently after exposing over 500+ of them here on this blog.
But the good news is that even though most of them are indeed scams, there are actually some very good programs in amongst them - some programs that can truly help you to earn money.
And out of all of the legit programs I've seen, the one I would recommend the most to anybody looking to get started online is Commission Academy. In my own opinion, that's the best place to start.
At Commission Academy, you'll be provided with everything you need (including the training & tools) to begin earning real money by promoting products or services for companies like Amazon online.
The best part is that there's literally no limit on the amount you can earn with it & the process is pretty simple which means that it's absolutely perfect for people that don't have much experience.
Some wealthy affiliates even earn as much as 5-figures per month... Or more!

I mean don't get me wrong, that kind of money won't just fall into your lap without doing any work... But the harder you're willing to work at it, the more you stand to earn with it.
So if you're looking to get started but don't know which route you should go down or which program you should join (and don't want to waste money on bogus things that don't actually work), then I'd highly recommend checking out Commission Academy first. You can learn more about it here.