Discovering a "secret" for making lots of money online would be fantastic, right? Especially a secret that could allegedly see you earning thousands of dollars per day all on complete autopilot.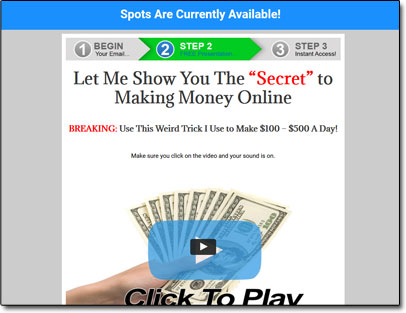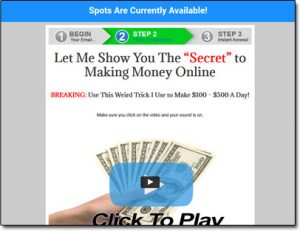 Well, that's exactly what the Quick Profit Pages website claims to provide you with. It claims to provide its visitors with a secret that could see them generating $1,000+ per day all from small, simple, "done-for-you" websites.
But is Quick Profit Pages legit? Or is it just a scam that's set out to part you with your hard-earned cash? That's the big question.
The good news is that you've landed in exactly the right place to find out the answer as I've taken a closer look into it & in this honest Quick Profit Pages review, I'll be uncovering everything you need to know.
What Is Quick Profit Pages?   |   How Does Quick Profit Pages Work?   |   The Red Flags   |   Is Quick Profit Pages a Scam?   |   A Better Alternative
What Is Quick Profit Pages?
Quick Profit Pages is a newly launched website & it essentially claims that it can provide you with access to a so-called "secret" for being able to easily generate lots of money online.
The concept is that you'll supposedly be able to create quick pages online & that you'll then be able to generate passive profits from these pages by connecting people with products or services.
If they make purchases, you get paid.
And at a glance, it sounds fairly legitimate… But in reality, there's a big problem with Quick Profit Pages.
That problem is the fact that whilst the method of connecting people with products or services for commissions is legitimate, the Quick Profit Pages platform itself is NOT legitimate.
More importantly, it is not really actually set out to help you. Instead, it's just been set up to trick you so that the person behind it can earn himself some money at your expense.
You see the method Quick Profit Pages is based around is known as affiliate marketing & on its own, affiliate marketing is definitely a legitimate (and very good) way to earn money online.
It's actually the same way that I personally generate most of my own money online.
But the problem is that whilst affiliate marketing is legitimate, it does not provide a guaranteed way to make money. In order to find success with it, you need to know how to actually promote things effectively.
In other words, you need good training… And Quick Profit Pages simply doesn't provide that. In fact, the Quick Profit Pages training will likely just leave you feeling even more frustrated & confused.
I can say that so confidently because I've actually already come across the Quick Profit Pages scam in the past. Prior to Quick Profit Pages, it was actually being promoted as The Secret Code System.
The person behind it simply changed the name in an attempt to escape the negative reviews & you'll soon realize why as I explain exactly how it all really works in the next section below.
How Does Quick Profit Pages Work?
As mentioned in the previous section of this review, the concept is that the Quick Profit Pages platform will create "done-for-you" webpages that will rank in search engines (like Google) & begin getting visitors.
Then, once the websites begin getting visitors you're led to believe that you'll be able to generate passive profits by promoting relevant products or services to the visitors as an affiliate.
And in theory, that's a workable method… In fact, it's the exact same method that I use & teach.
But the problem is that the "Quick Profit Pages" scam tricks you into believing that it'll be much easier than it is.
You see, yes, it is definitely possible to make money (and very good money) through affiliate marketing but in order to do so you will need to put in quite a bit of work to make it happen.
You can't just launch "done-for-you" pages & expect to begin getting visitors & sales at the push of a button like the Quick Profit Pages scam leads you to believe you can.
Instead, you need to create pages that actually provide value to people & that actually help them… And these pages must also be unique & original.
Creating unique & helpful content is the only way you will get ranked & begin generating traffic from search engines. There are no shortcuts or "secrets", despite what Quick Profit Pages claims.
The entire Quick Profit Pages platform is just a con. It's just been designed to make you feel like you can make lots of money with little work to trick you into handing over your hard-earned cash to try it out.
And that's why the website fails to mention the specifics of how it actually works until you pay the fee to join.
So it's safe to say that the Quick Profit Pages website should be avoided because if you do indeed hand over your cash to join then all you'll get is some extremely basic training on affiliate marketing.
And you can get better training for free right here on this website. 🙂
But I do appreciate that you may not be wanting to just "take my word for it" when I say that it's a scam so instead, let me bring to light some of the red flags that hands-down prove it's a con.
You Might Also Like:
The Red Flags
Firstly, there's the most obvious red flag – the fact that it simply sounds WAY too good to be true. Sometimes, you just have to step back & ask yourself "if this really worked, why isn't everybody doing it?".
The answer is either because it doesn't really work, or because it's not as easy as it's made out to be.
But that aside, there are also several other red flags with the Quick Profit Pages scam.
For example, you'll notice that the promo video starts out with a news clip & leads you towards believing that the Quick Profit Pages program has been featured in the news (as shown below):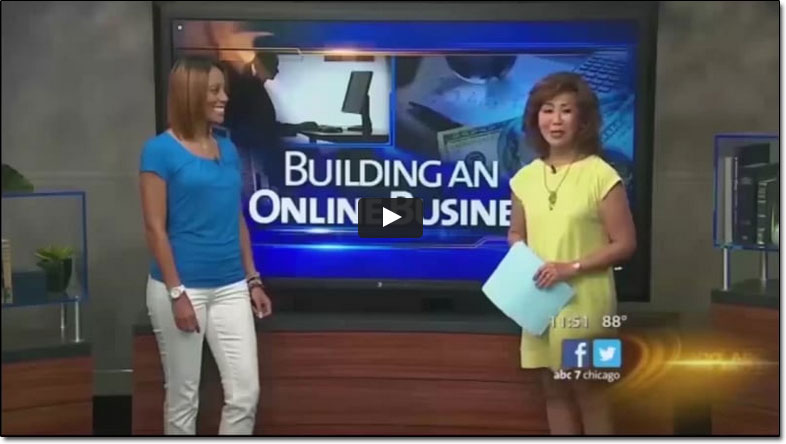 But if you pay close attention you'll see that Quick Profit Pages never gets mentioned & that's because the news feature isn't specifically about the program, it's just about online business in general.
The creator of Quick Profit Pages is just trying to trick you into believing that the program has been featured on the news because he knows if he can do that, you are going to be much more likely to try it.
Then, on top of that, there is also the fact that the disclaimer at the bottom of the Quick Profit Pages website literally states that the chances are you won't actually make any money.
Take a look:

Then, to top it off, there's the fact that the website contains no contact or ownership information whatsoever.
Who is behind the program? Who do you contact if you have a problem?
There's literally no information about that whatsoever & I think that alone proves that the people behind the program are not really interested in helping you. They're just interested in taking your money.
Not cool.
So, onto my next point…
Is Quick Profit Pages a Scam?
Yes, Quick Profit Pages is a scam. The site promises to provide you with access to an easy way to make lots of money but in reality, it's just a trick to get you to hand over your cash.
As the disclaimer at the bottom of the Quick Profit Pages website states, "the typical purchaser does not make any money using this system".
They're getting away with it by providing *some* training to you after you hand over your cash but the reality is that the training they provide is of extremely low quality & not worthy of the money.
But even if the training was good quality there is still no need to pay for it because if you want to get started with affiliate marketing you could just check out my own free course right here.
So instead of signing up for Quick Profit Pages, my recommendation would be to save your money & just sign up for my free course, Commission Academy instead.
That'll show you exactly how you can begin making money online as an affiliate, even if you're completely new.
But whatever you decide to do I just hope that my honest review of Quick Profit Pages here has given you a good insight into how it works & hopefully it's also helped you to save losing some money.
Feel free to leave any questions or comments below.
A Better Alternative
The sad truth is that unfortunately most of the programs promising to help you make money online are scams. I can say that confidently after exposing over 500+ of them here on this blog.
But the good news is that even though most of them are indeed scams, there are actually some very good programs in amongst them - some programs that can truly help you to earn money.
And out of all of the legit programs I've seen, the one I would recommend the most to anybody looking to get started online is Commission Academy. In my own opinion, that's the best place to start.
At Commission Academy, you'll be provided with everything you need (including the training & tools) to begin earning real money by promoting products or services for companies like Amazon online.
The best part is that there's literally no limit on the amount you can earn with it & the process is pretty simple which means that it's absolutely perfect for people that don't have much experience.
Some wealthy affiliates even earn as much as 5-figures per month... Or more!

I mean don't get me wrong, that kind of money won't just fall into your lap without doing any work... But the harder you're willing to work at it, the more you stand to earn with it.
So if you're looking to get started but don't know which route you should go down or which program you should join (and don't want to waste money on bogus things that don't actually work), then I'd highly recommend checking out Commission Academy first. You can learn more about it here.