In this review, I'm going to be taking a closer look at the Retired Millionaire system which claims it can provide you with a "done-for-you" profitable website that can generate you thousands of dollars online on complete autopilot.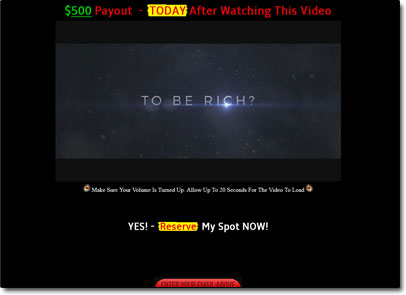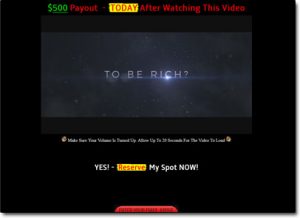 The system also claims that you'll be able to get $500 just for sticking around & watching the video, but is it actually legit?
Or is the Retired Millionaire system a scam that's just out to take your cash?
Well, you've landed in exactly the right place to find out as I've personally taken a closer look into it & in this honest Retired Millionaire review I'll be uncovering the truth about how it really works.
What Is The Retired Millionaire System?   |   How Does It Work?   |   The Lies   |   Is The Retired Millionaire System a Scam?   |   A Better Alternative
What Is The Retired Millionaire System?
The Retired Millionaire system claims to provide you with literally everything you need in a "done-for-you" fashion to start making thousands of dollars online without having to do any work at all.
You're led to believe that after purchasing into the system you'll simply be handed over a profitable website that's already making money & that you'll begin earning a ton of cash on complete autopilot.
The creator of the system (who surprise surprise keeps himself anonymous) reckons that he's only giving a select few people access & that you've been "lucky enough" to get in whilst the doors are still open.
But don't you think it all sounds a bit too good to be true?
Sadly that's because it is too good to be true…
How Does The Retired Millionaire System Work?
Whilst the claims made by the Retired Millionaire system would be nice if they were true unfortunately they're not – the system just feeds you a pack of lies in an attempt to part you with your cash.
The Retired Millionaire is actually what's known as a web hosting scam.
Basically, when you buy into the system (which I don't recommend you do) you won't get a "done-for-you" profitable website as promised, instead, all you'll get access to is a members area with training videos.
The training videos basically instruct you to sign up with their recommended web hosting company & then they tell you to install the website that they provide you with on the web server that you purchased.
Allegedly, the website has been designed to make money & once you install it you'll start to see commissions coming in, but in reality that couldn't be further from the truth as it's just a load of junk.
Basically, all they're interested in is getting you to sign up with their "recommended" web hosting company so that they can earn a commission at your expense, after that they don't care what you do.
And the so-called profitable website they give you won't make you any money at all – sure it might look pretty on your web server but with no visitors, you ain't gonna make a penny but that's something they don't tell you.
Don't Believe a Word They Say…
Basically, the creators of this system are just saying whatever they can to get you to whip out your credit card & make a purchase – none of what they say is true but you're only able to find that out after you've handed over the money.
By that point, it's too late because they'll have got your cash & they'll make it very difficult for you to get it back – but what's worse is that they'll then try & get even more out of you by recommending that you sign up for some web hosting so that you can install your so-called profitable website.
Don't get me wrong if you're looking to make money online then having a website will certainly put you at an advantage but the one you're given through the Retired Millionaire system is total junk – and not only that, the hosting they recommend to you is way overpriced too.
If you want to learn how you can start your own website step by step the real way then click here for my free training. I even talk about how you can start making money from it too – it's worth a look.
You Might Also Like:
Is The Retired Millionaire System a Scam?
Yes, this system is a scam & it's almost identical to one I've seen previously named My Secret Sites which also claimed that it would provide you with a profitable website but never delivered on its promise.
The important thing to realize is that whilst the internet can provide you with various ways to make money sadly it's not magical & there are no shortcuts to start earning lot's of money with little work.
Don't get me wrong you can make a full-time income online (and in fact, you can make a lot more than a typical full-time income) but you'll be required to put in the work just like you would if you were starting a business offline.
These programs that promise they'll do all the work for you are just scams looking to take your money – after all, if the creator of the Retired Millionaire system could create profitable websites so easily then why is he or she having to see copies of their system? They could be giving it away for free surely.
Well, ultimately we know why. It's because it's nothing but a scam & for that reason I certainly won't be recommending it because it's obvious to me that it's only out to part you with your hard-earned cash.
A Better Alternative
The sad truth is that unfortunately most of the programs promising to help you make money online are scams. I can say that confidently after exposing over 500+ of them here on this blog.
But the good news is that even though most of them are indeed scams, there are actually some very good programs in amongst them - some programs that can truly help you to earn money.
And out of all of the legit programs I've seen, the one I would recommend the most to anybody looking to get started online is Commission Academy. In my own opinion, that's the best place to start.
At Commission Academy, you'll be provided with everything you need (including the training & tools) to begin earning real money by promoting products or services for companies like Amazon online.
The best part is that there's literally no limit on the amount you can earn with it & the process is pretty simple which means that it's absolutely perfect for people that don't have much experience.
Some wealthy affiliates even earn as much as 5-figures per month... Or more!

I mean don't get me wrong, that kind of money won't just fall into your lap without doing any work... But the harder you're willing to work at it, the more you stand to earn with it.
So if you're looking to get started but don't know which route you should go down or which program you should join (and don't want to waste money on bogus things that don't actually work), then I'd highly recommend checking out Commission Academy first. You can learn more about it here.