Salary Daily is a website that promises to provide you with a way to earn lot's of money online by working from home. You're led to believe that all you need to do to start earning is simply sign up & begin completing short tasks through the site.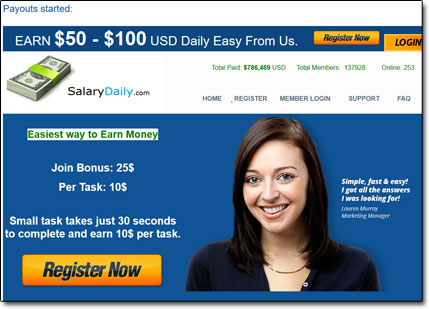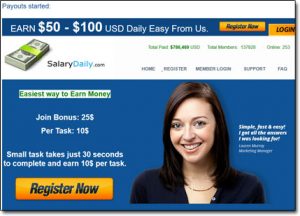 They tell you that you'll earn as much as $10 per task & that you'll even get a $25 bonus just for signing up – but is it actually legit or is Salary Daily a scam that'll just see you wasting your time & not getting paid?
Thankfully you've landed in the right place to find out because I've taken a closer look into it all & in this review I'm going to be uncovering everything you need to know, including how it all works & whether or not you can really make any money with it.
What Is Salary Daily?   |   How Does Salary Daily Work?   |   Is Salary Daily a Scam?   |   A Better Alternative
What Is Salary Daily?
Salary Daily claims to be what's known as a GPT or Get-Paid-To website. This is a type of website that pays you money in return for completing short, simple tasks online.
Now I want to point out here that there are indeed some legitimate Get-Paid-To websites online but typically since the tasks are so easy these websites only pay out very little. In fact, the amounts are generally so small that they're usually just a waste of time and I would only really recommend them if you were absolutely desperate to earn a few extra dollars…
Anyway, as you have probably noticed the difference with the Salary Daily website is that it promises to pay out a LOT of money. They offer you a $25 bonus just for signing up & then promise to pay you a whopping $10 for every task you complete.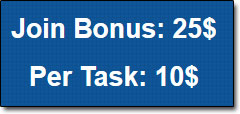 As far as I'm concerned this is very suspicious – it's unheard of in the GPT industry for a website to pay so much. As I say, the tasks offered through GPT sites are so simple that anybody could do them – so why would a company pay $10 per task when there's likely plenty of people out there willing to do the exact same task for $1 (or probably even less)?
The answer is that a legitimate company wouldn't… And Salary Daily is NOT legitimate.
The reason I can be so certain about that right from the off is that I've actually seen this exact scam several times before launched under different names. Just the other week I exposed it when it was called My PC Job now here it is again under the name of Salary Daily.
They keep changing their names & the appearance of their website in an attempt to escape the negative reviews in an attempt to continue scamming people.
Obviously I don't just expect you to take my word for all this though, instead let me show you how it all works…
How Does Salary Daily Work?
The Salary Daily website has actually been put together to steal your confidential details, and on top of that, it's been built in a way to trick you into referring others to it so that they can steal their details too.
You see when signing up to Salary Daily you're asked for a username, password, email, address & the name they should write on cheques (as shown below):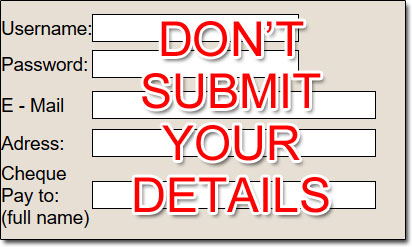 Basically all they're doing here is hoping that the details you enter will be the same details you use at other websites. Once you submit you details (which obviously I don't recommend) the creators of Salary Daily will then try & find any other accounts you might have that use the same password.
The first places they'll likely try are places like Amazon & PayPal – places most people commonly have accounts & if they're successful at getting in then they'll try and get as much money from you as they can.
So first things first if you've signed up to Salary Daily & you do happen to use the same details elsewhere, visit your accounts ASAP and change your login details before these people can get access.
On the inside…
If you did happen to sign up to Salary Daily (which again, just to be clear I don't recommend) you would be left to find out that there are no "tasks" as promised. Instead, you're just told to share a referral link to earn money as shown below:

They claim they'll pay you $10 for every person that clicks on your link which is just an insane amount of money. If you received 100 clicks that would see you earning $1,000 – but as you can probably guess, they don't pay out.
All they are doing is trying to encourage you to get other people to sign up to the scam. If you take a look at the link they want you to promote in the screenshot above you'll see it's for a program named Salary Weekly. This is the exact same scam but under a new name once again.
They are obviously expecting Salary Daily to get bad reviews so they're changing it to Salary Weekly.
If you happened to refer anybody through that link, then yes your account balance inside of Salary Daily would appear to increase but once you reached the minimum withdrawal limit of $300 you'd be left to find out the hard way that they don't actually pay. Your request will just go ignored.
Once enough people have reached the withdrawal limit & realize it's a scam they'll just redirect the site to Salary Weekly instead.
Is Salary Daily a Scam?
It should be pretty easy for you to see now that yes, Salary Daily is a scam & it's a dangerous one at that. Not only is it out to get your details but it also uses trickery to try & use YOU to help them get other people's details.
The Salary Daily website should definitely be avoided & it's clear to me that it's been purely set up to make the creators wealthy at your expense. You will not make any money at all with Salary Daily.
If you really want to get started making money online then there are many legitimate places you can get started such as Commission Academy for example. At WA you will learn the actual methods for making money online & you will get everything you need to start seeing results. So if you want to start building an income online I definitely recommend you check out – or you can learn more about it first here in my review to see how it actually works.
Anyway, I just hope you came to this review before signing up to Salary Daily & I sure hope you didn't refer anybody to the scheme. If you did then you should definitely share this post with them to let them know about the scam otherwise they could end up getting everything stolen from them.
On top of that if you happen to have any further questions or comments don't hesitate to leave them below.
A Better Alternative
The sad truth is that unfortunately most of the programs promising to help you make money online are scams. I can say that confidently after exposing over 500+ of them here on this blog.
But the good news is that even though most of them are indeed scams, there are actually some very good programs in amongst them - some programs that can truly help you to earn money.
And out of all of the legit programs I've seen, the one I would recommend the most to anybody looking to get started online is Commission Academy. In my own opinion, that's the best place to start.
At Commission Academy, you'll be provided with everything you need (including the training & tools) to begin earning real money by promoting products or services for companies like Amazon online.
The best part is that there's literally no limit on the amount you can earn with it & the process is pretty simple which means that it's absolutely perfect for people that don't have much experience.
Some wealthy affiliates even earn as much as 5-figures per month... Or more!

I mean don't get me wrong, that kind of money won't just fall into your lap without doing any work... But the harder you're willing to work at it, the more you stand to earn with it.
So if you're looking to get started but don't know which route you should go down or which program you should join (and don't want to waste money on bogus things that don't actually work), then I'd highly recommend checking out Commission Academy first. You can learn more about it here.