Simple Money Sites is a newly launched website that claims to provide people with a free video that allegedly reveals a secret money-making method invented back in 1996 that can turn anyone into an online millionaire with ease…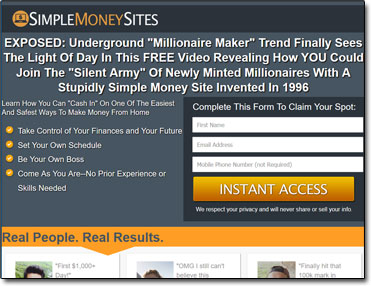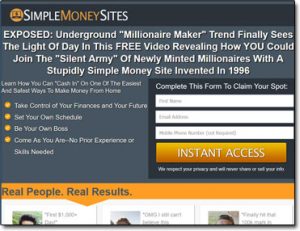 You're essentially led to believe that you're going to get access to the easiest & safest way to earn money from home – but is it actually legit or is Simple Money Sites a scam that's just going to take your cash & leave you disappointed?
Thankfully you've landed in exactly the right place to find out because I've taken a closer look at this company & in this review, I'm going to be uncovering everything you need to know, including how it all really works, what the "secret" is & whether or not you can really make money with it.
What Is Simple Money Sites?   |   How Does Simple Money Sites Work?   |   The Truth   |   Is Simple Money Sites a Scam?   |   A Better Alternative
What Is Simple Money Sites?
Basically Simple Money Sites is a website that claims to have the answer to helping you make money online. You're led to believe that it's going to provide you with some sort of "secret" that's going to see you earning money really quickly & easily…
It claims that it will help you take control of your finances, enable you to set your own schedule & become your own boss working from home – even if you have absolutely no experience whatsoever at making money online.
And you might be quite drawn into it all, especially with the website boasting photos of "real people with real results"…
If you're new to this type of thing then it could come across as if it may actually be legitimate… And even if you're a bit suspicious about it the photos of the people boasting commission cheques of over $100,000 will likely get you pretty interested…
Unfortunately, the whole thing is nothing but a big fat scam.
That's right, despite all the bold claims & promises made on the website the Simple Money Sites system is actually just a get-rich-quick scam that's been designed purely to make its creator rich at your expense.
It should definitely be avoided & let me show you why…
How Does Simple Money Sites Work?
I appreciate that you might have been pretty interested in this program & hoping it would work for you, so I don't expect you to just take my word for it when I say that it's a scam to be avoided. Instead, I'll show you exactly how it works (or should I say doesn't work) so that you can clearly see it can't be trusted…
Before I do that though I want to point out a few of the initial warning signs that you should be aware of…
1. Promise of easy-riches
This is generally the number 1 giveaway for a scam. Often many people are under the misconception that the internet can provide you with a way to make lot's of money really quickly and easily… This is likely because they've seen in the news teenagers making millions from websites they've created. The truth is that yes, you can make a lot of money online but the internet isn't magical & it's not going to happen so easily… If it was, then everybody would be doing it.
There are legitimate programs like Commission Academy for example through which you can learn how to build a REAL income online but the thing that you have to understand is that it's going to take some work on your behalf. If a system, like the Simple Money Sites system promises that you are going to get lot's of money for nothing then know that they are likely trying to scam you.
2. Income disclaimer
Despite the website for this system promising that you can make thousands, the income disclaimer says otherwise. It actually specifically states the following (which is obviously completely untrue):

They state in their income disclaimer that they don't make any income claims, but if you've even took just so much as a 30 second look at their website you'll know that this is completely untrue. Basically this is just their "legal page" so that they can worm themselves out of giving you a refund when you sign up & find out that it doesn't actually work as promised.
3. Fake testimonials
On the homepage you're presented with some testimonials & the testimonial section is named "real people real results". The problem is the people aren't real & therefore the results likely aren't either.
For example, we have a lady that's allegedly named Mercedez shown on the homepage & it's implied that she's made over $118k through the Simple Money Sites system. However, a quick reverse image search on Google shows that the photo for "Mercedez" has actually just been pulled from a New York government healthcare campaign as shown below:

You Might Also Like:
Here's How It Really Works…
So the Simple Money Sites sales video promises that you're going to get access to lots of done-for-you websites that you can simply deploy & start earning money. It claims that this can enable you to earn thousands of dollars per month.
Of course, all you have to do to get access to these "profitable" websites is hand over $97 of your hard-earned cash.
The problem though is that whilst yes, you can certainly earn money from websites – you will not earn a penny from the ones provided to you through the Simple Money Sites program.
Why is that you ask?
Well, basically the sites they give you are just copied websites. You can't make money by copying a website & if you could then everybody would be doing it… Things don't work like that in reality.
The key to making money from a website is getting traffic (visitors) and to get visitors you need to have original content. Like this article I'm writing right now is original content, so it gets listed in search engines & people come here to read it.
Search engines are not interested in duplicate content… Why would they want duplicate listings in their results? They wouldn't, so they just list the original piece of content rather than the copies.
Unfortunately, you will only find all this out after spending the $97 and after buying into all of the web hosting companies they recommend to you. Yep, the cost doesn't end at $97… Expect to spend hundreds on this thing… Only to find out it doesn't actually work!
I actually found the Simple Money Sites listed on affiliate network & they're paying affiliates $105 commissions for every person that signs up to their program at $97… So obviously they're expecting to make at least $105 from you… And likely much, much more.
Take a look at this: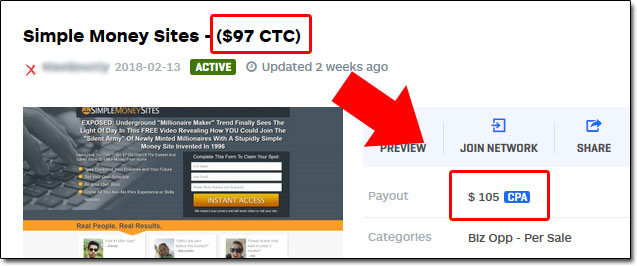 CTC stands for Cost To Customer & CPA stands for Cost Per Action. So if you're an affiliate promoting this program you'll get paid $105 for every customer when they enter their card details and spend $97.
Like I say they're clearly hoping to get a lot more than $97 from you overall.
The only people who are really making money from this thing are the creators who've put it together and the affiliates that are promoting it through this network.
Now, as you can see there is a lot of money to be made as an affiliate when you can promote things for commissions like this. Obviously I don't recommend you go and promote scams like the Simple Money Sites program, but there are LOT's of things you can promote as an affiliate online to earn good money. If you'd like to learn more about how to get started you should definitely read my Wealthy Affiliate review.
Is Simple Money Sites a Scam?
Honestly, yes, it's clear to me that the Simple Money Sites system is a flat out get-rich-quick style scam. It promises you everything you want to hear but after handing over your money you'll be left to find out it doesn't work as promised.
The whole website is just a ploy to part you with your cash so that the creator of the system can earn money at your expense. None of the people that buy into this system will end up making money… It's totally bogus.
As I mentioned earlier in this review there are several legitimate ways that you can make money online and you can check out my list of them right here. The bottom line though is if something sounds too good to be true, it probably is.
You can also check out my ultimate guide to making money online if you like – I've put a lot of useful tips into it & if you're looking to get started online then it will definitely help you out & point you in the right direction.
But overall it's safe to say I won't be recommending the Simple Money Sites system.. It's blatantly a scam. If you do happen to have any additional comments or questions though then don't hesitate to leave them below.
A Better Alternative
The sad truth is that unfortunately most of the programs promising to help you make money online are scams. I can say that confidently after exposing over 500+ of them here on this blog.
But the good news is that even though most of them are indeed scams, there are actually some very good programs in amongst them - some programs that can truly help you to earn money.
And out of all of the legit programs I've seen, the one I would recommend the most to anybody looking to get started online is Commission Academy. In my own opinion, that's the best place to start.
At Commission Academy, you'll be provided with everything you need (including the training & tools) to begin earning real money by promoting products or services for companies like Amazon online.
The best part is that there's literally no limit on the amount you can earn with it & the process is pretty simple which means that it's absolutely perfect for people that don't have much experience.
Some wealthy affiliates even earn as much as 5-figures per month... Or more!

I mean don't get me wrong, that kind of money won't just fall into your lap without doing any work... But the harder you're willing to work at it, the more you stand to earn with it.
So if you're looking to get started but don't know which route you should go down or which program you should join (and don't want to waste money on bogus things that don't actually work), then I'd highly recommend checking out Commission Academy first. You can learn more about it here.