The Smart Money Methods system promises to provide you with "idiot-proof" training that can allegedly see you earning as much as $7,592.30 per week, right from your very first week… Even if you have no previous experience.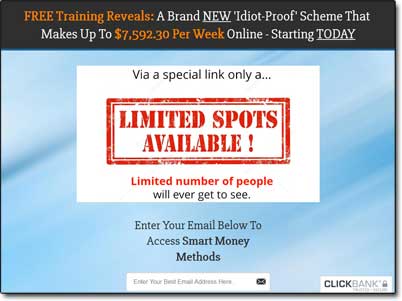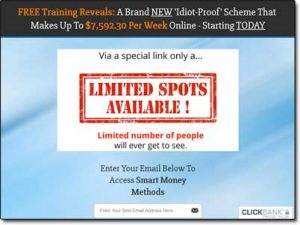 But no doubt you'll agree with me when I say that's a really bold claim & it all just sounds a bit too good to be true…
So is it actually legit or is Smart Money Methods a scam that'll just end up costing you money rather than helping you make it?
Well if that's what you're trying to find out then thankfully you've landed in the right place as I've taken a closer look into the whole thing & in this honest review, I'm going to be uncovering how it all really works.
What Is Smart Money Methods?   |   How Does Smart Money Methods Work?   |   The Truth   |   Is Smart Money Methods a Scam?   |   A Better Alternative
What Is Smart Money Methods?
Smart Money Methods is a brand new money-making program that's been launched by somebody who has chosen to remain anonymous & it promises to help you generate an income of $7,592.30 per week.

When you land on the website you're presented with a video which starts out by telling you that you're lucky to have come across the system as there are only a limited number of spots available & you've allegedly got a chance to get access… if you act quick.
But don't go rushing into signing up just yet because as you'll soon see in this review things are not quite as they seem.
There are 2 huge red-flags right from the off – the first one is the fact that the creator has chosen to keep himself anonymous, and the second one is the fact that he whole "limited spaces" thing is a big fat lie.
But can you actually make any money with it at all? Let's take a look…
How Does Smart Money Methods Work?
Okay so essentially Smart Money Methods is just a training program that covers various different ways to make money online. It's sold through a company called ClickBank & in order to get access to the methods you'll need to hand over $37 of your hard-earned cash.

So in return for $37 what do you get? Will you actually be able to make $7,592.30 per week as promised?
The answer to that, in my opinion, is no – and in return for $37, you actually don't really get access to much. Sure, as promised you get access to a "few" money making methods – but you can find those methods for free right here on my blog.
And in order to get access to the remainder of the methods, you'll be forced to purchase 2 additional upsells. In total the additional upsells will set you back an extra $374, so all in all what was supposed to be a $37 product will quickly turn out to cost an awful lot more…. $411 to be exact.
Now I know what you're thinking here… If you spend the full $411 you MUST be able to make some money back right? Well, not quite…
All the upsells give you access to is some basic training on affiliate marketing – and don't get me wrong affiliate marketing is an excellent way to make money, but you can learn about it for free (and get better training) at Commission Academy.
The training provided via the Smart Money Methods is extremely low quality & as a result, it's unlikely that you'll actually be able to make any money. Instead, you'll probably just end up feeling confused & frustrated.
I can also tell you that there's no way you'll earn money quickly with the program – so if you're in need of cash fast don't even bother signing up to the Smart Money Methods program because it won't help you at all.
The hard truth is that there really is no way to make quick cash online. Yeah sure the internet is great & all but it's not magical & it can't help you make lot's of money really quickly… If it could then everybody would be doing it – nobody would be working a job.
If you really want to make good money online then you must be prepared for the fact that it will take some time, and it will take some work. The good news though is that if you are prepared to put in the work & you do want to make money then like I said above in this review a legitimate program like Commission Academy can help you get started.
You Might Also Like:
The Creator Will Be Getting Rich, Not You…
As far as I'm concerned the Smart Money Methods system hasn't really been created to help you or anyone else make money – it's just been set up purely to make the creator money at other people's expense.
He's just making a whole bunch of false promises in the hope that you'll hand over your cash & then if you do you'll be left to find yourself disappointed at what you receive whilst the creator has cashed in at your expense.
Naturally, you can then expect him to make it very difficult (if not next to impossible for you to get a refund).
The good news here though is that the whole thing's sold through a 3rd party merchant named ClickBank & generally they themselves are pretty good at sorting out refunds. So if you've already bought into the Smart Money Methods system prior to reading this review then reach out to ClickBank directly & they should be able to help you get your money back. ?
Is Smart Money Methods a Scam?
Well, I can't really call it a scam as such because you're promised training & after you hand over your cash training is what you get provided with… But it doesn't live anywhere near up to its promises & the likelihood is that you will just lose money not make it.
As I said above, in my opinion, the whole thing has just been set up to make the creator wealthy at your expense. The "secret" money-making methods that you're given access to are all available on the web for free & I've even put a whole bunch of different ways to make money online together here. There's simply no need to spend $37 or $411 on a junk, overly-hyped program like Smart Money Methods.
So overall it's safe to say that I am not going to be recommending this program to you because I really don't believe it'll help you in any way shape or form. Rather than getting drawn into a BS program like Smart Money Methods instead I would just advise you to try out a free, proven & legitimate program like Commission Academy instead. It's there that you'll learn how to find true success online.
But anyway hopefully my review here has given you the insight that you were looking for into this program & more importantly I hope it helped you save your hard-earned cash. If you do still, however, happen to have any questions or comments or anything then leave them below & I'll do my best to get back to you as soon as possible.
A Better Alternative
The sad truth is that unfortunately most of the programs promising to help you make money online are scams. I can say that confidently after exposing over 500+ of them here on this blog.
But the good news is that even though most of them are indeed scams, there are actually some very good programs in amongst them - some programs that can truly help you to earn money.
And out of all of the legit programs I've seen, the one I would recommend the most to anybody looking to get started online is Commission Academy. In my own opinion, that's the best place to start.
At Commission Academy, you'll be provided with everything you need (including the training & tools) to begin earning real money by promoting products or services for companies like Amazon online.
The best part is that there's literally no limit on the amount you can earn with it & the process is pretty simple which means that it's absolutely perfect for people that don't have much experience.
Some wealthy affiliates even earn as much as 5-figures per month... Or more!

I mean don't get me wrong, that kind of money won't just fall into your lap without doing any work... But the harder you're willing to work at it, the more you stand to earn with it.
So if you're looking to get started but don't know which route you should go down or which program you should join (and don't want to waste money on bogus things that don't actually work), then I'd highly recommend checking out Commission Academy first. You can learn more about it here.