The Stock Master system claims to be a brand-new trading app that can allegedly make automated profitable trades on your behalf & it promises to provide you with guaranteed returns of up to $12,850.23 per month… All supposedly for free.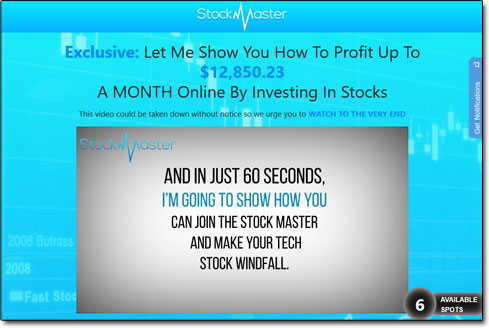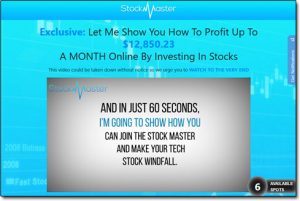 But no doubt I think you'll agree with me when I say that the whole thing sounds a little too good to be true… And what's in it for the creators?
So what's the truth – is it legit & can you really make money with it? Or will the Stock Master scam you instead?
Well thankfully you've landed in the right place to find out once & for all, as I myself have personally taken a closer look into it to see what it's all about & in this honest Stock Master review I'll be uncovering the REAL truth about how it all works (as well as whether or not you can really actually make any money with it). 🙂
What Is Stock Master?   |   How Does Stock Master Work?   |   The Dangers   |   The Red Flags   |   Is Stock Master a Scam?   |   A Better Alternative
What Is Stock Master?
Well, in short, the Stock Master system basically portrays itself as being a "done-for-you" way to profit from the stock market & it leads you into believing that even if you don't have prior stock market experience, you can still make money…
That's because allegedly according to the Stock Master website, the whole thing is supposedly automated… So you're told that all you need to do is simply sign up & make a deposit and that it will then just start making money for you entirely on autopilot…

And you're not just promised a little bit of extra income each month, oh no, the Stock Master system claims to go 1 better that than – instead, it promises that it'll be able to earn you up to a whopping $12,850.23 each month, without you ever having to do anything.
But like I said at the start of this Stock Master review, that just sounds way too good to be true, doesn't it?
I mean if the Stock Master system really worked as promised, and if it was really free like the website claims – then why isn't everybody doing it? Why are people still working jobs if they can just make money automatically?
Well, the answer to those questions is because the Stock Master system doesn't work as promised – and the real truth is that it's actually nothing but a big fat scam which has been designed to part you with your hard-earned cash.
The reason I know that is because it's what's known as a binary options scam, and I've exposed literally hundreds of them right here on this blog over the years, but they just keep changing their names to catch more people out.
However, I appreciate the fact that you're probably not just going to want to take my word for it when I say that – after all, you might have been really hoping that the Stock Master system was going to work for you & may not want to brush it off so easily…
So instead keep on reading this review and I'll show you exactly how it all really works below so that you can see first-hand for yourself what's actually going on (and why it won't make you any money).
How Does Stock Master Work?
Well the truth is the Stock Master app basically doesn't work, at all, and instead, it's just a ploy to trick you into signing up with a rogue binary options broker so that its creator can earn a big fat commission at your expense.
You see the creator of the Stock Master app (or system, whatever you wanna call it) promises that it's "free", and he says that all you need to do to begin making money is sign up, make a deposit & then "activate the system"… But this is total BS.
What he doesn't tell you is that he (or whoever is behind it) is actually affiliated with the broker that you're forced to deposit with… Which means when you deposit the person behind the Stock Master system gets paid a commission.
So, in short, the whole thing is just a trick to get you to deposit with the broker so that the creator can earn a commission… And then guess what? After depositing (which I totally don't recommend doing) you're just to left to find out that it doesn't work as promised at all.
Instead of making profitable trades like you're told it would, you'll see that it just makes nothing but losses…
Then From There, Things Get Even Worse…
Okay so it doesn't work as promised, you may not think that's the end of the world as you may still think that you'll be able to get your money back from the broker that you deposited with, but that's where part 2 of the scam comes into play…
The brokers associated with these types of binary options scams (like IQ Option) make it extremely difficult (in other words nearly impossible) for you to actually get any of your money back. Instead, they either refer to hidden terms & conditions or sometimes they just point blank refuse withdrawals.
This means that basically any money deposit will be pretty much gone for good unless you run a chargeback.
However, it's this part of the scam that has made these binary option scams so successful – because often even though people are very sceptical about them, they still end up "trying them out" because they think that they'll just be able to withdraw their funds if it doesn't work out as promised… What they don't realize though is that more often than not the brokers are in on it too.
You Might Also Like:
The Red Flags
As I mentioned at the start of this Stock Master review I appreciate that some of you may have really of had your hopes up that the system was going to work for you & as a result, you may still not be just wanting to "take my word for it" when I say it's a scam, so instead let me show you some solid proof…
First of all, if the Stock Master app really worked as promised do you think they would need to hire actors to pretend to have made money with it? I don't think so… So I wonder why they've done exactly that? As shown below: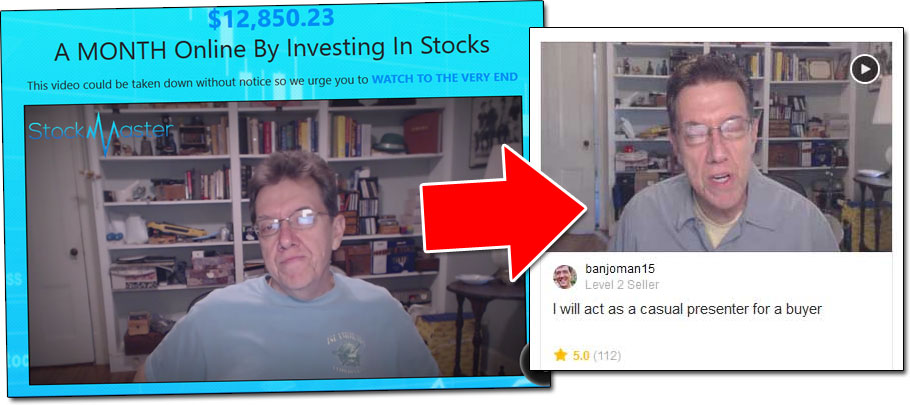 The guy shown in the video on the Stock Master website claims to have made thousands from the system, however, coincidently he's a paid actor selling his services on Fiverr (selling videos for $5).
If he was really making so much money from the system do you think he'd still be busting a gut trying to sell videos for a measly $5 to random people through the Fiver website? I sure as heck don't think so.
The other bit of proof is the fact that the system is affiliated with the broker in the first place because you see binary options brokers only actually make money when you LOSE money, so there's no way they'd pay commissions to the owner of a "winning" system.
It's therefore clear that the brokers know the system doesn't work as promised & that's why they're paying the creator the commissions… Because the creator is tricking people into losing money & that's what the broker is profiting from.
I would personally avoid ALL binary options brokers, even the ones that actually hold licenses (like IQ Option) because as far as I'm concerned binary options trading is very bad news. In fact in all my years online I've never ever seen anybody manage to make sustainable profits from it (and actually withdraw them) other than the scammers trying to dupe people.
Even Forbes themselves published an article warning about the dangers of binary options trading as shown below: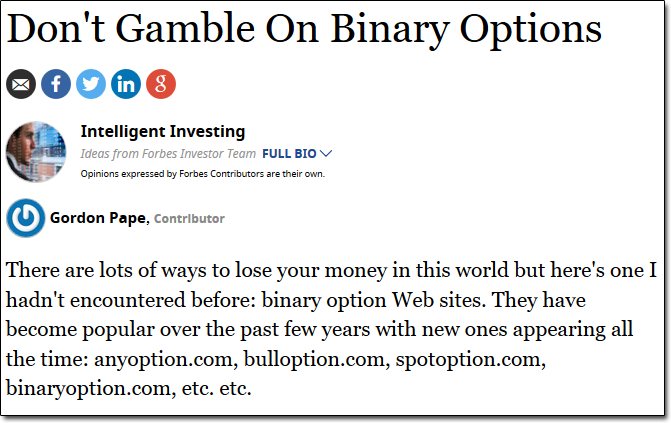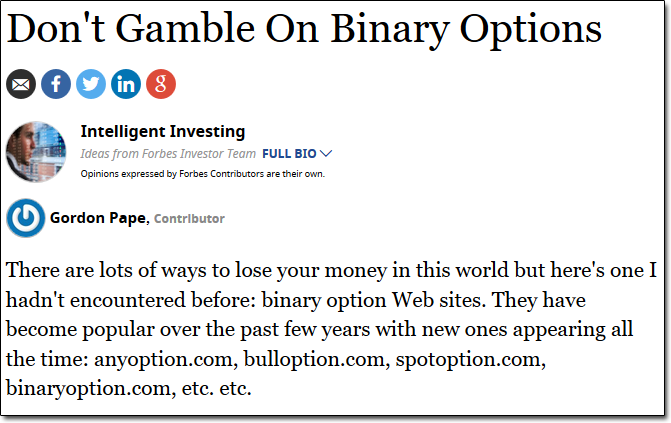 Which brings me nicely onto…
Is Stock Master a Scam?
Yes, there's absolutely no doubt about it – the Stock Master system is indeed a scam & despite its promises to help you make money it will do nothing of the sort, instead, it will just end up taking your hard-earned money from you.
The whole thing has been built upon lies & deceit to trick you into thinking that you'll be able to make easy money but in reality, it's just a ploy to trick you into signing up with a risky binary options broker like IQ Option so that the creator behind it can earn a commission at your expense.
As far as I'm concerned the entire thing should be avoided, and so should binary options altogether because they are nothing but bad news (like I just briefly mentioned a little bit further up in this review).
The truth is that yes you can make good money online, but it is not going to happen "automatically", you are not just going to be able to "plug in" to a system and begin generating profits entirely on auto-pilot… Instead, if you want to make good money online you must be prepared to work for it.
The good news though is that if you are prepared to work for it then there are legitimate programs out there like Commission Academy which you can get started with for free & get everything you need to begin making money.
On top of that, there are also several other legitimate opportunities too which you can see on my top picks page here.
But whatever you decide to do I just hope that my review of the Stock Master app here has given you a good insight into how it actually works & more importantly I hope it has helped you to save some money. If you do however still happen to have any further questions or comments about it then don't hesitate to leave them below & as always I'll get back to you as soon as I can. 🙂
A Better Alternative
The sad truth is that unfortunately most of the programs promising to help you make money online are scams. I can say that confidently after exposing over 500+ of them here on this blog.
But the good news is that even though most of them are indeed scams, there are actually some very good programs in amongst them - some programs that can truly help you to earn money.
And out of all of the legit programs I've seen, the one I would recommend the most to anybody looking to get started online is Commission Academy. In my own opinion, that's the best place to start.
At Commission Academy, you'll be provided with everything you need (including the training & tools) to begin earning real money by promoting products or services for companies like Amazon online.
The best part is that there's literally no limit on the amount you can earn with it & the process is pretty simple which means that it's absolutely perfect for people that don't have much experience.
Some wealthy affiliates even earn as much as 5-figures per month... Or more!

I mean don't get me wrong, that kind of money won't just fall into your lap without doing any work... But the harder you're willing to work at it, the more you stand to earn with it.
So if you're looking to get started but don't know which route you should go down or which program you should join (and don't want to waste money on bogus things that don't actually work), then I'd highly recommend checking out Commission Academy first. You can learn more about it here.