Store Buildr (yes that's actually how it's spelled) is a website that claims to provide its visitors with access to done-for-you niche websites that allegedly have affiliate income already "built in" – leading you towards believing that you can make money quickly & easily…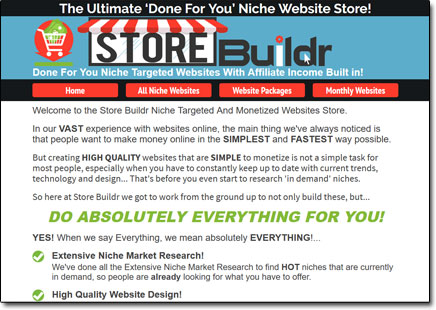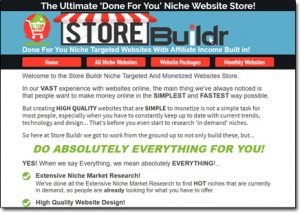 A recent visitor to my blog brought their site to my attention & I have to admit that at a glance it looked pretty interesting so I decided to put aside some time to check it out… Are their niche websites really as good as they claim? Could you really make money so easily? Or is Store Buildr a scam that'll just see you spending money rather than making it?
No doubt those are the questions floating around in your mind if you've come across their site & you can rest assured you've landed in the right place to find out the answers to them as in this honest Store Buildr review I'll be uncovering the REAL truth about how it all works, as well as outlining whether or not you'll actually be able to make any money with their sites. So keep reading to find out everything you need to know!
What Is Store Buildr?   |   How Does Store Buildr Work?   |   The Problems   |   Poor Niche Websites   |   Is Store Buildr a Scam?   |   A Better Alternative
What Is Store Buildr?
Essentially Store Buildr makes out like it's your shortcut to affiliate marketing success. Rather than do the research, build a website & add content/affiliate links yourself, they claim to do everything for you & then hand you a "done-for-you" website with "affiliate income built in"…
And just to prove that, I've included a screenshot of that claim from their website which you can see below:

The reason I've highlighted & drawn attention to the bit about the affiliate income being "built in" is because it's not, it's a lie. None of the sites sold via the Store Buildr website are generating any revenue.
None of the sites are even live on the web until you purchase them – instead they simply provide you with the files & you have to set it up yourself (or pay them some extra money to do it for you).
What they actually mean when they say "affiliate income built in" is that the sites come with affiliate links pre-added, but even so this doesn't mean the website they provide you with will make you any money…
And as you'll soon see when I show you how it all works below, the websites they provide you with likely WON'T make you any money.
How Does Store Buildr Work?
As I mentioned above, essentially Store Buildr claims to be a "shop" for niche affiliate websites – but in reality all they're actually selling is web designs – and if you browse through their list of "done for you sites" you'll see that nearly all of them (aside from a few minor changes) are pretty much identical, as shown below:

The only real difference between the sites is the banner at the top of them & the colour scheme, which would take a professional web designer about 10-20 minutes to switch around.
But anyway yeah, once you purchase one of these websites you'll simply be provided with a set of files. You'll then need to sign up for some web-hosting & install the website as per their instructions OR alternatively pay them some extra money & have them set it up for you.
Then, once you've done that you'll need to sign up for an Amazon affiliate account & enter your Amazon affiliate ID into the configuration settings of your newly setup Store Buildr website. This will code all of the affiliate links on the site with your unique affiliate ID.
So from here yes, in a sense it's job done. You've got a website setup & if anybody visits it & clicks on the one of the products that are listed & then purchases it, you'll stand to earn a commission via Amazon.
But there are some VERY big problems with the whole thing – with the main one being who is going to visit your site?
I mean sure, you'll have a site setup that could potentially earn you money but one of the key components is missing… Visitors… And without visitors you simply ain't gonna make a penny. They're the lifeblood of an online business.
Now sadly, due to the way the websites provided via Store Buildr are built – it'll be VERY difficult for you to get visitors, even if you're already an expert in online marketing… And if you're a newbie, well – you've got next to no chance (unless you use paid advertising, which will just likely see you losing a lot more money instead).
Let me explain below…
The Problems With The Store Buildr Websites
At a glance the idea seems plausible. Buy a done-for-you website with affiliate links added & get ready to make money… And whilst this IS possible (though I would only ever recommend experienced webmasters do it) there are some BIG problems specifically with the niche websites provided via Store Buildr.
The Websites Are "Thin Websites"
In order for search engines like Google, Yahoo & Bing to list your website & give it good rankings it needs to give good value to its visitors. If it doesn't then search engines will either ignore it completely or list it wayyyy down the results where no-one will ever see it.
Sites that offer little to no value are known as "thin websites", and this is exactly what the Store Buildr websites are. There is simply no way these sites will get ranked in search engines as they offer little to no value whatsoever.
There's barely any content on them at all other than a paragraph or two on the homepage. Instead it's just a whole bunch of product listings with direct links to Amazon… So, in reality the user could just go straight to Amazon & get the same stuff…
This means that you'll be missing out on visitors from search engines which makes up for a HUGE amount of the available free traffic on the internet. Without that you'll be left to either work your butt off promoting the site on social media (which little to no results) or you'll be required to use paid traffic, which is VERY risky and expensive.
And unless you're an expert at paid traffic, you'll more than likely lose money as opposed to actually make it.
The Sites Are Extremely Difficult To Customize
All over the Store Buildr website you're told that the niche websites they provide you with are "fully customizable" (as shown in the screenshot below) but surprise surprise once again this is just yet another lie.

Instead of being fully customizable as they claim, Store Buildr have actually created their own admin panel for the sites which is very restrictive. On WordPress sites for example (which you can create for free) you can edit literally any aspect of the site right from within your web browser…
However with the Store Buildr admin panel all you can do is edit a few things such as border colours, background colours, button colours etc.
Take a look at the screenshot below to see how restrictive it is: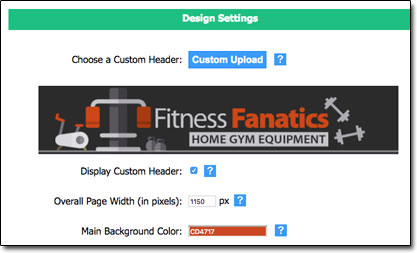 You can literally only edit the fields they've set for you, and if you want to do any further customizing than that then you'll either have to learn coding yourself or pay to hire a coder to do it for you (which could quickly get very darn expensive).
There's Extremely Limited Training
Honestly, like I mentioned a little further up in this review it is actually possible to buy an established site & start making money – but unless you have the proper knowledge it will be very difficult to keep that income coming in after the purchase & instead you would likely quickly lose it.
That's why I only recommend experienced webmasters buy established websites, because whilst it might seem like an easy route, in the long run if you're a newbie it'll likely just be an expensive one.
I mean you could buy an aeroplane but you probably wouldn't be able to fly it without crashing it unless you were already an experienced pilot… And it's the same story here with these websites. You can buy a website (even a good one) but with no experience it doesn't mean you'll be able to make money from it.
And this is where Store Buildr falls down once again because they offer very limited training on how to actually effectively market websites online. So not only do you get given an already hard-to-market website, but you don't get very much training on how to do it either.
Other companies like Commission Academy provide all of this training AND websites for free… So as far as I'm concerned it seems like a much more sensible option to just join there instead (and if you do then your chances of success will definitely be much greater).
You Might Also Like:
Good Sales Page, Poor Niche Websites
The Store Buildr website is pretty darn good – they've clearly put a lot of effort into their sales pages & even to me an experienced online marketer the whole concept initially seemed quite appealing… But sadly their product just doesn't live up to the quality of their sales page.
Unfortunately though unless you already know a lot about affiliate marketing you likely wouldn't realize this & it would be quite easy to get sucked into buying one of the Store Buildr niche websites after reading all of their spiel…
The plus-side is that at $9.95 you're not really losing too much money if you do happen to buy one of the sites… But no doubt after paying that $9.95 there'll probably be a lot of upsells on the other side so you could potentially get drawn into spending even more.
It also looks like the sites are being sold through a network called JVZoo too, which means you should stand a fairly good chance of getting a refund if you have already happened to spend money on Store Buildr.
If Store Buildr ignore your request, just contact JVZoo directly (but do it as soon as possible).
Anyway I think I've probably said enough already – you likely get the idea, which brings me onto…
Is Store Buildr a Scam?
Well Store Buildr is definitely not a scam, I think that would be a pretty harsh verdict to arrive at… However in the same breath I do think that the whole thing is pretty darn misleading & the chance of you actually making good money with any of their niche websites is very slim indeed.
Like I said earlier in this review, in my opinion it's a good sales page but poor product. The truth is that the only person who'll really be making good money from Store Buildr is the creator that's behind it – and he (or she) will be doing that at the expense of those who are purchasing the so-called "profitable niche websites".
So it's safe to say that with that being said I won't be recommending Store Buildr to you because I think if you buy one of their niche sites you'll likely just find yourself disappointed with what you actually receive (and the lack of results). Instead I would recommend you just join a free training program like Wealthy Affiliate & learn how to get started with your own site, because it's actually a LOT easier these days than you might think.
In fact I've actually put my own guide together explaining how to start a money making website for free in under 60 secs here. Give that a read & that'll likely give you way more value alone than Store Buildr will. 🙂
But anyway, whatever you decide to do I just hope that my honest review here has given you a better insight into how the whole thing really works & hopefully you can see why I've come to the conclusion that I have. If you do still happen to have any further questions or comments about Store Buildr though then don't hesitate to leave them below & I'll get back to you as soon as I can. 🙂
A Better Alternative
The sad truth is that unfortunately most of the programs promising to help you make money online are scams. I can say that confidently after exposing over 500+ of them here on this blog.
But the good news is that even though most of them are indeed scams, there are actually some very good programs in amongst them - some programs that can truly help you to earn money.
And out of all of the legit programs I've seen, the one I would recommend the most to anybody looking to get started online is Commission Academy. In my own opinion, that's the best place to start.
At Commission Academy, you'll be provided with everything you need (including the training & tools) to begin earning real money by promoting products or services for companies like Amazon online.
The best part is that there's literally no limit on the amount you can earn with it & the process is pretty simple which means that it's absolutely perfect for people that don't have much experience.
Some wealthy affiliates even earn as much as 5-figures per month... Or more!

I mean don't get me wrong, that kind of money won't just fall into your lap without doing any work... But the harder you're willing to work at it, the more you stand to earn with it.
So if you're looking to get started but don't know which route you should go down or which program you should join (and don't want to waste money on bogus things that don't actually work), then I'd highly recommend checking out Commission Academy first. You can learn more about it here.