The Banner Code system claims to provide the best way to earn passive income online & it promises that new members to the system can earn as much as $5,000 within their first 24 hours of getting started.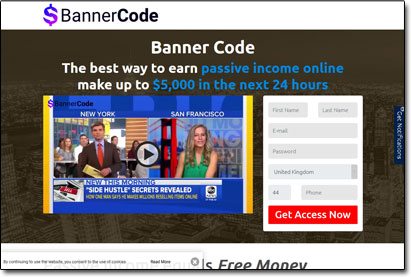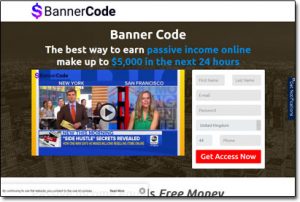 You're led to believe that using the system you'll be "tapping into online ad revenue" thanks to a revolutionary method uncovered by a guy supposedly named Greg Allen.
But is it actually legit? Or is the Banner Code a scam to avoid?
Well, I'm really glad that you came here to my Banner Code review before signing up to it because I can immediately tell you right from the off that the entire thing is not what it seems. It's actually pretty dangerous.
What Is The Banner Code?   |   How Does The Banner Code Work?   |   Red Flags   |   Is The Banner Code a Scam?   |   A Better Alternative
What Is The Banner Code?
So as I briefly touched on above the Banner Code system is something that's allegedly been created by an entrepreneur named Greg Allen & it supposedly provides ordinary people with a brand new way to earn passive income from online ad revenue.
According to Greg, he claims he discovered the secret behind Facebook & Google's success & managed to make over $15 million from it for himself… Now after earning so much he allegedly wants to "give back" and that's supposedly why he's created the Banner Code system.

So the concept is that the Banner Code has been built around his "proven method" for generating passive income from ad revenue & you're led to believe that you can simply sign up, deposit money, pick banners to invest in & then earn a guaranteed revenue each time they're clicked on.
Greg also claims that you can allegedly later sell the banner ads for profit if you wish to do so…
But I'm pretty sure the Banner Code website will have raised your suspicions… After all the promise of being able to make a whopping $5,000 just a mere 24 hours after getting started does seem "too good to be true", right?
I mean if the Banner Code system is real why on earth isn't everybody using it?
Why are people still working at jobs they dislike for less money if they could simply use the Banner Code system to generate more money without actually having to go to work or do anything?
Well, the answer, in short, is because IT IS too good to be true. The Banner Code is actually just a scam.
The reason I can say that so confidently is because not only do I know the method couldn't possibly work (from my online marketing experience) but I've also seen this exact same scam several times before under various different names.
Some of its previous names include Daily Banner Profits, Ad Flippers Bot & the Quantum Ad Code…
The people behind it simply keep on changing its name in an attempt to escape the negative reviews that expose the truth so that they can continue tricking more people into signing up & earning at their expense.
But you don't just have to take my word for it when I say that, instead keep on reading & I'll show you exactly how it all really works below…
How Does The Banner Code Work?
So according to the Banner Code website, the concept is that you just need to sign up, deposit some funds & then choose the banner ads that you'd like to invest in… Then from there, you're told you'll begin automatically making money.
Here is a quote that I've pulled directly from the Banner Code's website:
Just choose your banners, and watch the money slowly stream into your account, minute after minute. You won't believe how quickly it adds up.
But what I can tell you here is that that's total BS. That's now how it all works at all.
You see due to the way online advertising works there's no way that you can "crowdsource" banner ads like the Banner Code claims – and even if you could it wouldn't make any sense whatsoever for companies to do it.
Basically the whole thing is just a con & they've created a fake yet slightly realistic-sounding method to convince people into trying it out… But the REAL problems start on the inside because the scam is actually pretty darn cunning.
You see you might be thinking that after depositing you'll just be left to find out the hard way that the whole thing isn't real & that you've lost your money, but nope – the people behind the Banner Code have come up with a better idea (for them).
They've actually gone to the extreme lengths of creating a fake system which makes it appear like you're actually generating profits… So after depositing you'll think that it's really working & that you're really making money… Then you'll be pushed into depositing even more money to "increase your profits".
The problem though is that like I say, it's all fake – it's essentially just a video game… None of the "profits" are real, they're just falsified numbers & it's all just being done in an effort to trick you into depositing even more cash.
Unfortunately, though you'll only be left to find out the hard way that it's all been a scam when you finally try to make a withdrawal & realize it never gets processed… Only by that point you could have literally lost thousands – potentially even tens of thousands.
The whole thing is known as the ad flipping scam & it should 100% be avoided.
But just in case you're still thinking about "trying it out" despite what I've said above (which sadly I know some people will be) then here's some solid proof that shows the whole thing is built upon nothing but lies…
You Might Also Like:
Red Flags
Of course, there's already all of the red-flags I've listed above – such as the fact that it simply sounds WAY too good to be true and the fact that I know as an experienced marketer that it couldn't really work… But on top of that, there's also more red-flags too…
For example there's the fact that "Greg Allen" who you're told is the creator is actually the same person that was shown on the Digital Payday scam & back on that scam website his name was allegedly "Daniel Bluth" as shown below:
Then there's also the fact that the website claims to have received many features & mentions, however as shown below it is actually brand new:

Basically the Banner Code is just a brand new version of the Digital Payday scam – the people behind it have literally just launched this website, changed the name & a few little bits in an attempt to trick more people into joining.
Which brings me onto…
Is The Banner Code a Scam?
The Banner Code is definitely a scam system as the method itself (known as ad flipping) isn't even real – it's all just a fake ploy that's been put together to trick you into handing over your cash so that the people behind it can earn at your expense.
I've already seen this scam launched under several different names & as shown in the previous section of this review the people behind it have quite clearly made up a blatant lie about the system's creator & no legitimate system/website would do such a thing.
It, therefore, comes without saying that the Banner Code system should be avoided because if you participate in it then it'll just result in you losing money. The system is not going to help you make money at all.
Instead, if you really want to make money online I would advise that you stick with something that is proven to work, such as affiliate marketing for example which is the same way I personally make most of my own money online.
Affiliate marketing basically just involves you promoting products or services online & getting paid commissions in return… It's a great way to make money (especially for beginners) and the amount you can earn with it is completely uncapped.
The harder you work, the more you can earn – and you can learn more or get started for free with it over at Commission Academy.
Plus alongside affiliate marketing there's also all of these other great ways to make money online too.
But whatever you decide to do I just sincerely hope that my review of the Banner Code here has given you a good insight into how the system really works & I hope that it has helped prevent you from losing your cash to it.
If you still happen to have any questions or comments though then, of course, don't hesitate to leave them below. 🙂
A Better Alternative
The sad truth is that unfortunately most of the programs promising to help you make money online are scams. I can say that confidently after exposing over 500+ of them here on this blog.
But the good news is that even though most of them are indeed scams, there are actually some very good programs in amongst them - some programs that can truly help you to earn money.
And out of all of the legit programs I've seen, the one I would recommend the most to anybody looking to get started online is Commission Academy. In my own opinion, that's the best place to start.
At Commission Academy, you'll be provided with everything you need (including the training & tools) to begin earning real money by promoting products or services for companies like Amazon online.
The best part is that there's literally no limit on the amount you can earn with it & the process is pretty simple which means that it's absolutely perfect for people that don't have much experience.
Some wealthy affiliates even earn as much as 5-figures per month... Or more!


I mean don't get me wrong, that kind of money won't just fall into your lap without doing any work... But the harder you're willing to work at it, the more you stand to earn with it.
So if you're looking to get started but don't know which route you should go down or which program you should join (and don't want to waste money on bogus things that don't actually work), then I'd highly recommend checking out Commission Academy first. You can learn more about it here.