Top 10 Best Paid Surveys is a website that claims to be able to help you generate up to £300 per month through paid surveys online, which I think you'll agree is a pretty staggering amount for this line of work.
They also claim to be one of the fastest-growing survey websites on the internet with over 2 million happy customers – but is it actually legit or is Top 10 Paid Surveys a scam that's out to part you with your cash?
I've taken a closer look & now I'm sharing what I've found.
What Is Top 10 Best Paid Surveys?   |   The Problem   |   The Truth About Top 10 Best Paid Surveys   |   Is Top 10 Best Paid Surveys a Scam?   |   A Better Alternative
What Is Top 10 Best Paid Surveys?
At a glance, Top 10 Best Paid Surveys looks just like any other paid survey website in the sense that you're led to believe you can simply sign up & start earning money by completing paid surveys…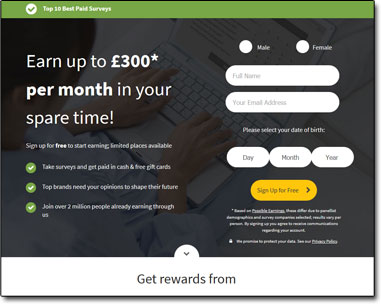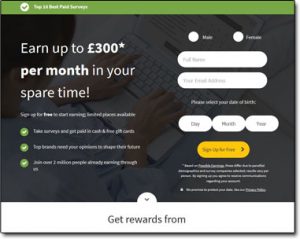 And whilst that's kinda true it's not quite the same – that's because Top 10 Paid Surveys isn't actually a survey website itself, it's what known in the industry as a paid surveys aggregator.
This basically means that Top 10 Paid Surveys don't actually provide you with any surveys themselves, they just fire you off to other survey companies & earn a commission by getting you to sign up with them.
I've seen quite a few similar websites such as Survey Voices & Survey Money Machines but to be honest, in my opinion, I don't really see any positive reasons as to why you should sign up with them.
If you take a closer look at their website you'll see that they claim that they provide you with easy access to lot's of survey companies but there is absolutely no need to signup for this when it's easy to get a list of paid survey companies elsewhere for free without having to enter any details.
The Problem
Whilst Top 10 Paid Surveys could genuinely be set out to help you, unfortunately, the problem here is that you don't really know what they are going to be doing with your details (like your email address).
The chances are that after signing up to this website you will begin receiving spam emails about various other make-money offers. That's because many of these survey aggregator websites are just set up to find people interested in making money, then once they've got your details they begin pitching you into various scams to try & part you with your cash.
I'm not saying that's the case here with the Top 10 Paid Surveys website but they don't provide any contact details on their website as to who owns the website so ultimately you have no idea who is getting your data.
The other problem here is that they have completely hyped up the potential you can achieve with paid surveys – I can tell you right off the bat that there is no way you will earn £300 per month from paid surveys, not unless you are literally signed up to about 50+ companies & completing them around the clock.
Generally paid survey companies will see you earning around £10 to £20 per month if that.
They are renowned for paying very little in return for your time & that's why as a general rule of thumb I don't tend to recommend them. Yes, they can help you out if you have a really tight budget but other than that if you value your time you will probably find them pretty pointless.
The Truth About Top 10 Best Paid Surveys
Ultimately the people who've set up these survey aggregators have set them up for one reason & that is to make money from you.
Basically, each of the survey companies that they list within their member's area are survey companies that they are affiliated with, this means that if you sign up with them they will make money.
Sure, some of them may be legit – but knowing that they are blatantly out to make money makes it more likely that they will then sell your details onto other people to increase the amount they can make from each person that signs up with them.
Again I am not specifically targeting the Top 10 Best Paid Surveys website when I say this but it just applies as a general rule of thumb when it comes to these types of websites which is why you need to be careful.
Is Top 10 Best Paid Surveys a Scam?
Well yes & no – at the end of the day the Top 10 Best Paid Surveys does show you a list of paid survey companies as they promise, but ultimately they are collecting your details & there is no guarantee as to what they will do with them.
The worrying fact here is that the Top 10 Best Paid Surveys website doesn't display any contact information so you have no idea who is behind the operation, they could have chosen to hide these details on purpose as they may potentially plan to sell your details onto third parties.
The simple fact is that there really is no need to sign up with this company – you can access plenty of paid survey sites without having to sign up with sites like this & they are certainly not going to be giving you access to any "secret" ones that are hidden from the public.
If you're looking to make money through paid surveys then I would simply just advise you to check out the list I've personally put together here. There are enough companies on there to get you started.
So whilst Top 10 Best Paid Surveys could potentially be legit, I personally won't be recommending that you sign up with them because there is simply no need to & they could possibly be collecting details to sell onto third parties which could lead you to get scammed further down the line.
A Better Alternative
The sad truth is that unfortunately most of the programs promising to help you make money online are scams. I can say that confidently after exposing over 500+ of them here on this blog.
But the good news is that even though most of them are indeed scams, there are actually some very good programs in amongst them - some programs that can truly help you to earn money.
And out of all of the legit programs I've seen, the one I would recommend the most to anybody looking to get started online is Commission Academy. In my own opinion, that's the best place to start.
At Commission Academy, you'll be provided with everything you need (including the training & tools) to begin earning real money by promoting products or services for companies like Amazon online.
The best part is that there's literally no limit on the amount you can earn with it & the process is pretty simple which means that it's absolutely perfect for people that don't have much experience.
Some wealthy affiliates even earn as much as 5-figures per month... Or more!


I mean don't get me wrong, that kind of money won't just fall into your lap without doing any work... But the harder you're willing to work at it, the more you stand to earn with it.
So if you're looking to get started but don't know which route you should go down or which program you should join (and don't want to waste money on bogus things that don't actually work), then I'd highly recommend checking out Commission Academy first. You can learn more about it here.