Have you come across the Survey Money Machines website? At a glance, it looks like any other legitimate paid survey website that will pay you in return for your opinions, but is that really the case?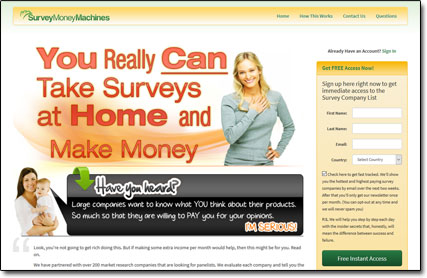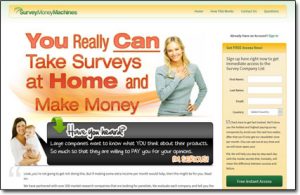 Or is Survey Money Machines a scam that's out to part you with your time or hard-earned cash?
That's exactly what I'll be uncovering right here in this Survey Money Machines review, so if you've been thinking about signing up then you can rest assured that you've landed in exactly the right place to find out everything you need to know before you do.
What Is Survey Money Machines?   |   Should You Join?   |   The Bottom Line   |   A Better Alternative
What Is Survey Money Machines?
Well as I touched on above, at a glance Survey Money Machines looks just like any other paid survey website in the sense that you expect to be able to just sign up & start earning money by sharing your opinion… Albeit that admittedly SMM seems to be a little more hyped up than other paid survey websites as it kinda gives off the impression that you could potentially make some kind of substantial income (which take it from me will never be possible through paid surveys).
However in reality that's not actually the case – Survey Money Machines isn't actually a paid survey company at all, it's what's known as a paid survey aggregator which basically means they don't provide any surveys themselves, they just refer you to other companies that do (and make money by getting you to sign up with them).

That explains why the Survey Money Machines website seems to hype up the opportunity of earning through paid surveys a lot more than the others do because they're trying their best to encourage you to enter your email address so that they can get you onto their newsletter as this is where they make their money.
Don't get me wrong Survey Money Machines isn't the only type of website out there like this – I've seen several others such as Survey Say & Survey Voices, but there's a good reason why you might not want to sign up which I'll explain below.
Should You Join Survey Money Machines?
To be honest whilst Survey Money Machines isn't technically a scam, it's something I don't really recommend you join. The one good thing though is that if you take a closer look at their website (and don't just look at the main splash page) they're actually quite honest about the fact that they're not a "real" survey company & that they're in fact just a company that's going to refer you onto others.
You see the reason I don't recommend you join is that these types of survey aggregator websites have been renowned for filling peoples inboxes up with spam, and realistically they only provide you with a list of paid survey companies which you can quite easily find elsewhere for free (without entering your email).
The other problem is that you can't really trust their intent. Whilst some of these websites may indeed be genuine unfortunately some of them, knowing that you are looking for ways to make extra money, will then send various scam make-money deals hoping that you'll buy-in so that they can make money at your expense.
And since these survey aggregators are relying on commissions to make their money you can't really trust that they're giving you the best information available about the companies that they're recommending.
I mean are they really sharing the best companies with you or are they just sharing the ones who are paying them the most money for referring you? Which again could even lean them towards recommending scams.
My advice if you're looking to get started with paid surveys would be to avoid these types of aggregator websites – and if you have already subscribed then I'd recommend unsubscribing from further emails.
To point you in the right direction here's a list of reputable paid survey companies that you can feel free to check out:
All the websites above are completely free to join & those are some of the largest, most popular (and highest paying) paid survey companies in the game. Definitely a good starting point if you're new to surveys.
You Might Also Like:
The Bottom Line
I think you've probably gathered by now that I really don't rate these paid survey aggregator websites – whilst I'm sure there are potentially some legit ones out there I just don't feel like there is any need to give away your email address or sign up to a newsletter to get access to a list of survey websites. It's clear to me that you're just going to end up bombarded with spam down the line.
These aggregator websites try and make out as if they've got some sort of "secret" high paying survey companies to share with you but in reality, they haven't – they're just saying that to part you with your email address.
To be honest, I don't really like paid surveys in general because they pay very little money in return for your time – whilst yes, some do pay higher amounts than others you are generally never going to see much more than $1 per survey at most. Couple that with the fact that the surveys usually take around 20 minutes complete & you will see yourself earning much less than minimum wage.
Therefore ultimately unless you're in a dire financial situation & really need the extra money or just don't really value your time I wouldn't recommend paid survey companies at all. There are much better ways to build an income online that will reward you much greater in return for your time.
A Better Alternative
The sad truth is that unfortunately most of the programs promising to help you make money online are scams. I can say that confidently after exposing over 500+ of them here on this blog.
But the good news is that even though most of them are indeed scams, there are actually some very good programs in amongst them - some programs that can truly help you to earn money.
And out of all of the legit programs I've seen, the one I would recommend the most to anybody looking to get started online is Commission Academy. In my own opinion, that's the best place to start.
At Commission Academy, you'll be provided with everything you need (including the training & tools) to begin earning real money by promoting products or services for companies like Amazon online.
The best part is that there's literally no limit on the amount you can earn with it & the process is pretty simple which means that it's absolutely perfect for people that don't have much experience.
Some wealthy affiliates even earn as much as 5-figures per month... Or more!

I mean don't get me wrong, that kind of money won't just fall into your lap without doing any work... But the harder you're willing to work at it, the more you stand to earn with it.
So if you're looking to get started but don't know which route you should go down or which program you should join (and don't want to waste money on bogus things that don't actually work), then I'd highly recommend checking out Commission Academy first. You can learn more about it here.