Survey Say is a relatively new paid survey company that claims to pay people in return for their opinions but I've seen a lot of mixed reviews popping up about it with some people even going on to call it a flat out scam.
So is it actually a legitimate company or is Survey Say a scam that's simply set out to part you with your time & hard earned cash?
That's actually what I'll be uncovering in this review meaning if you've been thinking about joining Survey Say you can rest assured that you've landed in exactly the right place to find out everything you need to know before you do.
And it's worth pointing out that I'm not affiliated with Survey Say so you'll be getting the honest truth about the company as opposed to some biased BS written by an affiliate who's only intention is to get you to sign up.
What Exactly Is Survey Say?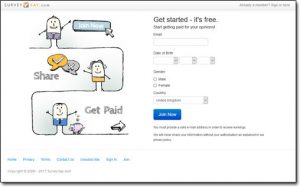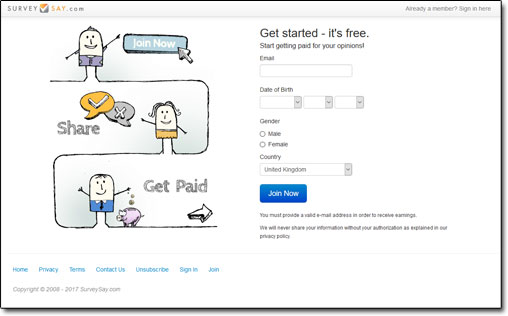 At a glance Survey Say looks like any other paid survey website & there doesn't seem to be anything untoward – no crazy income claims, no hyped sales pitches & no cost to join.
This might lead you into thinking that it is just like any other paid survey website, but in actual fact it's not.
Technically Survey Say isn't really a paid survey website at all…
You see other paid survey websites (such as Global Test Market & InstaGC) act as middleman between companies looking for consumer opinions (and willing to pay for them) & consumers looking to earn a little bit of extra money (and willing to give their opinions).
So using Global Test Market as the example, which is a legitimate paid survey company, brands will come to them & tell them they want a survey completing by X amount of people. They'll agree a price & then Global Test Market will forward the survey onto the relevant members from within their panel – whom on completion of the survey will earn a percentage of the money that Global Test Market were paid by the brand.
Global Test Market keep a bit for themselves too for organizing everything & that's how they make their profit – so you're happy, the brand is happy & so is the survey company (which in this example is Global Test Market).
Here's The Difference With Survey Say…
Survey Say is not technically a paid survey company and it appears that they do not work directly with their brands, nor do they collect your opinion (or pay you for it).
Survey Say is a company that's been created by a clever internet marketer & they make money in a different way – kind of at your expense.
If you take another look at the homepage of the Survey Say website you'll actually notice it's pretty blank – they don't give a great deal of information away, but what you will notice is that they claim you need to enter a real email address to receive earnings… and that there's also an unsubscribe link at the bottom of the page too (as shown below):

So the first way they make money is by adding you to their email list. You'll notice this after you join because you'll start to receive various promotional emails from them & Survey Say will make money if you sign up to anything as a result of clicking through any of the emails they've sent out because they're affiliated with all the companies that they promote.
Then if you do happen to create an account you'll realize that after logging in they're not a real survey company at all – they're just an affiliate that recommends you surveys from other survey companies (as shown below):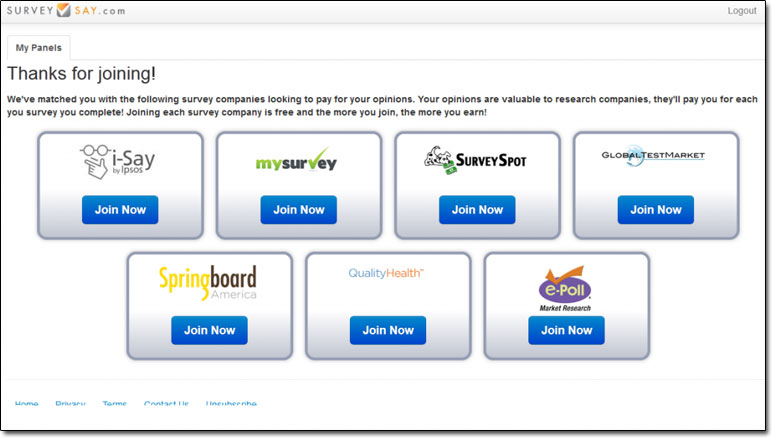 As you can see Global Test Market is on the list which is an entirely different survey company & so are various other big names too.
So basically Survey Say is not the one providing the surveys, they have just affiliated themselves with all these other companies & they earn money when you sign up to any of these companies via the links located on the Survey Say website.
Basically it's a win-win for Survey Say because they make money when you sign up & then they make money again when you login & join the companies that they've recommend to you.
Conclusion – Is Survey Say a Scam?
Well I wouldn't go as far as to say Survey Say is a scam but in my opinion it's a bit of a pointless website & it's clearly been designed with the intention of making the creators wealthy, not you.
Whilst Survey Say do provide you with a list of paid survey companies the problem is that to get to that list you need to join, and from the moment you verify your email address you'll start getting bombarded with promotional emails (aka spam). So yeah the survey list is handy & all but if you want to get access to a bunch of survey companies without entering your email I recommend you just click here instead.
The other thing is that to be honest paid surveys kinda suck in general – I mean yeah there are a few good companies out there like Global Test Market, American Consumer Opinion etc who do pay but even then you're going to struggle to make any kind of real income.
There's no way that you could earn anything near to a full-time income completing surveys & to be honest it'd be hard to even crack anything near to a part-time income with them either. You'd be lucky if you earned around $10 per month because the surveys just don't come through frequent enough, and as a member of multiple companies you're going to be getting way underpaid for your time.
Personally I believe you should only think about paid surveys if you're in a dire financial situation and you really need the extra money because otherwise there are much better ways to build an income online, like affiliate marketing for example.
I suppose the plus side is that at least Survey Say is free to join so unlike a lot of the scams I've come across lately at least they don't seem to be conning people out of their hard earned cash. 🙂