Lately, I've been taking a closer at the paid survey opportunities online – I've reviewed several companies, some which were good & some which turned out to be flat out scams.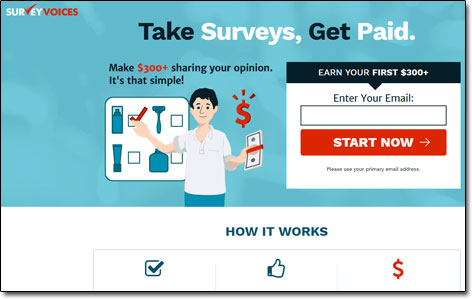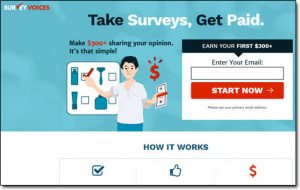 Today I'm going to be taking a closer look at the company Survey Voices & in this review I'm going to be finding out if it's legit, how it actually works, whether it's worth your time & most importantly whether there's any truth behind the Survey Voices scam rumours.
So if you've been thinking about joining Survey Voices you can rest assured that you've landed in exactly the right place to find out everything you need to know about it before you do – and it's worth pointing out that I'm NOT an affiliate which means you'll be getting an honest Survey Voices review from a third-party.
What Is Survey Voices?   |   Are There Any Benefits?   |   Hyped-Up Income Claims   |   Is Survey Voices a Scam?   |   A Better Alternative
What Is Survey Voices?
At a glance Survey Voices looks like your average paid survey website, but it's not – it's actually something that's known as a paid survey aggregator website. To be honest it's very similar to a company I recently reviewed named Survey Say (which is also an aggregator) & therefore it's possible that the 2 websites could be owned by the same person.
So, what is an aggregator – and does that mean it's a scam?
Well it's not necessarily a scam, but it's not necessarily something you might want to sign up to either
Basically a "real" survey company acts as a middleman between you (somebody who's looking to earn a little extra cash) & companies that are willing to pay people in return for their opinion.
Survey Voices doesn't – instead, Survey Voices merely acts as a middleman between you and other survey companies. So the company Survey Voices isn't going to be providing you with any surveys themselves and they aren't going to be the ones paying you either – they're just a company that recommends other survey websites to you (and earns commissions each time you sign up with a company via their links).
Here's a screenshot of a question in their FAQ which clearly proves that Survey Voices are merely passing you on to 3rd party websites (and earning a commission for doing so):

What're The Benefits of Survey Voices?
You might be wondering if there's any benefit to joining Survey Voices as opposed to signing up at survey companies directly, and to be honest there isn't. In fact, it's probably better to sign up with them directly.
Survey Voices claim that by signing up through them instead they'll screen you & show you the most relevant, high-paying survey opportunities based on the information that you provide but in reality, they just want you to sign up with them so that they get you onto their mailing list so they can make money from you.
Once you enter your email address into Survey Voices you'll find your inbox getting bombarded with various money-making opportunities – some of which are paid surveys, but some of which are also scams.
All they're interested in is getting you to sign up with as many paid survey companies as they can because they're affiliated with them & they earn a commission for each new one that you sign up to.
But knowing that you're interested in making extra money it seems that via email they also try & pitch you into various other opportunities too, some of which are blatant scams out to part you with your cash.
Hyped-Up Income Claims
Don't get me wrong paid surveys are a legitimate way to make extra money online but in general, paid surveys are renowned for paying you very little in return for your time.
On average you'd be lucky to earn around $10 per month through surveys alone & even if you decided to join multiple companies (some of which I've listed below) you'd be lucky to make $50 a month.
However, Survey Voices claim that you can make $300+ quickly & easily which is just outrageous – most people don't even see that kind of income from paid surveys in a whole year.
It's clear to me that they're just trying to get you curious about the opportunity to try & tempt you to enter your email because as mentioned above once you're on their mailing list their work is done.
You Might Also Like:
Is Survey Voices a Scam?
It's not really a scam as such but it's not something I'd recommend you join. It's clear to me that Survey Voices just want to get you onto their mailing list so that they can pitch you various offers & earn money at your expense by getting you to sign up to various companies that they're affiliated with.
Rather than risk your inbox or phone getting bombarded with spam messages I'd recommend that you just join the survey companies directly instead. To make it easier I've put a list together for you here.
To be honest though whilst paid surveys are a pretty easy way to earn a little extra cash, that's all you're even gonna get with them – a little extra. In my opinion if you're looking for a way to build an extra income online you'd be better off starting a blog or getting into affiliate marketing instead.
Those are 2 methods that you could start in your spare time but potentially turn into a full-time gig & they'll definitely prove to be more lucrative in the long term than paid surveys or similar things.
A Better Alternative
The sad truth is that unfortunately most of the programs promising to help you make money online are scams. I can say that confidently after exposing over 500+ of them here on this blog.
But the good news is that even though most of them are indeed scams, there are actually some very good programs in amongst them - some programs that can truly help you to earn money.
And out of all of the legit programs I've seen, the one I would recommend the most to anybody looking to get started online is Commission Academy. In my own opinion, that's the best place to start.
At Commission Academy, you'll be provided with everything you need (including the training & tools) to begin earning real money by promoting products or services for companies like Amazon online.
The best part is that there's literally no limit on the amount you can earn with it & the process is pretty simple which means that it's absolutely perfect for people that don't have much experience.
Some wealthy affiliates even earn as much as 5-figures per month... Or more!

I mean don't get me wrong, that kind of money won't just fall into your lap without doing any work... But the harder you're willing to work at it, the more you stand to earn with it.
So if you're looking to get started but don't know which route you should go down or which program you should join (and don't want to waste money on bogus things that don't actually work), then I'd highly recommend checking out Commission Academy first. You can learn more about it here.