Twickerz claims to be the new face of advertising & you're led to believe that as a member of the site you can "experience a new level of earning" through which you make money just by clicking your mouse…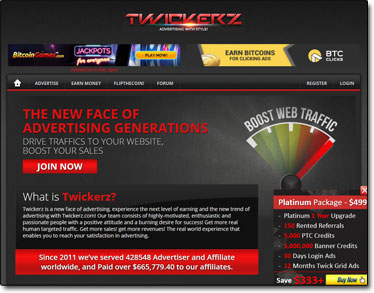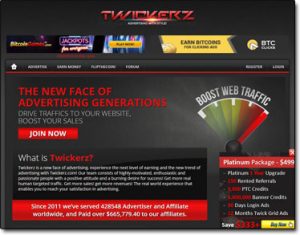 According to their website if you have just so much as a few minutes to spare per day then you could see yourself earning a good chunk of extra cash, but is it actually legit or is Twickerz a scam that'll ultimately just see you wasting your time?
Thankfully you've landed in the right place to find out because I've taken a closer look at it & in this review, I'll be uncovering everything you need to know, including how it all works & whether or not you can really make money with it.
What Is Twickerz?   |   How Does Twickerz Work?   |   How Do You Get Paid?   |   Is Twickerz a Scam?   |   A Better Alternative
What Is Twickerz?
Twickerz is effectively what's known as a PTC site, which stands for Pay-To-Click. This type of websites generates income from advertisers who pay to display their ads on the site & then Twickerz pass a part of this income down to you in return for clicking on them.
The problem with these types of sites though is that generally, they pay extremely little. The reason for this is because the advertisers know that most of the people clicking on their ads are not really interested in what they have to offer & that they're only clicking on them because they're getting paid to do so…
This means that the advertisers are not usually willing to pay sites like Twickerz a great deal in return for the clicks so as a result, you don't generally get to earn much by clicking the ads as a member.
The other reason they don't pay a great deal is that the task itself is so simple – all you're doing is literally clicking your mouse & the creators of these websites know that they don't have to offer large amounts of money in order to get people to do that. They prey on the fact that there are likely many people worldwide who are in desperate situations & willing to do it for very little money…
But anyway this is actually where Twickerz appears to stand out from its competition because they claim to pay a whopping $0.04 per click (which I know is still very small, but it's big in terms of PTC sites).

However, there's a catch – and you'll soon see why Twickerz probably won't be an opportunity you'll want to rush into joining…
How Does Twickerz Work?
So signing up to Twickerz is actually free – but here's the catch, by signing up to Twickerz as a free member you won't be able to earn the $0.04 per click like they promise you… Instead to earn that you'll be forced to pay money to upgrade.
It will cost you around $900 to upgrade to their highest level package which enables you to earn the promised $0.04 (which is insane) and if you don't upgrade you'll be restricted to earning a mere $0.001 or $0.002 per click instead.
So whilst it might initially seem quite good from the outside, in reality, it's not so great…
I mean in my opinion it would just be completely ludicrous to invest $900 into an opportunity that will only see you earning around $0.04 per click because it would see you having to click 22,500 times before you even managed to break even.
And the trouble is you couldn't just keep clicking until you made the money back because you can actually only click on ads a certain amount of times per day since they only have a relatively small amount of people advertising through their platform.
This means that you could potentially be out of pocket for months… And when you do finally break even you're not going to become rich by any means, you're still only going to be generating a mere $0.04 per click.
Anyway, on top of clicking, they do actually provide you with a couple of other ways to earn but again these are also not so great either…
One of the alternative things you can do is complete "sign up offers" and as the name suggests these will see you signing up to stuff. You can earn more money by doing this (up to $25 per sign up) however several of the things require you to spend money upfront or to sign up to "free trials" which could see you getting billed if you forget to cancel.
The other alternative is to recruit others into Twickerz and this way rather than having to click ads or sign up to yourself you'll earn commissions when the people you recruit do it instead. So if somebody signs up via your referral link & starts clicking ads you'll begin earning… But remember, they'll only be earning around $0.001 per click & so you'll be getting even less.
Ultimately you're just not going to be able to make much money through this site & the whole concept of upgrading just sounds way too risky so I wouldn't even let it cross your mind… As far as I'm concerned there are much better ways to make money online.
You Might Also Like:
How Do Twickerz Pay You?
Twickerz payout via Payza, Bitcoin & Perfect Money – but there's another catch here too. In order to get paid from Twickerz you'll need to have earned at least $1.50, however, depending on your membership level you'll be restricted on how much you can withdraw…
This is basically another "trick" to get you to upgrade… But anyway, here are the restrictions:
Free member – withdraw up to $10 every 10 days
Premium member – withdraw up to $25 every 7 days
Gold member – withdraw up to $50 every 4 days
Platinum member – withdraw up to $50 every 3 days
Ultimate member – withdraw up to $100 daily
So as you can see these restrictions show that realistically you are not going to be able to earn much from this opportunity. Without spending any money you are only going to be able to earn a maximum of $30 per month – and it's unlikely that you'll actually reach anywhere near that figure unless you literally spend every minute of your day on the site clicking or signing up to things.
Is Twickerz a Scam?
Well there have been a few complaints online about Twickerz locking people out of their accounts & not paying their earnings (due to suspected cheating) but overall I don't think Twickerz is a scam as such, I just don't think it's a very great way to make money.
I mean as I mentioned at the start of this review these types of PTC sites are known for only paying very little so as a member you'll likely see yourself spending several hours on the site but still not earning much at all.
And then there's the fact about having to invest hundreds of dollars to be able to earn more money… I don't really like the sound of that because that starts making me think it might be some sort of Ponzi scheme and it makes the whole thing way too risky.
So overall I am not going to be recommending Twickerz to you because like I say I just feel that there are many better ways to make money online & if you join Twickerz you will probably just feel like you are wasting your time.
Anyway hopefully my review gave you a good insight into how it all works & provided you with the information you were looking to find out, but if there's still anything you'd like to ask don't hesitate to leave a comment below & I'll get back to you as quickly as possible.
A Better Alternative
The sad truth is that unfortunately most of the programs promising to help you make money online are scams. I can say that confidently after exposing over 500+ of them here on this blog.
But the good news is that even though most of them are indeed scams, there are actually some very good programs in amongst them - some programs that can truly help you to earn money.
And out of all of the legit programs I've seen, the one I would recommend the most to anybody looking to get started online is Commission Academy. In my own opinion, that's the best place to start.
At Commission Academy, you'll be provided with everything you need (including the training & tools) to begin earning real money by promoting products or services for companies like Amazon online.
The best part is that there's literally no limit on the amount you can earn with it & the process is pretty simple which means that it's absolutely perfect for people that don't have much experience.
Some wealthy affiliates even earn as much as 5-figures per month... Or more!

I mean don't get me wrong, that kind of money won't just fall into your lap without doing any work... But the harder you're willing to work at it, the more you stand to earn with it.
So if you're looking to get started but don't know which route you should go down or which program you should join (and don't want to waste money on bogus things that don't actually work), then I'd highly recommend checking out Commission Academy first. You can learn more about it here.