Unlike scores of online money making platforms that keep their methods "secret" until you hand over some cash, Usability Hub is a free & comprehensive website featuring all of the necessary details marginalizing the possibility of any doubts. The website primarily offers testing services for developers to ensure that their software campaign follows the right track. You can see the packages on the pricing page.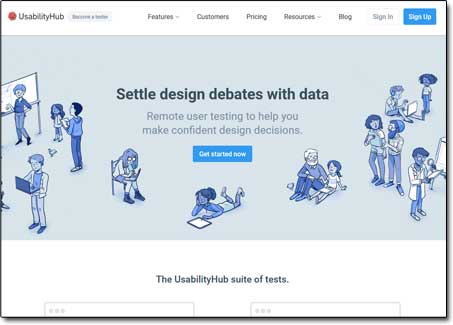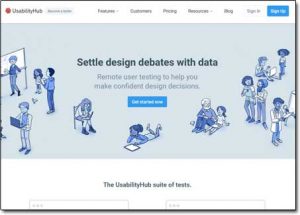 My aim here is to serve you with an unbiased Usability Hub Review from the money-making perspective. The website welcomes you to join for free, give your opinion about various apps, websites, and designs, and contribute to your income.
The website features a seemingly simple process to let you start earning money… But does it really work? Well keeping reading to know more before making a judgment. Is Usability Hub a scam? You'll be able to decide after reading the detailed review below.
What Is Usability Hub?   |   How Does Usability Hub Work?   |   How Much Can You Earn?   |   Is Usability Hub a Scam?   |   A Better Alternative
What Is Usability Hub?
Online money making platforms not only often feature registration fees but they also require a lot of time. Usability Hub registration is free so you don't have to worry about making any payments to get started… However, time is a significant consideration here. If it doesn't pay enough to compensate the amount of time you put in, then you'll probably want to give it a miss.
Getting real people for software, app, and design testing is a big consideration and for some developers, it is a tough task… But Usability Hub promises exceptional testing services for developers by engaging a real audience (AKA you). It's a simple process – the website charges the developers with a testing fee, then the people who register with the website earn a small portion from the website's earning by providing their opinions.
You may compare it to paid surveys. If you've tried earning by participating in online surveys then you likely have an idea about the importance of the task availability. Obviously, the amount of income depends on how much you work.
Easy and Short Tests
Usability Hub features really small tests and most of them don't take longer than a minute. Some of them may require a couple of minutes but still, it isn't really that much of a big deal. During the test, you'll usually provide your opinion about:
User Interface
Navigation
Screen Choice
Layouts
Speed
Sometimes they'll ask you about the placing of the icons or action buttons.
How Does Usability Hub Work?
As you scroll down the website's home page you'll see Usability Hub suite of tests featuring the following:
Five Second Test
Click Test
Question Test
Navigation Test
Preference Test
1. Five Second Test
This test features a webpage or a design. It got its name for the fact that the design stays on the screen for just 5 seconds. Then you'll have to tell whatever you remember about that webpage or design. You'll have to answer the questions such as "which services does the website offer?" or "what is the website about?" or "where was the login icon?"
2. Click Test
This test features the picture/image of an app, a website, or software. This test includes the questions asking about the clicking positions to perform certain actions. This test checks the page/design's clarity of instructions and that the positioning of icons and buttons is accurate.
3. Question Test
Again, you'll be presented with the design of a website, software or an application and then they'll ask you some questions. For instance, "what do you think you can do on this website?"
4. Navigation Test
Navigation is the most important factor to determine a design's success. The questions in this test ask you about reaching from one point to the other, searching for different options, using the tabs etc. If it is an online shop, they might ask you to select a shirt priced at $20 and place it to your cart. They want to know how convenient the navigation is.
5. Preference Test
Perhaps, this is the only test which genuinely seeks your opinion. The questions in this test shall seek suggestions such as "what else would you like to see" or "which category you want to see in addition to the existing categories?"
How Much Can You Earn?
Since by now you'll likely have a better idea of what Usability Hub is all about, the question is, how much could you earn per day or per week? As per my experience, I don't see a way to lift your earning as high as most of us would like to. Though, the testing process is fairly simple and quick but let's do the simple math:
Earning per test = 10 cents
Average time per test = 30 sec to 90 sec
1 test (10 cents) = 1 Credit
100 tests (100 credits) = $10 (1000 cents)
Let's engage the timing factor by assigning 1-minute avg. per test:
100 tests = 100 minutes (1 hr. 40 min.)
You can't withdraw less than $10 (100 credits/tests). PayPal is the only withdrawal option available – so, sorry readers from the countries PayPal doesn't facilitate!
If we include the processing time then we can easily say that this whole exercise doesn't equate to more than $5 per hour. Good news for people from India and Sri Lanka maybe, but not as good for Europeans or Americans…
You Might Also Like:
The Availability of Tests
One more problem… The above calculations respond to the ideal workflow but unfortunately, in reality, the work is not continuous. The tests are available few and far between. In my opinion, it'll take almost a month to accumulate $10 by going through 100 tests. A disappointing end!
I haven't seen anybody complaining about Usability Hub because it does offer some work. The website doesn't claim the provision of continuous work or promise you the ability to earn hundreds of dollars a week… It is a free platform and you can take it as a nice timepass but can never afford to waste your time anticipating a consistent work supply.
Is Usability Hub a Scam?
Absolutely NOT! I can easily conclude the Usability Hub Review by stating that it is a 100% genuine platform, there is nothing fishy in their practices, and everything is fair. But realistically it is a platform is for those who just want to add $10 or $20 to their current monthly income.
Logically, it isn't something which people from the US or Europe would wish for. If you register with Usability Hub and start taking a few tests initially, you need not to be over-optimistic. Things will slow down with the passage of time and it will take too long to reach the minimum withdrawal mark i.e. $10. And remember, PayPal is the only virtual wallet you can use to withdraw funds from Usability Hub.
So whilst it's not a scam in any way, I won't really be recommending it to you simply because I personally believe there are better ways to utilize your time to make money online, such as affiliate marketing which if you're interested in you can learn more about (for free) at Wealthy Affiliate.
But anyway overall I hope this review gave you a good insight into how Usability Hub works & how much you can expect to earn there. Of course though if you do still happen to have any further questions or comments about it then don't hesitate to leave them below & I'll do my best to get back to you as quickly as possible.
A Better Alternative
The sad truth is that unfortunately most of the programs promising to help you make money online are scams. I can say that confidently after exposing over 500+ of them here on this blog.
But the good news is that even though most of them are indeed scams, there are actually some very good programs in amongst them - some programs that can truly help you to earn money.
And out of all of the legit programs I've seen, the one I would recommend the most to anybody looking to get started online is Commission Academy. In my own opinion, that's the best place to start.
At Commission Academy, you'll be provided with everything you need (including the training & tools) to begin earning real money by promoting products or services for companies like Amazon online.
The best part is that there's literally no limit on the amount you can earn with it & the process is pretty simple which means that it's absolutely perfect for people that don't have much experience.
Some wealthy affiliates even earn as much as 5-figures per month... Or more!


I mean don't get me wrong, that kind of money won't just fall into your lap without doing any work... But the harder you're willing to work at it, the more you stand to earn with it.
So if you're looking to get started but don't know which route you should go down or which program you should join (and don't want to waste money on bogus things that don't actually work), then I'd highly recommend checking out Commission Academy first. You can learn more about it here.