There are tons of websites serving as online marketplaces for work-from-home jobs & Virtual Vocations is one of them. But is this website any different from all others?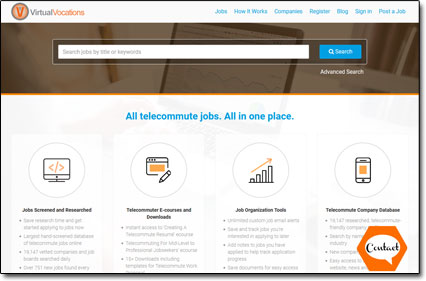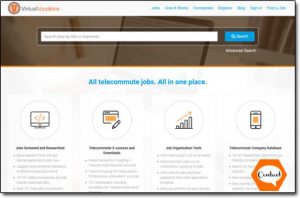 Is it a scam or a legitimate job listings site? Most importantly, is it worth your time and money?
All these questions need to be answered. The claims that this website has a whole job screening mechanism and offers the best, most credible offers had to be assessed. Therefore, we decided to take a good look into it and do some research to bring you an impartial & unbiased Virtual Vocations review.
You'll be able to find answers to all your questions in our Virtual Vocations review. It will outline what makes this jobs search portal different, what type of telecommuting jobs you find there and whether it's actually worth your money or not.
What Is Virtual Vocations?   |   How Does It Work?   |   Why Isn't It Free?   |   Is Virtual Vocations BBB Accredited?   |   Is Virtual Vocations a Scam?   |   A Better Alternative
What Exactly Is Virtual Vocations?
Virtual Vocations, as the name suggests, is a job search portal and virtual vocational workers online assistance site. Their primary function is to find reliable telecommuting jobs.
The main focus of this website is telecommuting. It has all sorts of jobs related to this field and for all skill levels. This website also offers some training courses for e-workers and offers tools to help them succeed as well.
It has been in business since 2007 and is a very regularly updated jobs database. We found a good number of new offers listed every single day which impressed us. This website is run by two siblings, Laura Spawn and Adam Stevenson.
This website claims that all jobs are scanned and vetted before listing. The most important factors such as the legitimacy of the companies, transparency and pay rate are checked to ensure only top-quality jobs are posted.
The website is accessible from anywhere in the world and most opportunities are for remote service providers. However, the vast majority of the offers are for US citizens only. All jobs have comprehensive descriptions provided and you can check pay rates and find them very competitive too.
It certainly all looks good on the surface but let's take a closer look into it to find out how it all actually works…
How Does Virtual Vocations Work?
Virtual Vocations works like any other jobs' portal out there. You are to search job listings as you wish. However, your access to the lists is limited and you can't access all the information in a job description if you are not a member of their community (more on the memberships below).
Free Membership
You can sign-up for membership free of cost and get access to a lot of facilities including:
Latest Job Listings
Complete job descriptions
Some free courses
Some components of the (companies) database
Premium Membership
To get access to everything on this website ranging from e-courses to full companies' database, email alerts for newer listings and other benefits, you need to become a premium member of this community. Premium membership would cost you
$15.99 per month
$39.99 per three months
$59.99 per six months
What Can You Get For Paying More?
If you are willing to pay a little extra, you can get career services as well. These would cost you anywhere between $70 and $300 or even more, depending on the service you avail. Most of these services are related to resume reviews etc.
Why Isn't Virtual Vocations Free?
It should be free at least for a comprehensive job search, right? Many popular sites that are free of cost then why not Virtual Vocations? We know why you are annoyed but it's all about their business model. And it's logical.
Many of the other "free" job portals take paid ads for their listings. This means that anyone who pays them can get features. There is no filter or screening. You can't be sure of the quality of these jobs. You might be tricked too and the website you scouted it at won't just be responsible.
Jobs posted on Virtual Vocations are carefully screened by their staff. They only list offers that rank the best in their assessment & that's why they have a premium service on offer, to fund this screening process.
We know that paying for subscriptions isn't anyone's plan when they are looking for a job. However, if you do decide to get a premium membership, we recommend taking the monthly subscription offer.
The reason for suggesting that is because our experience tells us that you should be able to land a good offer within two months. A monthly subscription offer would suit you the best & would provide the cheapest option in that case.
You Might Also Like:
Is Virtual Vocations BBB Accredited?
Yup, it is! And you can easily find that out yourself as well. This is just an added plus because you know your money won't be wasted on a scam.

Also, they have a 30 days refund policy which can be availed. Our research showed their users have had no complaints in this regard. This only means that they stand true to their word which is a win-win for you!
So overall it all seems good – which brings me onto…
My Verdict – Is Virtual Vocations A Scam?
Nope, there is no reason to believe that Virtual Vocations is a scam. They may push you to get premium membership often enough to become very annoying, but they are an accredited and well-reputed venture.
If you are willing to put some money into your job search then we don't have any reason not to recommend this job portal… Although I do agree that it is annoying to have to pay in order to find a job & if you are currently out of work (not just looking for a change) then paying money might not be possible.
If that's the case then you could always check out my own list of ways to make money online right here. There are many free methods in the list & some of them could indeed see you earning a full-time income online providing you are willing to put in the work.
One of my top recommendations for people looking to work full-time from home is something called affiliate marketing. It's not a "job" as such but its the same way I personally make money online & it basically involves you promoting products or services online in return for commissions.
If that's something that interests you then I highly recommend you check out Commission Academy as its there where you'll be able to get more information about it & learn how to get started with it.
On top of that though you could also check out my other top recommendations for making money here.
But whatever you decide to do I just hope that my review of Virtual Vocations has given you a good insight into the company & provided you with answers to any of the questions you might have had. If you still happen to have any that you feel I haven't answered though then, of course, don't hesitate to leave them below in a comment. 🙂
A Better Alternative
The sad truth is that unfortunately most of the programs promising to help you make money online are scams. I can say that confidently after exposing over 500+ of them here on this blog.
But the good news is that even though most of them are indeed scams, there are actually some very good programs in amongst them - some programs that can truly help you to earn money.
And out of all of the legit programs I've seen, the one I would recommend the most to anybody looking to get started online is Commission Academy. In my own opinion, that's the best place to start.
At Commission Academy, you'll be provided with everything you need (including the training & tools) to begin earning real money by promoting products or services for companies like Amazon online.
The best part is that there's literally no limit on the amount you can earn with it & the process is pretty simple which means that it's absolutely perfect for people that don't have much experience.
Some wealthy affiliates even earn as much as 5-figures per month... Or more!


I mean don't get me wrong, that kind of money won't just fall into your lap without doing any work... But the harder you're willing to work at it, the more you stand to earn with it.
So if you're looking to get started but don't know which route you should go down or which program you should join (and don't want to waste money on bogus things that don't actually work), then I'd highly recommend checking out Commission Academy first. You can learn more about it here.