The Wealth Academy system has just recently been launched by a guy named Richard through the ClickBank network & it promises to provide you with a way to earn as much as $8,000 per day whilst working from home.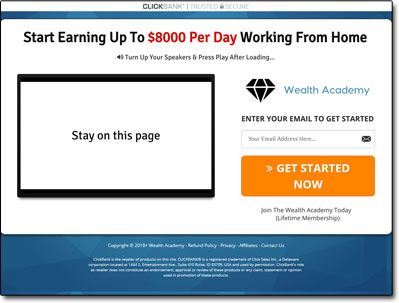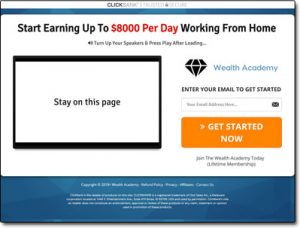 You're led to believe that the method you'll be getting access to is totally brand new & that it involves just "one cash-rich website"…
But is it really legit or will the Wealth Academy scam you & take your cash rather than help you make it?
Thankfully you've landed in exactly the right place to find out as I've taken a closer look into exactly how it all works & in this honest review I'll be uncovering the real truth about it, as well as outlining whether or not you can really make any money with it (at all).
What Is Wealth Academy?   |   How Does Wealth Academy Work?   |   What You Actually Get   |   The Annoying Upsells   |   How To Get a Refund   |   Is Wealth Academy a Scam?   |   A Better Alternative
What Is Wealth Academy?
So as I briefly touched on above the Wealth Academy is a brand new program that's just launched through the ClickBank network & it claims to provide its members with a "brand new" way to make good money online…
However other than that the system doesn't really touch on what the so-called brand new method actually involves, and instead it just pushes you towards handing over your cash to find out more.
Literally, all it says is that it's to do with a "cash-rich" website & an Amazon exploit… But how can you trust that? I always find it suspicious when programs don't give the full details away upfront because that's how most get-rich-quick scams work.
They promise you'll get access to some sort of super-easy way to make lots of money, but don't tell you what it is until you hand over your cash… Then when you finally do hand over your cash they just leave you to find out the hard way that the whole thing was a lie just so they could get your money.
I've seen it happen time & time again, and I can also tell you that the ClickBank network is rife with scams so you have to be super careful whenever you look into a product getting sold via them.
The past week alone I exposed 3 new scams and ALL of them were being sold through ClickBank – these were the YT Crusher System, the EZ Bay Payday System & the Super Sales Machine.
But what about this one, the Wealth Academy? Is this one also just another scam? Well thankfully this time you don't have to spend your cash to find out as I've already done the digging & when I show you how it all works below you'll see exactly what's really going on…
How Does Wealth Academy Work?
In short, the Wealth Academy system basically doesn't work as promised – and it too, like the others I listed above, is just another low-quality product that's been designed to part you with your cash rather than help you make it.
The creator's name (Richard) is just a fake name that's being used to hide the true creator of it all as well…
How do I know that?
Simple – after taking a closer look into it I remembered that I had previously exposed this exact same scam right here on this blog several months ago back when it was called the Daily Cash Siphon system.
They've re-designed the website a little, changed the name of it & are now pretending that it's been put together by a guy named Richard rather than the lady named Kate Shallard who they said created it last time.
The reason they've created this new rehashed version is simply to try & escape all of the negative reviews that people wrote about it so that they can continue conning people out of their hard-earned cash.
Luckily though you found yourself here before signing up – or hopefully did anyway… But if not, don't worry, all's not lost yet & if you keep reading this review I'll shortly show you how you can get your money back.
First though…
What You Get As A Wealth Academy Member…
Basically there is no "cash-rich" website or Amazon exploits like you were told. Instead as a Wealth Academy member, you just get access to some VERY basic training on something called affiliate marketing.
Affiliate marketing (in case you don't know) is basically where you promote 3rd party products or services online in return for commissions. So let's say you wanted to promote a specific product, you could get an affiliate link for it, then if you shared that online & people clicked through it & purchased the product… You'd earn a commission on the sale.
An affiliate link is basically just like a regular link (that you'd use to send somebody to a website) but it contains a code which is unique to you & that's how the commissions are tracked back to you.
Here's a visual that might help you understand it a little better: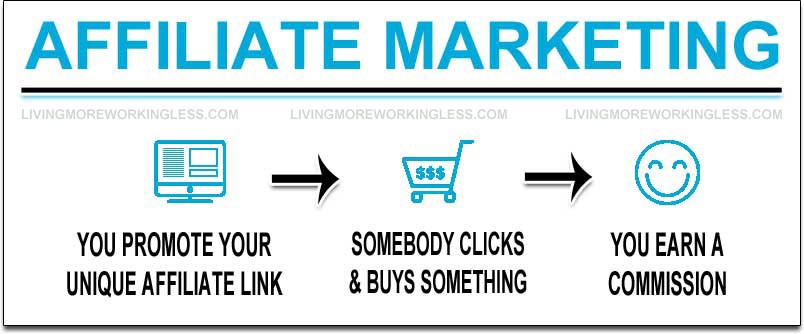 And the reason the creators of the Wealth Academy claim that you'll be making money from an Amazon exploit is that the training is geared towards teaching you how to become an affiliate of Amazon… But there's no exploit or anything like that, that's just a gimmick – the truth is anybody can become an affiliate of Amazon.
However whilst affiliate marketing in itself is actually a legitimate & very good way to make money – you can't just expect to sign up to an affiliate program, share the links & start earning thousands of dollars…
Instead, to make money with it you need to know how to promote things effectively & that's what the Wealth Academy fails to teach you.
In fact, they don't really teach you anything worthwhile at all – I'll be honest & tell you that their training flat-out sucks. You can actually get MUCH better training for free over at Commission Academy (which is a legitimate place to learn affiliate marketing).
All the people behind the Wealth Academy care about is getting you to hand over your cash so that they can earn themselves some money at your expense. They don't really care about your success at all & that's why they've really hyped up the sales video with a bunch of lies to get you to buy into it.
I know 100% that if you did buy into it you'd be very disappointed at what you actually received…
You Might Also Like:
It's Full of Annoying Upsells
If there's one thing I hate it's when a program isn't upfront about all of the costs that are involved – and the Wealth Academy is certainly one of those programs that is absolutely NOT upfront… About anything!
Prior to signing up, you're told that the program costs just $24.95, but that simply isn't true.
Just moments after signing up (which I don't recommend doing if you haven't done so already) you'll be bombarded with 3 additional upsells which the creators have put in place to squeeze even more cash from you.
They want $197 for their Wealth Academy 2.0 program…
Another $177 for their Wealth Academy Pro program…
And $97 for their Wealth Academy Social program…
That's a whopping $495.95 in total!! Which is crazy considering you were told it was just going to be $24.95…
Anyway, onto some slightly good news…
Getting Your Money Back
The somewhat good news is that if you happen to have already invested in the Wealth Academy scam prior to landing at this review then because it's being sold through ClickBank you stand a good chance at getting your money back.

Obviously the first port of call for getting a refund would be to contact the Wealth Academy creators directly (using the contact link at the very bottom of their website) but if they happen to ignore/refuse it you have another option…
The next option would be to simply contact ClickBank directly quoting your transaction reference… Despite them having a lot of scams listed in their network they are actually surprisingly good at honouring refunds (providing it's requested within 60 days of purchase)… So yeah, hopefully, you should be good.
Obviously the best option though is to simply have never invested in the first place, which brings me onto…
Is Wealth Academy a Scam?
In my opinion yes, the Wealth Academy is indeed a scam & the reason I am saying that is because the whole thing, as far as I'm concerned, simply misleads you into parting with your cash on false pretences.
The creators of the whole thing are leading you to believe that you'll be getting access to a super-easy way to make a ton of money through some sort of "exploit" and they make it seem like you'll be able to start earning right from the off as well but none of that is actually true.
Instead, you'll just be getting access to some extremely low-quality training on affiliate marketing & then you'll be forced into paying hundreds more dollars to get access to the rest of the course that they've kept hidden away…
So there is simply no way I'll be recommending it to you because I believe it's just totally dishonest & even if you did spend the hundreds of dollars on the training I still don't think it would help you at all.
Instead rather than spending money on the Wealth Academy program if you really want to make money with affiliate marketing you should just sign up to a legitimate & proven platform like Commission Academy instead (which is actually free).
Or alternatively, you could look into a different legitimate way to make money online altogether…
But whatever you decide to do I just hope that my honest review here has given you a good insight into the Wealth Academy & hopefully you can now see how it really works & why I don't recommend it. If you do still have any further questions or comments though then don't hesitate to leave them below.
A Better Alternative
The sad truth is that unfortunately most of the programs promising to help you make money online are scams. I can say that confidently after exposing over 500+ of them here on this blog.
But the good news is that even though most of them are indeed scams, there are actually some very good programs in amongst them - some programs that can truly help you to earn money.
And out of all of the legit programs I've seen, the one I would recommend the most to anybody looking to get started online is Commission Academy. In my own opinion, that's the best place to start.
At Commission Academy, you'll be provided with everything you need (including the training & tools) to begin earning real money by promoting products or services for companies like Amazon online.
The best part is that there's literally no limit on the amount you can earn with it & the process is pretty simple which means that it's absolutely perfect for people that don't have much experience.
Some wealthy affiliates even earn as much as 5-figures per month... Or more!

I mean don't get me wrong, that kind of money won't just fall into your lap without doing any work... But the harder you're willing to work at it, the more you stand to earn with it.
So if you're looking to get started but don't know which route you should go down or which program you should join (and don't want to waste money on bogus things that don't actually work), then I'd highly recommend checking out Commission Academy first. You can learn more about it here.