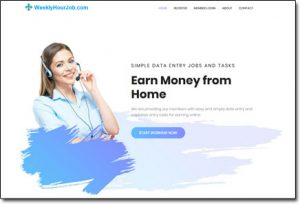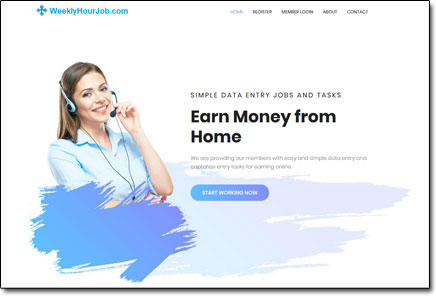 The WeeklyHourJob website (found at WeeklyHourJob.com) claims to provide you with access to simple data-entry jobs & tasks that can allegedly see you earning a great income from the comfort of your own home.
You're led to believe that you don't need any experience and that you can begin earning money the very same day that you get started by doing things such as completing CAPTCHAs (verification codes for websites) or by inputting data into spreadsheets…
And they even claim that you can earn a whopping $500+ per day by doing this…
But the question is, is it actually legit and will you actually get paid? Or is WeeklyHourJob a scam website that'll just see you wasting your time & getting nothing return?
Well luckily you decided to do your due diligence before joining & come across this review because I can tell you right from the off that WeeklyHourJob is NOT what it seems & in this honest review I'll be exposing the real truth about how it all works.
But first I'd like to point out that if you just want to go straight to something legitimate you can check out my number 1 recommendation below:
Go here to see my no.1 recommendation for making money online
(This 100% free training shares my exact strategy for making 5-figures per month)
Click Here To See My #1 Recommendation For Making Money
Or keep reading for the full review…
What Exactly Is WeeklyHourJob?
WeeklyHourJob is a website that essentially pretends to be something called a "get-paid-to" website. They claim that they'll pay you in return for completing small tasks such as inputting data, completing CAPTCHAs (verification codes) or even referring friends…
But the key word here is "pretending", because WeeklyHourJob is NOT a legitimate get-paid-to website.
You see there are indeed actually websites out there that will pay you in return for completing small tasks, however generally because the tasks are so simple they only tend to pay out very, very little…
And as a result even though that there are some legitimate get-paid-to websites out there I still don't tend to recommend them because in my opinion there are many better alternatives through which you can earn more for your time.
A legitimate get-paid-to website will typically see you earning around $5-$10 per month, if you're lucky.
But WeeklyHourJob claim to pay much more than that which is why the website has attracted a lot of attention. They claim that you'll earn $1 for every single line of data you process & that you'll also get 50% of the earnings accrued by any friends that you refer.
They claim that you'll be able to earn over $500 per day through their site which is a crazy amount of money. I mean yes, it is possible to earn $100+ per day online however it would NEVER be as easy as WeeklyHourJob make out.
You see the internet is great & all & it certainly provides many ways to make money but it is not magical & it is not going to provide you with a way to make so much money so easily. If it did then everybody would be doing it, nobody would be left working a job.
But I hear ya – what are WeeklyHourJob getting out of this? Why are they lying to people? What's the scam?
Well the truth is even though WeeklyHourJob seems fairly safe (since it's free and doesn't require payment details) it's actually a pretty darn dangerous website as you'll soon see when I explain how it all works below…
How Does WeeklyHourJob Work?
So the idea is that WeeklyHourJob lure their victims in by offering a fake work from home job opportunity that pays a lot of money for little work. Naturally who wouldn't be interested in such a thing? But it's just a trick…
There isn't really any work from home opportunity through WeeklyHourJob whatsoever – and nobody will be getting paid. All they're doing is tricking you into signing up so that they can get your data.
They want your username, email, password & anything else they can get…
Then they want you to promote the site to others so that they can use you to get other people's details as well…
But why do they want all of this data? What are they doing it?
Well the answer is that they want the data because their goal is to attempt to break into your accounts. They're simply hoping that you sign up to their website with the same details you use elsewhere.
It's a fact that most people use the same login information for every website they visit & that's what they're preying on.
So if you sign up to WeeklyHourJob & enter your data then the people behind it will begin looking for accounts associated with your details, such as PayPal accounts, social media accounts etc…
And if they're unsuccessful at getting those then they'll just sell your data onto third party marketing companies that'll then just bombard you with spam.
Which means it comes without saying if you've already signed up to WeeklyHourJob & you did so using the same details that you use elsewhere then you should login to those sites & change your passwords ASAP.
You should also share this WeeklyHourJob review on social media as well to prevent any of your friends/family falling victim to this & to help spread the word so that we can get this thing closed down.
And just in case you're still thinking about "trying it out"…
Let Me Expose The Red-Flags
The first major red-flag is the fact that the whole thing sounds WAY too good to be true – and as the saying goes, if something sounds too good to be true, it generally is.
I mean think about it – if there was really such a way to earn so much money so easily then literally everybody would be doing it. Nobody would be left working a job & as a result the world would be in complete crisis.
As I mentioned previously in this review the internet does indeed provide many ways to legitimately make money however it's not magical & it is not going to see you getting rich with little to no work at all.
…(though it is indeed possible to work full-time online).
Secondly though there's the fake statistics. At the time of writing this review the website claims to have 216,536 members & to have paid out $6,108,952 to its members (as shown below)… But those stats are exactly the same as when I first discovered this website 5 days ago.


That's because they're fake – they're not real statistics. They've just been put there to try & gain your trust so that you'll sign up thinking that it might actually be legitimate but don't, because it's not.
Then on the topic of fake things there's also the fake "support" page too. The support page on their website shows what is supposed to be real discussions between members & staff (as shown below), but the discussions are fake.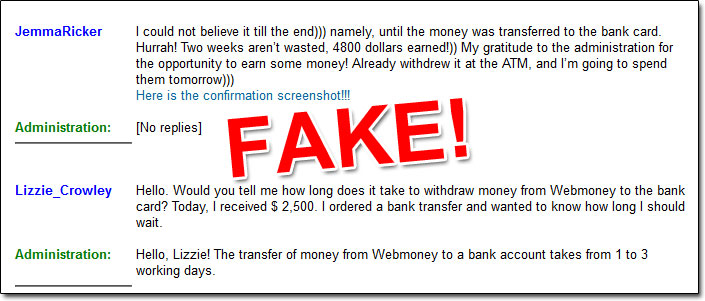 The reason I know that is because the discussions also haven't changed & because there's a box to submit a message but surprise surprise when you do it never shows up, because the form isn't actually connected.
So with all that in mind it's quite clear that the WeeklyHourJob website is not legit which brings me onto…
My Verdict – Is WeeklyHourJob a Scam?
Yes there's absolutely no doubt about it, WeeklyHourJob (found at WeeklyHourJob.com) is definitely a scam website. None of the members are getting paid & the sole intention of it is to part you with your data.
The whole "opportunity" to make money is just a ploy to trick you into signing up so that the creators can get your data & then attempt to break into your accounts. They also then attempt to trick you into recruiting others as well, but don't fall for it.
All WeeklyHourJob will see you doing is wasting your time & potentially getting scammed, so it should be avoided.
The truth is that yes there are indeed legitimate ways to make money online however none of them are going to see you getting rich with little to no effort like the WeeklyHourJob site claims.
Instead if you want to make good money online then you must be prepared to put in the work to make it happen, however the good news is that if you are prepared to put in the work then there are legitimate & proven places you can get started at such as Wealthy Affiliate.
It's at Wealthy Affiliate that you'll learn about the same way I personally make money online (which is called affiliate marketing) and in my opinion that is without doubt one of the best ways to make money online.
Whatever you decide to do though I just sincerely hope that my review here has given you a good insight into how the WeeklyHourJob website really works & hopefully it's helped you to avoid it. Don't hesitate to leave any additional comments below. 🙂