The Work At Home Club is a website that promises to provide you with legitimate opportunities for earning money online & as the name suggests the opportunities they provide are supposedly going to be able to see you quitting your job & working from the comfort of your home instead.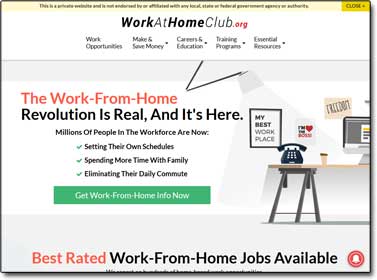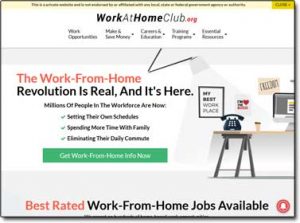 But when it comes to work from home opportunities you do have to be very careful because a lot of them are scams. So what's the deal with this particular site?
Is it actually legit like it claims or will the Work At Home Club scam you instead & end up just costing you money rather than helping you make it?
Thankfully if that's what you've been trying to figure out you can rest assured you've landed in the right place as I've taken a closer look into it all & in this honest review I'll be uncovering the truth about this newly launched work from home site (including whether or not you can really make good money through it).
What Is Work At Home Club?   |   How It Works   |   Is Work At Home Club a Scam?   |   A Better Alternative
What Is Work At Home Club?
So as I briefly touched on above the Work At Home Club is basically a website that claims to provide you with easy access to a whole bunch of legitimate work from home opportunities, along with other tips & tricks for earning money from home.
The jobs they claim to offer are primarily said to include things like telecommuting jobs, online tutoring & paid surveys or rewards sites – but in order to get access to them, you have to first enter your email address.
Until you enter your email the site is basically locked down & there's no way to progress – but I know that entering your email can be a bit of a nerve-wracking thing to do… After all, you don't want to find yourself signing up to some sort of "spam trap" that'll just see your inbox flooded with emails…
And these days you just don't know who to trust online…
Well, what I can tell you is that after entering your email you do indeed get access to some legitimate jobs as promised – however, I can also tell you that the whole Work At Home Club thing is nowhere near as good as it seems.
If you're expecting to sign up & get access to something that'll start making you decent money in a relatively short space of time then think again – that ain't gonna happen through their site at all (but do feel free to check out my list of non phone jobs that you can work from home if you're looking for something legit).
And then there's the problem that some of the "jobs" listed are actually borderline scams.
Take a look at the image below for example: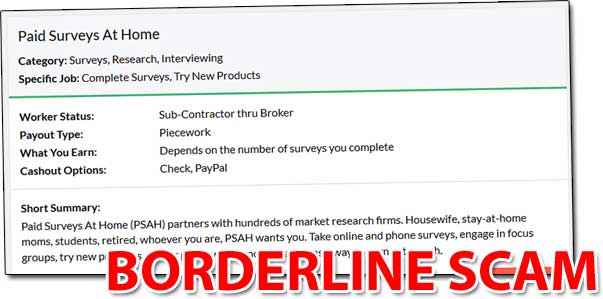 One of the "jobs" listed on their website is something called Paid Surveys At Home which might initially seem like a great opportunity as they promise you can make big bucks for taking easy surveys… But in reality, it's just a re-hashed version of the Take Surveys For Cash scam.
To get access to the so-called "big bucks" surveys you've got to pay a joining fee, and then after you pay the joining fee you'll be left to find out that there aren't really any high-paying surveys like you were promised at all.
And that's when I discovered the true agenda of the Work At Home Club, which I'll explain below…
How Work At Home Club Really Works…
So upon landing on the Work At Home Club website you might have found yourself getting pretty excited… After all, on the surface, it seems like a legitimate place that has your best interests at heart & it looks like a place that could potentially connect you up to a full-time job from home.
However the truth is that as far as I'm concerned they don't have your best interests at heart at all – instead they merely have their own best interests at heart, and that's why they're recommending borderline scams to you.
The guys behind the Work At Home Club are affiliated with many of the "jobs" that appear within their listings & this means that they get paid commissions if any visitors click the links & join those sites…
Some of the "jobs" or "opportunities" are indeed legit, and there's nothing wrong with them earning a commission for referring you through to those sites… However, others, like the Paid Surveys At Home one are not… But they're being included in the listings because the guys behind those scammy sites are paying the Work At Home Club team HUGE commissions to trick you into signing up.

In fact, the affiliate page on the Paid Surveys At Home website states that people promoting the site are getting paid on average $25.85 for each new member they refer – so just imagine what the cost would be to you as a member looking for surveys (likely at least double that!)…
And after paying all that money you'll just be left feeling disappointed after you find out you've been tricked & that there are no super high-paying surveys out there after all. There are indeed legitimate paid survey sites out there that you can earn real money from, but the problem is because by nature surveys are so easy the sites all typically pay out very little in return for your time overall.
There is no way that paid surveys alone are going to see you earning any sort of substantial enough income to live off comfortably.
Then there's also the fact that the Work At Home Club site is absolutely littered with advertising, and some of it is placed in a way to make you believe that the advert is not an advert – and that it's actually a listing on the site.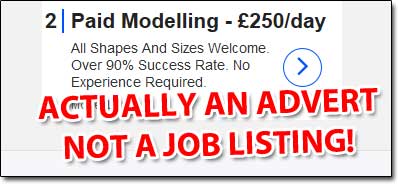 So whilst the Work At Home Club team claim to have "worked hard to ensure the information is thoroughly accurate", essentially you could actually just find yourself to signing up to a totally random site that's appeared on the Work At Home Club via an advert… And that too could potentially end up being a scam.
It's just too risky in my opinion – and after seeing borderline scams appearing in the listings I just personally wouldn't be able to trust the site, which brings me onto…
Is Work At Home Club a Scam?
Well it's not really a scam as such itself since all it does is provide you with a list of potential work from home opportunities (albeit in my opinion poor ones), but the bad thing about it is that some of the "jobs" listed on the site themselves are indeed borderline scams, such as the Paid Surveys At Home one that I mentioned earlier in the review.
And also as far as I'm concerned there's simply no need to enter your email address to get access to the opportunities they provide you with because they're nothing new or special – in fact, you can find them all listed within my list of 72+ ways to make money online here.
So ultimately whilst it's not really a scam, I kinda feel that the whole Work At Home Club site is just kinda pointless. All they really want to get you to do is sign up to their newsletter so that they can push you into signing up with the naff opportunities they list in order to earn themselves a commission. It seems like they don't really care about your success at all.
But the good news is that if you are indeed looking for a legitimate way to work from home then you've landed in exactly the right place because that's exactly what I do myself – and if you'd like to find out how I do it (and how you can too) then just check out the page I've put together here. I know for sure that the information there will definitely help you out.
Hopefully, though my review here has helped give you a better insight in the Work At Home Club & hopefully you can also now see why it's not really as great as it makes out to be. I also hope my review prevented you from getting trapped by any of the scams on their site too.
If you do happen to have any further questions about it though or maybe some comments you'd like to add then don't hesitate to leave them below & I'll do my best to get back to you as soon as I can.
A Better Alternative
The sad truth is that unfortunately most of the programs promising to help you make money online are scams. I can say that confidently after exposing over 500+ of them here on this blog.
But the good news is that even though most of them are indeed scams, there are actually some very good programs in amongst them - some programs that can truly help you to earn money.
And out of all of the legit programs I've seen, the one I would recommend the most to anybody looking to get started online is Commission Academy. In my own opinion, that's the best place to start.
At Commission Academy, you'll be provided with everything you need (including the training & tools) to begin earning real money by promoting products or services for companies like Amazon online.
The best part is that there's literally no limit on the amount you can earn with it & the process is pretty simple which means that it's absolutely perfect for people that don't have much experience.
Some wealthy affiliates even earn as much as 5-figures per month... Or more!

I mean don't get me wrong, that kind of money won't just fall into your lap without doing any work... But the harder you're willing to work at it, the more you stand to earn with it.
So if you're looking to get started but don't know which route you should go down or which program you should join (and don't want to waste money on bogus things that don't actually work), then I'd highly recommend checking out Commission Academy first. You can learn more about it here.