The Affiliate Advisor Group claims to provide its visitors with a fool-proof way for easily making up to $5,000 per week online even if they've never made so much as a single penny online before in the past.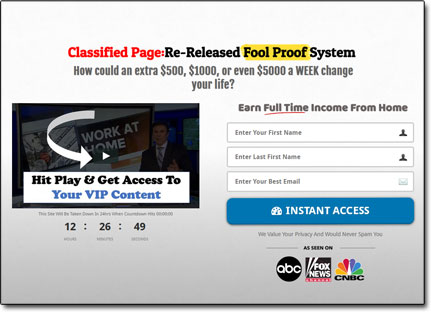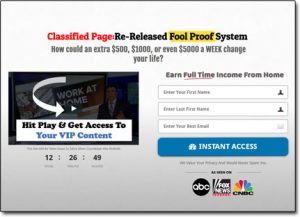 You're led to believe that as a member of the Affiliate Advisor Group you'll be getting access to thousands of dollars worth of training as well as VIP coaching & that you'll be actually guaranteed to see profits…
But what's the catch? Is it really legit & can you really make money with it? Or is the Affiliate Advisor Group a scam that you should avoid?
Well I'm glad that you decided to come here to my review of the Affiliate Advisor Group before joining because I can tell you right from the off that it is NOT what it seems & you probably will just end up spending more than you ever make back.
What Is The Affiliate Advisor Group?   |   How Does Affiliate Advisor Group Work?   |   The Problems   |   The Red Flags   |   Is Affiliate Advisor Group a Scam?   |   A Better Alternative
What Is The Affiliate Advisor Group?
The Affiliate Advisor Group is a relatively new website that essentially promises to provide you with a way to achieve guaranteed success through affiliate marketing even if you're brand new to it & haven't made so much as a single penny online before.
The creator of it (who remains anonymous) claims that the Affiliate Advisor Group system is "fool-proof" & that within just days of getting started you'll be on your way to earning up to $5,000 per week with just a small amount of work each day.

But could it really be true?
Could you really earn so much money so easily? And if you could then why isn't everybody doing it?
Well unfortunately what I can tell you right from the off is that NO, it is not true – and I can say that so confidently because I've actually seen this exact same system several times before when it was launched under different names.
The creator of it keeps on simply changing the system's name in an attempt to escape the negative reviews so that he can continue tricking people into parting with their cash so he can earn himself some money at their expense.
Some of the previous names the system has been called include the Insiders Cash Club & the EZ Money Team. They promised similar things but just like the Affiliate Advisor Group they failed to deliver.
You see yes, it is indeed possible to make good money with affiliate marketing, and you could indeed make up to $5,000 per week with it like the creator of the Affiliate Advisor Group claims, but it is not going to happen overnight or easily like he makes out.
Instead if you want to truly make money with affiliate marketing then you need to be prepared to put in work to make it happen, and you must also have patience because your first commissions might take weeks or months to begin coming through.
The good news though is that if you are prepared to put in the work to make it happen then there are legitimate places you can get started such as Commission Academy (which is actually free to join).
But I do appreciate the fact that you might not be just willing to take my word for it when I say that… After all I understand that you might have been really hoping the Affiliate Advisor group was going to work for you, so instead keep on reading & I'll show you exactly how it all works below so that you can see for yourself what's really going on…
How Does Affiliate Advisor Group Work?
In short the Affiliate Advisor Group is basically a get-rich-quick scam that has been loosely based around a legitimate method of making money known as affiliate marketing in an attempt to trick you into joining.
You see affiliate marketing is where you connect people with products/services online & get paid commissions in return. It's a great way to make money & it's actually the same way I make most of my own money online.
So as an example you could become an affiliate of Amazon & promote products from their website in return for commissions. You simply get a unique link to share & if somebody clicks it then makes a purchase, you get paid…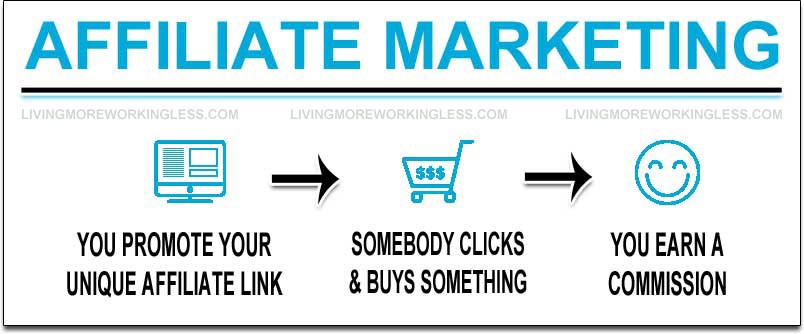 Now what you have to understand is that the problem isn't with affiliate marketing, it's with the way the Affiliate Advisor Group sells it to you – because that system makes it seem really quick & easy, which it's not.
I mean yes as I mentioned earlier in this review you can indeed make great money with affiliate marketing, but in order to do so it is going to take hard work & you must also be patient because it won't happen immediately.
And this is the problem, because the creator of the Affiliate Advisor Group is just trying to trick you into making you think he has some kind of "secret" to speed up the process just so he can get you to hand over your cash.
Then when you do hand over your cash (which I don't recommend doing) you'll just be left to find out that all you really get via the Affiliate Advisor Group system is some extremely basic training on affiliate marketing, nothing special.
And you can actually get much better training for free over at Wealthy Affiliate so there's no need to waste your money in the first place.
But From There Things Actually Get Worse…
If you think the con ends after you hand over your $27 to get access to the Affiliate Advisor Group then think again because in actual fact that is just the start & from there things get much, much worse.
You see the reality is that the $27 fee is just in place to weed the "tyre kickers" out from the people who are willing to spend money.
The actual con starts on the inside with the "VIP Coaching" who will contact you on the phone. They've called themselves coaches so that you'll answer the phone to them but in reality they're not coaches at all, they're professional sales people who are there to sucker you into spending more & more money.
They'll discuss various bundles with you that'll allegedly see you achieving success much quicker & earning much more money in a shorter period of time & they'll pressure you into spending as much money as you've got (which could be thousands of dollars)…
But again, after all of this spending you'll be left to discover the hard way that there isn't really any secret at all and that you've just been conned into handing over a whole bunch of cash for not a lot of training.
And the disclaimer on the Affiliate Advisor Group website basically says it all, because it says the following:

Yep that's right – despite all their bold claims about how much money you'll make & how easy it will be, their disclaimer states that the typical purchaser doesn't actually make any money… So clearly it's all lies.
And there's more lies alongside that too as you'll see below…
You Might Also Like:
The Affiliate Advisor Group's Red-Flags Exposed
First off there's the fact that when you initially land on the Affiliate Advisor Groups website you're told that it's been featured on various news channels such as ABC, Fox News & CNBC… But that's a lie.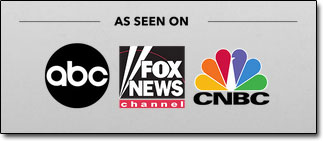 The system has NEVER been featured on any of those news channels & that's easily revealed by a quick search of their websites.
But alongside that the system also presents you with a news presentation to try & make you further believe that it's been featured on the news in an attempt to gain your trust.
What you'll notice though is that none of the news presenters specifically mention the Affiliate Advisor Group & that's because they're just talking about working from home in general (which is possible) NOT the Affiliate Advisor Group system.
The creator has just cut the clips together in an attempt to make it seem like they're talking about his system when in actual fact they're not.
But then there's the problem with the testimonials too, because on the purchase page you're told that 2 people named "Bill Hasiotis" & "Beth Ayala" who just recently joined are allegedly seeing huge success & earning thousands of dollars (as shown below):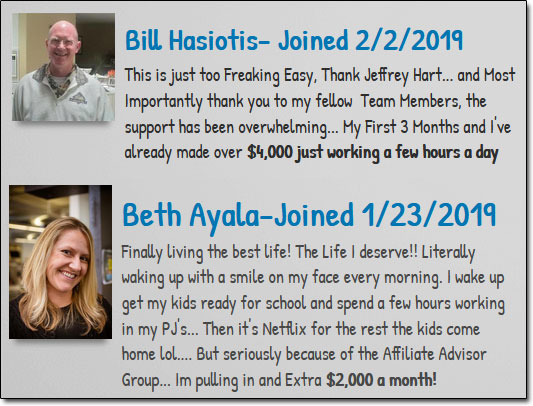 However not only are the names of these people made up – because as shown below "Bill Hasiotis" is actually named Paul Glover & he runs a website about suffering with something called fibromyalgia:

But their testimonials are made up too, because the creator of the system used the same testimonial on his previous system (Insiders Cash Club) but has just tweaked it a bit to suit his new system:

So it truly is just absolutely jam-packed with lies & misleading claims so frankly there's no way you can trust a word that's said on the site, which leads me onto…
Is Affiliate Advisor Group a Scam?
Well the creators of it have attempted to cover their butts by providing "some" training in return for your money, however in my opinion it is still a scam because what you are getting in return for your money is not what you were promised.
All through the website you're promised you'll be provided with an easy way to begin making thousands of dollars per week online & then in small-print at the bottom you're told "most purchasers don't make money"…
In reality I think the only person who'll be making money with the Affiliate Advisor Group system will be the creator & he'll just be doing that at the expense of the members that are signing up & then getting suckered into his "VIP Coaching" sales calls.
Plus there's also the fact that creator has already launched the same thing under 2 different names (and potentially others) such as the Insiders Cash Club & the EZ Money Team, both of which have very bad reviews.
Therefore there is simply no way I will be recommending the Affiliate Advisor Group system to you & instead if you really want to make good money with affiliate marketing I suggest you check out a legitimate, proven program like Commission Academy.
Or alternatively check out one of the alternative methods for legitimately making money on my top picks page here.
But whatever you decide to do I just hope that my review of the Affiliate Advisor Group system here has given you a good insight into how it really works & hopefully it has helped you to save your money.
Feel free to leave any further questions or comments below. 🙂
A Better Alternative
The sad truth is that unfortunately most of the programs promising to help you make money online are scams. I can say that confidently after exposing over 500+ of them here on this blog.
But the good news is that even though most of them are indeed scams, there are actually some very good programs in amongst them - some programs that can truly help you to earn money.
And out of all of the legit programs I've seen, the one I would recommend the most to anybody looking to get started online is Commission Academy. In my own opinion, that's the best place to start.
At Commission Academy, you'll be provided with everything you need (including the training & tools) to begin earning real money by promoting products or services for companies like Amazon online.
The best part is that there's literally no limit on the amount you can earn with it & the process is pretty simple which means that it's absolutely perfect for people that don't have much experience.
Some wealthy affiliates even earn as much as 5-figures per month... Or more!


I mean don't get me wrong, that kind of money won't just fall into your lap without doing any work... But the harder you're willing to work at it, the more you stand to earn with it.
So if you're looking to get started but don't know which route you should go down or which program you should join (and don't want to waste money on bogus things that don't actually work), then I'd highly recommend checking out Commission Academy first. You can learn more about it here.