App Coiner (found at appcoiner.com) is a relatively new website that claims it can help you to earn a good amount of money online by simply testing apps on your smartphone or tablet & writing short reviews sharing your thoughts.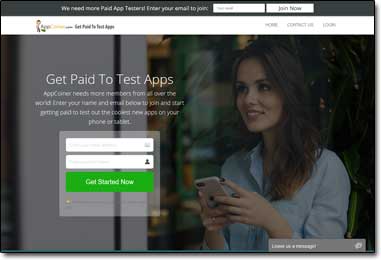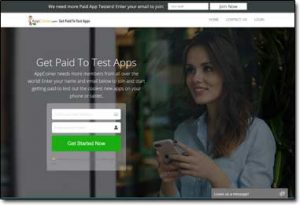 The process is made to seem really easy – you just sign up, choose an app, write a review & get paid…
But does it really work that way & is it legit? Or is App Coiner a scam that'll somehow end up costing you money rather than helping you make it?
Thankfully you've landed in exactly the right place to find out as I've taken a closer look into App Coiner after it was recently brought to my attention by a subscriber & in this honest review I'll be exposing the truth about how it works.
What Is App Coiner?   |   How Does App Coiner Work?   |   The Good News   |   Is App Coiner a Scam?   |   A Better Alternative
What Is App Coiner?
So App Coiner is basically a website that claims it can enable you to make good money online by testing out the "coolest new apps" on your smartphone or tablet & writing reviews sharing your thoughts.
At a glance, it looks pretty interesting & according to their website they're desperate for "new paid testers"… But despite their apparent desperation in order to actually become a so-called "tester", they're actually charging a fee for people to join… Which is pretty strange.
Why would you have to pay to get access to a job?
Surely if it was legit, then like other legitimate websites they could just take a percentage of your earnings. In fact, I suspect that's why you've landed here at my review because you too probably thought it was a bit suspicious.
And do you know what? You were dead right – it is suspicious!
The reason App Coiner charges a fee (which actually ends up being more than $27) is because there isn't really any paid tester "jobs" at all. Instead, they're just tricking you into purchasing some training.

And whilst there is the ever-so-slight possibility that you could actually make some money, the likelihood is that you won't because the training is just so poor… But keep reading & you'll see why when I show you how it all really works…
How Does App Coiner Work?
Okay so right from the off the whole App Coiner website leads you into believing that you're going to be getting access to some sort of "job" through which you just need to test apps, write reviews & get paid…

But there is no "job" at all, meaning you won't get paid directly for each review that you write… In fact, you could literally test 1,000 apps, write 1,000 reviews & still not make a single penny…
Why?
Because the whole thing actually revolves around building your own review website, promoting it online & then earning money via affiliate marketing (which is where you get paid based on the sales you make).
I mean don't get me wrong – you can actually make very good money through affiliate marketing… In fact, it's the same way I personally make most of my own money online, but without the proper training, you'll find it difficult to succeed.
That's because like I mentioned above affiliate marketing is commission-based – so you need to know how effectively promote the website that you create online & surprise surprise the App Coiner training doesn't really go into that.
Instead, the App Coiner trainer basically just says:
Download & try out new apps
Publish reviews of the apps on the website you created
Make money when people read the reviews & buy things through the affiliate links
Obviously their training goes into a little more detail – but honestly not a lot more. It'll likely just leave you feeling pretty confused – and I imagine it'll also leave you disappointed because the whole thing makes out like you're going to be getting access to a real job where you're paid directly in return for your time.
Rather than pay money to sign up to App Coiner you could just join Wealthy Affiliate & get started with affiliate marketing for free. At least Wealthy Affiliate is legit & has been proven to help people achieve success online…
App Coiner is basically just a gimmick that's been designed to make its creators rich at the expense of others. They don't really care about their member's success & that's why they're making the whole thing seem like a "job". They just want to trick you into parting with your cash.
You Might Also Like:
The Good News
The good news is that the App Coiner program is being sold through a network called ClickBank, and whilst ClickBank is a network that's renowned for hosting low-quality scams, they are actually pretty decent at issuing refunds if contacted directly… Providing you contact them within 60 days of making your purchase.
So basically what I'm saying is that if you happen to have already bought into App Coiner before reading my review then if you contact ClickBank directly you should stand a good chance of getting your money back.
And once you do you can check out my list of LEGIT alternative ways to make money online. ?
Is App Coiner a Scam?
Just like I said in my recent Paid Surveys Online review, that all kinda depends on how you define a scam. I mean you do actually get access to some training in return for your money, and in the small print they do state that they don't actually pay you for the reviews themselves…
However, in my opinion, it IS a scam because as far as I'm concerned it's built on nothing lies & deceit. The creators know exactly what they're doing and it's clear to me that they're just hyping it up & misleading you on purpose so that you'll hand over your cash… Then when you do they just hope that because it's a relatively small amount of money you won't request a refund.
So yeah, it's safe to say that I won't be recommending the App Coiner system to you because in my opinion, it will not really help you make money. If you really want to make good money then just join a legitimate & proven program like Commission Academy instead. It's there that you'll find out how to properly get started online.
But anyway whatever you decide to do I just hope that my review here has helped you out & I also, more importantly, hope that it's helped you save your cash. If you do still happen to have any questions or comments then don't hesitate to leave them below & I'll get back to you as soon as I can.
A Better Alternative
The sad truth is that unfortunately most of the programs promising to help you make money online are scams. I can say that confidently after exposing over 500+ of them here on this blog.
But the good news is that even though most of them are indeed scams, there are actually some very good programs in amongst them - some programs that can truly help you to earn money.
And out of all of the legit programs I've seen, the one I would recommend the most to anybody looking to get started online is Commission Academy. In my own opinion, that's the best place to start.
At Commission Academy, you'll be provided with everything you need (including the training & tools) to begin earning real money by promoting products or services for companies like Amazon online.
The best part is that there's literally no limit on the amount you can earn with it & the process is pretty simple which means that it's absolutely perfect for people that don't have much experience.
Some wealthy affiliates even earn as much as 5-figures per month... Or more!

I mean don't get me wrong, that kind of money won't just fall into your lap without doing any work... But the harder you're willing to work at it, the more you stand to earn with it.
So if you're looking to get started but don't know which route you should go down or which program you should join (and don't want to waste money on bogus things that don't actually work), then I'd highly recommend checking out Commission Academy first. You can learn more about it here.